Concordian George Lengvari recognized with national award
The university donor and former basketball star receives first U SPORTS Mitchell Family Alumni of the Year Award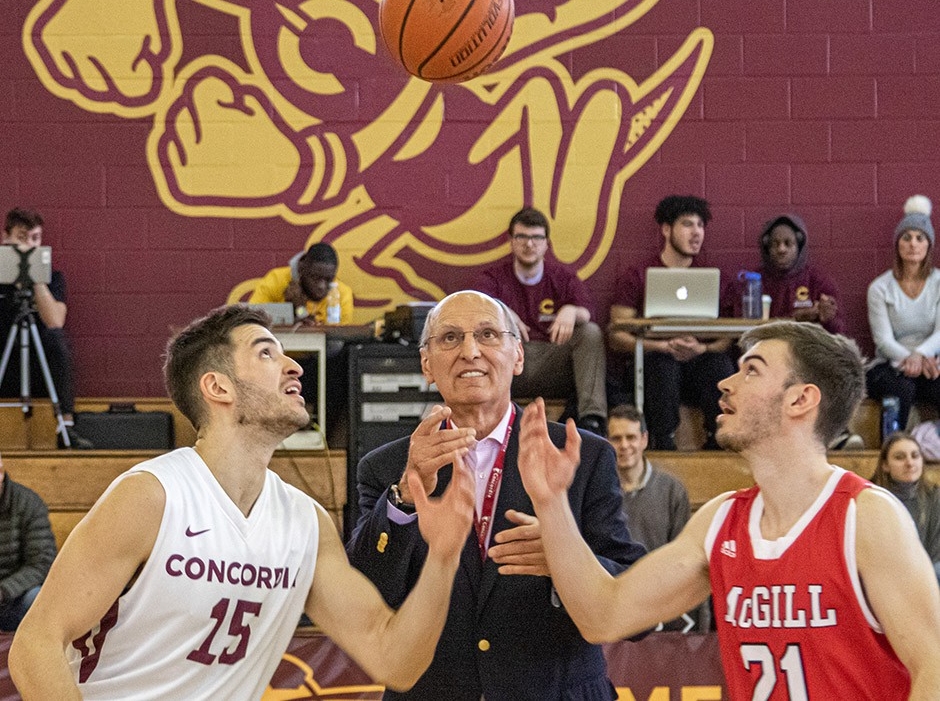 Lengvari tosses the ball for the ceremonial tipoff at the second annual Lengvari Cup, held in February 2020.
George Lengvari, BA 63, Concordia donor and a graduate of Loyola College — one of the university's founding institutions — has received the inaugural Mitchell Family Alumni of the Year Award.
The award was created to celebrate former Canadian university athletes who have become leaders in their communities and who have made significant contributions to their alma maters.
"I'm both honoured and humbled to have been chosen and want to thank the Mitchell family for establishing this award as I know it will be an inspiration for others in the future," says Lengvari, a former star of the Loyola College men's basketball team.
Nancy Knowlton, a graduate of Bishop's University, was also recognized with the inaugural award for her contributions to varsity athletics. Knowlton and her husband, David Martin, BSc 71, DSc 17, are the founders of SMART Technologies — the company behind the now ubiquitous SMART Board interactive whiteboard, and collaborators on the Campaign for Concordia: Next-Gen. Now.
The awards were presented by U SPORTS — the national governing body of university sports — and the Honourable Lois Mitchell and Doug Mitchell, at a virtual ceremony on May 20.
Honouring a legacy of support

Concordia and McGill universities co-nominated Lengvari for the prestigious award in recognition of his significant impact on both the Loyola College and McGill University men's basketball programs as a student-athlete and through his continued support in the years following his graduation.
A high-scoring forward, Lengvari powered the 1962-63 Loyola men's basketball team to its first Ottawa-St. Lawrence Athletic Association (OSLAA) conference title and a berth at the inaugural Canadian Intercollegiate Athletics Union (now known as U SPORTS) championship. He was also captain of the Loyola varsity golf squad, leading the team to its best showing ever at the 1962 OSLAA tournament. He then continued his basketball career at McGill, serving as the team captain in 1964-65.
"I'm also grateful to both Concordia and McGill universities for their joint nomination and for believing in me as I believe in the young men and women we are helping together, Lengvari added.
At Loyola, Lengvari completed a Bachelor of Arts in economics in 1963 before enrolling at McGill to study law, graduating in 1966.
Lengvari practiced international fiscal and transactional law in Montreal from 1968 to 1994. He then became vice-chair of Weider Health and Fitness — a Los Angeles-based holding company with operations in publishing, vitamins and nutrition, as well as fitness equipment — from 1994 to 2009. He also served as vice-chair of Schiff Nutrition International, a NYSE-listed company, and chair of Lengvari Capital Limited, a private equity investment company and founded an international licensing group. At one point in his career, Lengvari worked as a sports agent representing Montreal Canadiens' icon Jean Béliveau, LLD 09, and baseball great Gary Carter.
A champion of the next generation
Today, Lengvari is passionate about giving back to both of his alma maters. In 2019, Concordia and McGill initiated an annual regular season rivalry challenge in the form of the George Lengvari Cup.
At Concordia, his contributions have included matching the Stingers' basketball inaugural Giving Tuesday campaign in 2020, arranging for new equipment for the varsity weight room, launching the university's alumni chapter in London, United Kingdom, and serving on the university's Board of Governors from 1993 to 2000.
"I cannot say enough about George and what he means to our department and especially the men's basketball team," says D'Arcy Ryan, BA 98, MA 02, EMBA 09, director of Recreation and Athletics at Concordia. "His generosity has an immense impact on the program and the type of experience we can offer our young athletes.
"But even more important is the buzz is in the hallways and gym when George comes to visit the team. It's incredible to see how excited everyone is and how inspired they are. George has an incredible story and has enjoyed great success. I see how motivated our Stingers are by the wisdom he shares and the example he sets."
At McGill, Lengvari has established three different annual Athletic Financial Awards. He also sits on the board of governors for the Martlet Foundation.
In honour of his support and dedication to his community, Lengvari has been recognized with several awards over the years including the Humberto Santos Alumni Award of Merit (2002) — the Concordia University Alumni Association's highest honour — as well induction into the Concordia Sports Hall of Fame (2011) and the McGill men's basketball's Wall of Honour (2013).
---