'It's wonderful to be a young black woman who can make her own decisions'
Annick Maugile Flavien powers change at Concordia — and beyond — with the Black Perspectives Initiative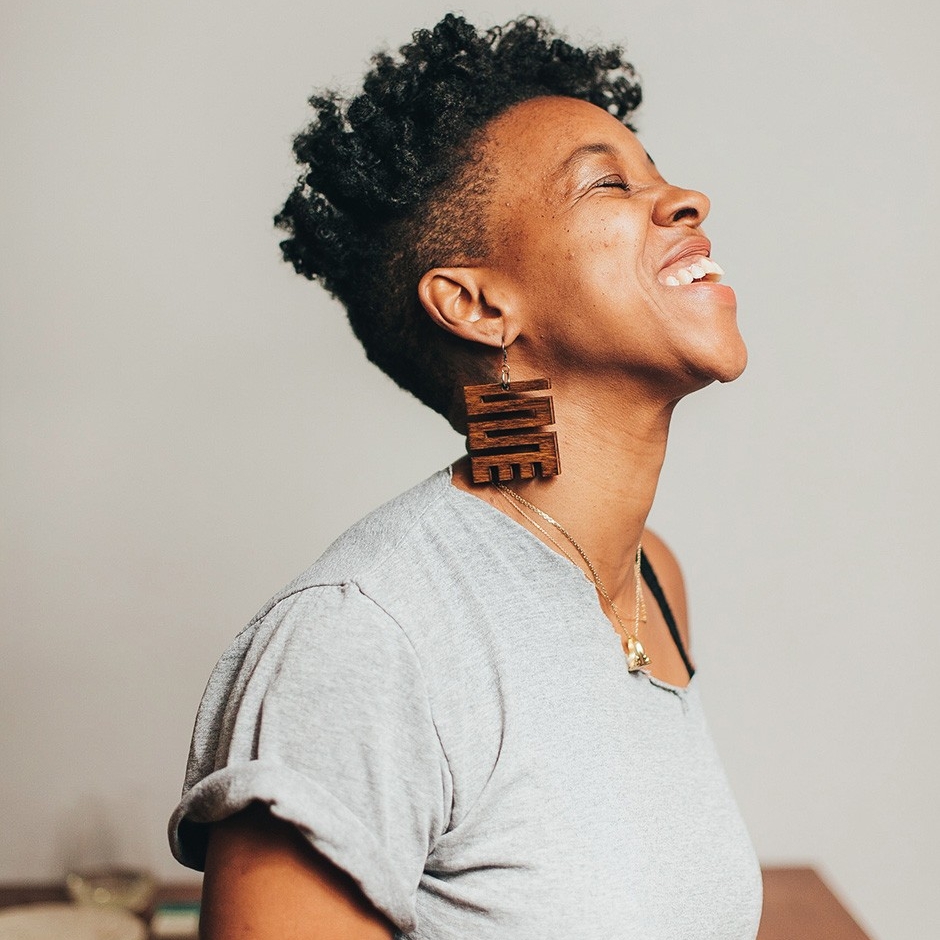 Annick Maugile Flavien, BSc 13, GrDip 15, MA 18
In the opening passage of her upcoming memoir about growing up Black in Montreal, Annick Maugile Flavien, BSc 13, GrDip 15, MA 18, describes a harrowing, catalysing encounter with police in 2000.
Flavien, 12 years old at the time, was returning home from a Halloween party in the neighbourhood of Côte-Saint-Luc.
"My brother was driving," Flavien recalls. "He did a U-turn and someone called the cops."
The siblings were soon surrounded by six squad cars.
"They drew their guns to our faces.
It was traumatic because it didn't matter that we had done nothing wrong."
Flavien and her brother were eventually released and went home to try to make sense of the incident.
"I wanted to understand what had really happened," Flavien says. "I heard my family whisper, 'You know, when you're Black in these neighbourhoods, you have to be careful.' That alerted me to the truth."
The next day at her mostly white elementary school, Flavien's classmates struggled to relate to what had happened to her.
"That's when I knew this was something I would have to deal with myself and that it was very much because of my skin colour. In a way, it was the first time I realized what it meant to be Black outside my home. It really woke me up and marked my life."
Activism and scholarship
In addition to the memoir, which she hopes to publish in 2022, the three-time Concordia graduate hosts It Could All Be So Simple, a monthly program on CKUT radio, and the podcast When Matriarchs Gather.
Flavien also facilitates the intergenerational "Mapping Blackness in Montreal" project and is training to become a full-spectrum doula and childbirth and eldercare educator. Her hope is to deliver free workshops and services to Montreal's Black community.
This past spring, Flavien launched the Black Perspectives Initiative (BPI), a hub to connect and support activities related to Black perspectives, initiatives and scholarship.
Funded by Concordia's Faculty of Arts and Science, BPI first began as a three-year pilot project in 2016 under the auspices of the Critical Feminist Activism and Research (C-FAR) initiative at the Simone de Beauvoir Institute.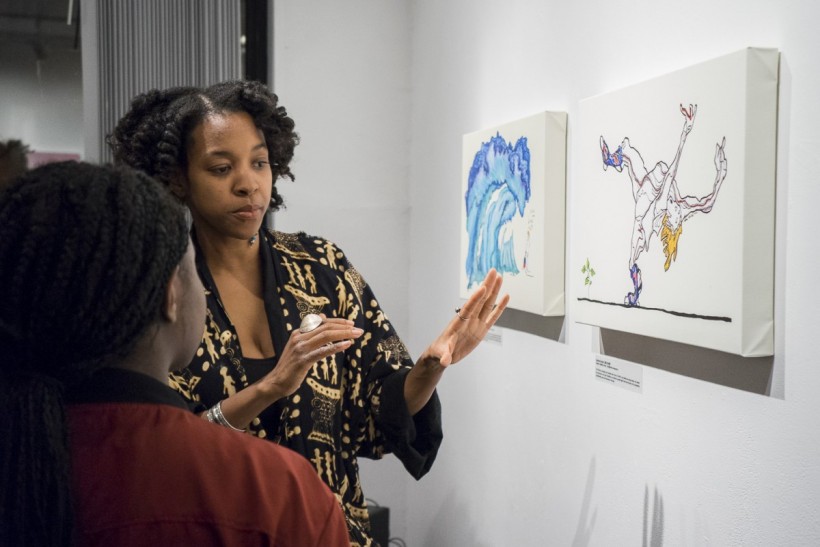 Flavien organized "Symbols of Resistance," a residency project and art show about Black art by Montreal-based Black artists, in 2018.
Co-founded and co-coordinated by Flavien and Meghan Gagliardi, BA 16, MSc 19, C-FAR promoted anti-racist and anti-oppressive approaches to equity, inclusion and representation on campus and beyond.
"When C-FAR ended in 2019, the Faculty of Arts and Science offered to fund BPI and asked me to submit a pitch," says Flavien.
During its inaugural year, BPI is focused on strengthening relationships within Concordia's Black community through academic scholarship and award support, mentorship, research opportunities and programming that centres on Black perspectives.
BPI has already launched two research projects: "Imagining Black Futures – (Re)membering Voices, Coalition and Space," which recontextualizes Montreal's Black public history while envisioning what Black life could look like in the year 2050; and "Black Mental Wellness on Campus."
"We're creating an online platform," Flavien elaborates. "Students will be able to book therapists on the website as well as access other resources catered to the specific needs of the community. Black mental-health practitioners are very difficult to find."
Mental health has become a renewed priority after a historic year of worldwide anti-racism protests in the wake of lethal police violence.
"The emotional labour people are shouldering to organize movements like Black Lives Matter is a crisis in and of itself. The well-being of Black students and other members of the Black community is constantly being attacked from all sides."
'What will my impact be?'
Flavien says that BPI is informed, first and foremost, by Black student activism, which has a long and proud history at Concordia.
"None of this is possible without that legacy. So I would say BPI is a response to Concordia's Black community. The reach of the Black Lives Matter movement has pushed other organizations and initiatives at the university to seek out BPI and become interested in the work we would have done with or without Black Lives Matter."
While her brush with the police animated her activism two decades ago, Flavien's politically active parents had a formative influence on her life and work.
"When my parents arrived in Canada from Haiti in the 1960s, their main worries were finances and education," Flavien says. "They built a foundation that enabled their children to reach higher. Now I ask myself, 'What will my impact on the world be?'
"It's wonderful to be a young Black woman who can make her own decisions. It's challenging and revolutionary because of the history and state of the world, but I feel so grateful to be who I am, right here, right now."
That gratitude extends to the opportunities and connections that Concordia has helped facilitate.
"When students come to my office, their reaction is relief because they're able to speak with someone who looks like them," Flavien explains. "And to know that they can come in and speak about their identity first without being afraid to say, 'I think it's difficult as a Black person to do this or do that' — that is huge.
"We're constantly silencing our trauma because we don't want to take up too much space. So I think many young people are comforted when they don't have to put up that front. They can speak their truth and be supported in it. And it's beautiful to see."
'The Black Alumni Council helps us connect'
After the celebratory launch of Concordia's Black Alumni Network a year ago, the university's Black Alumni Council was back in September — albeit virtually — with two notable events.
The Council, which oversees the Black Alumni Network, supported the Homecoming Resolute Forest Products lecture on September 10 featuring Nikole Hannah-Jones of The New York Times Magazine. Jones, a journalist whose work focuses on racial injustice, was awarded the 2020 Pulitzer Prize for Commentary for her essay in the 1619 Project, an ongoing initiative to reframe U.S. history by placing the consequences of slavery and the contributions of Black Americans at the centre of the national narrative.
The Council also sponsored a career development event for students on September 17 featuring campus services and student clubs.
"Our goal is to bring together alumni and support students," says chair Tseli Moshabesha, BA 11. "The Council is important as it continues one of the defining aspects of student life on campus — building community. The Black Alumni Council helps us connect after graduation, whether it is in a different city or in another country, and maintain solidarity with other Black Concordians."
Moshabesha says the Council's work complements such movements as Black Lives Matter, as well as the Black Perspectives Initiative (BPI) at Concordia: "We want to push forward initiatives that will help Black students and alumni."
The Black Alumni Council will next host a virtual Black Alumni Network event, tentatively scheduled for October.
Black alumni and allies who would like to join the Black Alumni Network can email the group at alumni@concordia.ca.
---