Meet three Shuffle 31 teams making a difference
Annual walkathon's first virtual event offers new fundraising opportunities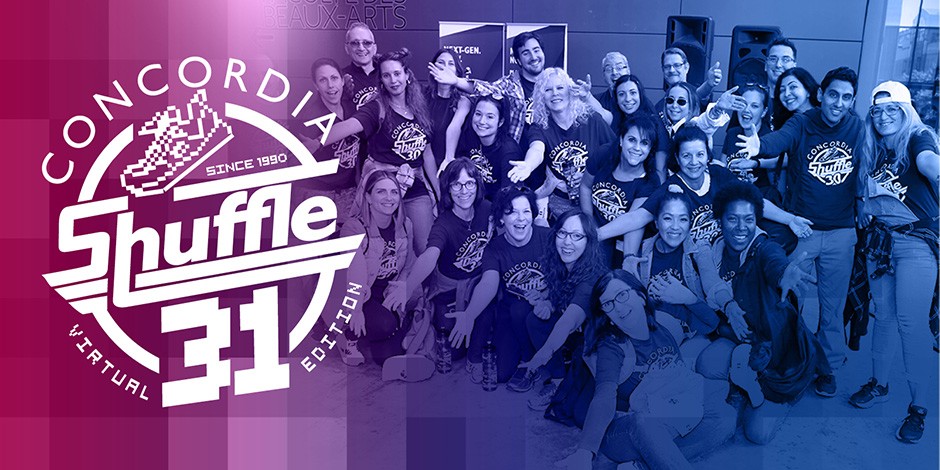 Concordia is gearing up for its first virtual Shuffle. Some 139 people, and counting, have already registered and 23 teams have banded together to fundraise.
Last year, thanks in large part to the success of team fundraising, Shufflers raised a record $143,000 for scholarships, bursaries, student services and resources. With COVID-19, students' needs are even greater this year.
Want to help? Join or create a Shuffle team today!
Here are three Shuffle teams making a difference.
CU at the Top
Named for its goal to climb Mount Royal, CU at the Top is raising funds for Black Perspectives Initiative (BPI) — a Concordia organization committed to supporting Black perspectives, opportunities, programming and scholarships at Concordia and beyond.
"We hope our support will help create a more equal, inclusive and just society," says team co-captain Katia Lorye, a development officer in the Faculty of Fine Arts.
Its 35 members are encouraged to run, walk or cycle up the mountain at their own pace. To help members reach their goal, the team is holding weekly running sessions using safe physical distancing practices
"It is our responsibility as a community to support and encourage our students," says Lorye. "During these times of financial instability, student support is more important than ever."
With $4,861 raised to date, CU at the Top is well on its way to reaching its $7,500 goal.
Human Resources
More than 40 Concordia Human Resources staff and their families are expected to fundraise for the HR Shuffle Award for Excellence as well as the HR Shuffle Bursary.
Their goal is to organize friendly walking/running competitions, such as most kilometres walked in a day, and bake sales to meet their $2,000 goal. As of publication, they have raised $750.
"Our team looks forward to participating in the Shuffle and contributing to this wonderful event that is a symbol of the Concordia spirit," says team member Émilie Fortin, BA 06, an organizational development advisor with Human Resources. "We are happy to provide a helping hand."
Student Success Centre
Composed mostly of staff from Concordia's Student Success Centre (SCC), members are no strangers to helping students. From time management and study strategies to building networks, the SCC's mission is to provide students with the tools they need to succeed.
Members of the Student Success Centre Shuffle team are taking their mission to the next level by fundraising for an award to support a returning student with a previous failed standing.
"We will use this scholarship to support the underdogs," says team captain Ann Mclaughlin, a coordinator at SCC. "No one else is giving to people who've been in failed standing."
She says they plan to walk as a team and hold a virtual talent competition to meet their $2,000 goal.
Feeling inspired?
Follow these easy steps and create a team of your own!
Click on "Register" at the top right and select "Register and create a team". You will be asked to name your team.
Invite family members, friends and colleagues to join your team or to donate. All gifts raised to your personal profile will be counted towards your group's goal.
To join a team, after clicking on "Register", select "Register and join a team". Your team captain will be notified and you can start collecting donations for a cause you care about.
Did you know that this year you can also create your own fitness challenge using Strava? Share your goal with your networks and ask them to sponsor you based on your commitment. To link Strava to your Shuffle account, please click on "Fitness goal" in the Participant Centre.
Shuffle 31 takes place between September 18 and 25, 2020.
---