Courting celebrity with Anne-Marie Withenshaw
'Suddenly all the artists I admired as a fan — like David Bowie — I got to interview in person'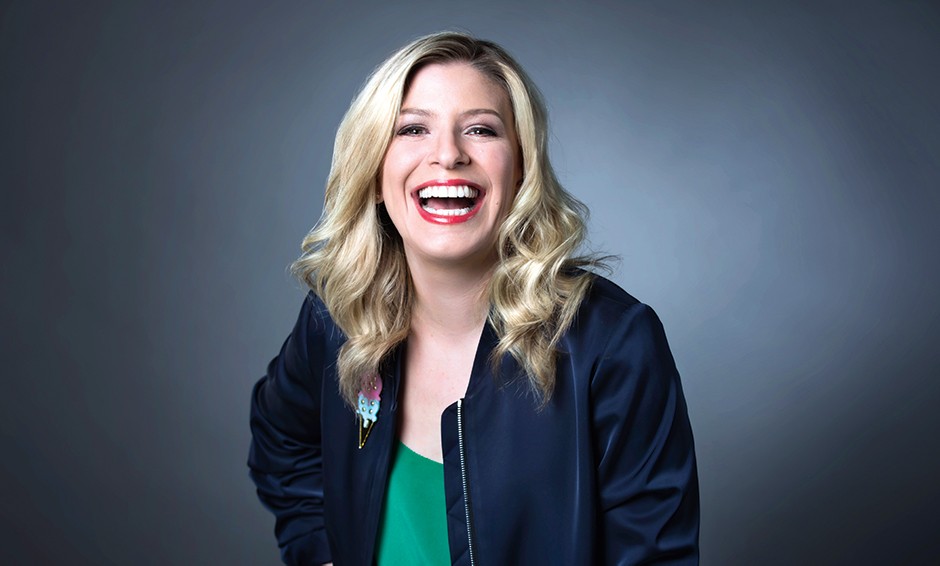 'Concordia gave me a good group of peers I still work with today, really shaped my way of storytelling and I have stayed in touch with many amazing teachers.'
Canadian television and radio personality Anne-Marie Withenshaw, BA (Comm.) 02, became a household name in Quebec as a hugely popular VJ on MusiquePlus – the French-language sister station of MuchMusic – from 1998 to 2002.
She quickly became a much-loved media personality in both French and English, with gigs on the TQS daily entertainment show Flash and Montreal radio stations CKOI and 92.5 The Beat.
Currently part of the Échangistes team at Radio-Canada and C'est juste de la TV on ARTV, Withenshaw also hosts Les samedis d'Anne-Marie each weekend on Ici Musique radio.
What was it like to work as a VJ at MusiquePlus?
Anne-Marie Withenshaw: My last year at Concordia was really weird because I was also working in TV. I remember turning in my final paper (electronically) while I was in a Toronto hotel room interviewing Our Lady Peace! But working at MusiquePlus as a VJ was not like working at Montreal's HMV superstore where I started selling records and then became their store DJ.
Lots of people at HMV were migrating to MusiquePlus which is how I found out they were looking for a new VJ. When I showed up there, I had literally never done anything in TV. I did seven interviews and screen tests, and did one trial day.
Working at MusiquePlus was brutal: you had to be your own researcher, writer, producer, editor, make-up artist, stylist and hairdresser. You had to do everything. We still used clippings back in those days. I remember we had just one computer on wheels, and we wheeled it around the office to do research on the internet! Meanwhile, other students at Concordia thought I had sold out.
Working at MusiquePlus was really hard work but it was magical. Suddenly all the artists I admired as a fan — like David Bowie — I got to meet and interview in person.
As a reporter for Flash on TQS, you reported from the Oscars, the Grammys and the Cannes Film Festival. What did you learn about celebrity and fame?
I am still a fan, I still geek out when I see Miley Cyrus or Diana Ross in concert. I turn into a 14-year-old. But I learnt I like talking to musicians and don't really like talking to actors. The stakes in the movie business are so much higher and actors try not to go offscript. But rock stars are eccentric and not very sheltered. When I had a bizarre interview with Mariah Carey two weeks before she had her nervous breakdown, her handlers were like, 'Oh, that's Mariah! She's just being funny!'
At MusiquePlus I also learnt that fame comes in phases. For their first album, artists are willing to do anything. Before Britney Spears's first album came out, we had access to her for three days. She did everything for us! Then no more access with the release of an artist's second album and peak worldwide fame. They're tapped out. Then there is redemption with their fourth or fifth album, and they're super willing to talk to you again. It's very rare that an artist doesn't have that cycle.
Do you prefer TV or radio?
I'm lucky I've done both my entire career. TV allows for access to so many extraordinary worlds whereas radio allows for proximity to the listener – talking to them is so intimate. I love listening to radio and podcasts.
What's the biggest misconception about radio and TV personalities?
People think the job of a host is really easy. I still approach my work with the rigour I learnt in journalism school.
How did Concordia help shape you and prepare you for your career?
Concordia gave me a good group of peers I still work with today, really shaped my way of storytelling and I have stayed in touch with many amazing teachers.
Was it tougher for you as a woman to break into the business, get respect and equal pay?
It wasn't. I was lucky. My core of female friends at Concordia, there are five of us, we all ended up following each other. We have always had each other's backs. We let a lot of things slide that today would be considered sexual harassment, though at MusiquePlus I never felt like I was treated unequally. I came in at the tail end of the nineties, after the grunge era and riot grrrl movement when people were aware of feminism and the female struggle.
Now I think we've taken a step back. I remember once I went to interview Quentin Tarantino when he released his 2007 film Grindhouse and I was standing in front of the elevator with a plate of food – because at movie junkets they also feed you, and you know me, I love to eat – and the elevator doors open and out steps Tarantino. Harvey Weinstein was also in the elevator. When Tarantino spotted me with my plate of food, he said something like, 'My God, a blonde girl coming into an elevator with a plate of food in front of Harvey Weinstein – that's a lawsuit waiting to happen!" And everybody laughed. So when people say they didn't know it was happening – no, everybody knew. People just thought it was funny. It was a different culture.
---