Concordia grad supports the next generation of students
John Commins creates $30,000 endowment to encourage diversity and advance the Campaign for Concordia: Next-Gen. Now.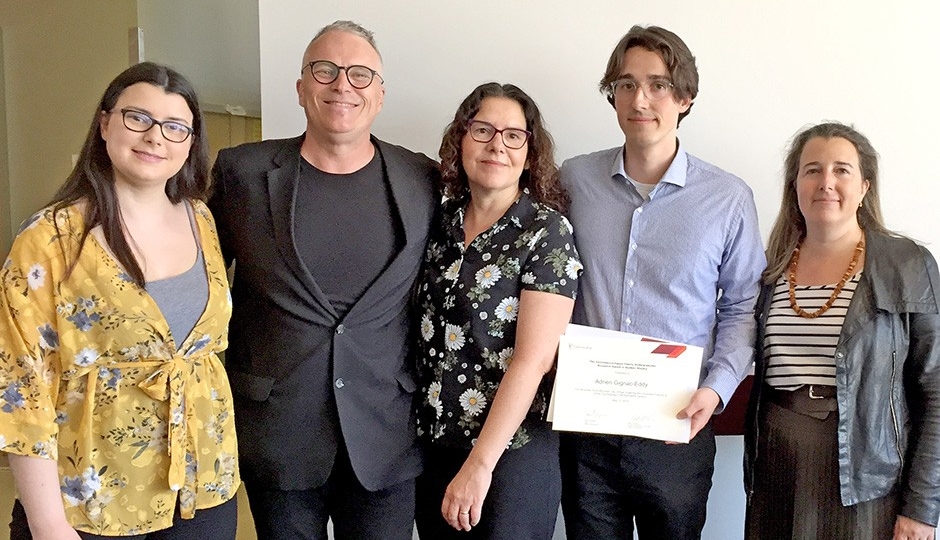 The Commins-Lachance Family Undergraduate Research Award in Quebec History was presented for the first time in the spring of 2019 to Adrien Gignac-Eddy, BA 19. From left: Marianne Commins, John Commins, Christine Lachance, Adrien Gignac-Eddy, Gignac-Eddy's mother.
When long-time history teacher John Commins, BA 87, MA (hist.) 15, and his wife Christine Lachance came into a financial windfall, they knew they wanted to use the funds to recognize the people and institutions that had helped them out along the way.
The annual Commins-Lachance Family Undergraduate Research Award in Quebec History was presented for the first time in the spring of 2019 to Adrien Gignac-Eddy, BA 19, who wrote an essay about the deregulation of pig ownership in Montreal and its association with class.
"It was really genius," says Commins, who currently works as a pedagogical consultant with the Kativik Ilisarniliriniq School Board, about the paper. "And I'm glad he could benefit."
The $30,000 family endowment — which is valued at $1,000 annually, in perpetuity — is meant to encourage the study of Quebec history at Concordia University.
Commins sat down to answer some of our questions about what inspired him to give back to his alma mater.
Why did you choose to give to Concordia?
John Commins: "Good fortune smiled upon us so my partner and I needed to find ways to recognize the people who have helped us in the past. For me, institutionally, that was Concordia."
What was your Concordia experience like?
JC: "My academic history, previous to Concordia, was spotty at best. I never finished college and I worked as a bartender until I was 23 years old — Concordia accepted me as a mature student and for that, I'm forever grateful. The fact that they let me in had a huge influence on the trajectory of my life, to put it mildly."
Are there any particular courses or professors that stand out?
JC: "Professor [Geoffrey] Adams and Professor [J. Cameron] Nish, BA 57. Just generally speaking, the history department at that point was one that was rigorous, yet also understanding of student diversity: the idea that you're going to school with people from a variety of ethnic and socio-economic backgrounds really creates a context where you learn a lot from the community around you."
"Those particular skills helped me during the 10 years I spent in Nunavik, where I worked in Kuujjuaq and Kangirsuk as a teacher. I met my wife in Kuujjuaq and our daughter was born there, too, she is now a recent graduate of Concordia."
What else did you do after graduation?
JC: "After my degree in history at Concordia, I went to Université de Montreal, and I did my teaching certificate there. Then I did a TESL specialization at McGill and my MA at Concordia in history, and now I teach at the university and college levels. I've also worked for the provincial ministry of education, on the previous reform packages."
What sparked your interest in history in the first place?
JC: "I was interested in finding out the stories of my father who was a pilot in the Second World War — who, like most veterans, was not going to be sitting down and talking to me about that — and his families' experience coming to Canada from Ireland. My grandfather is a member of the Wendake [Huron-Wendat] nation, in Quebec City. I started looking at their trajectories and their stories, and how they were so integral in creating who I was."
How did Concordia contribute to your career?
"The mature student program offered me a second chance. I was able to access an educational experience that really created a context for me to grow, question and challenge, so Concordia was instrumental for me."
---