Greece is gradually disintegrating its refugee support system, reports Concordia journalism student
Migrants face increasingly drastic situations as the government repeals protective legislation, leaving NGOs in the crosshairs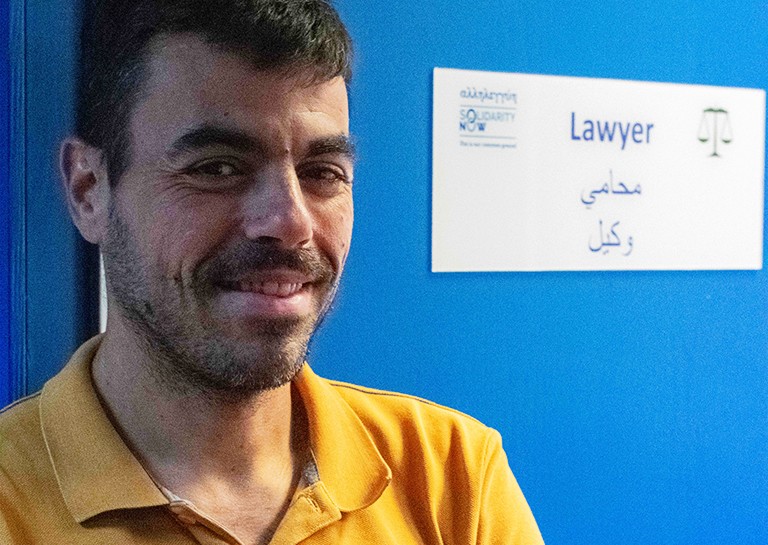 Apostolos Veizis, executive director of INTERSOS Hellas: "We get stories of people that have been looking for months to find a shelter. " / Photo by Lucas Marsh
Lucas Marsh is an undergraduate student in the Journalism program. This summer he was one of two Concordia students who attended the Thessaloniki International Media Summer Academy in Greece.
On June 14, 2023, 82 people drowned, with hundreds more still missing, after a fishing boat smuggling migrants across the Mediterranean capsized off the coast of Pylos, Greece. The incident sparked outrage across Greece and throughout the international community, with calls to address European migration policy. But those who survive the harrowing journey to Europe's shores also face a rapidly deteriorating situation in Greece itself, according to NGO workers who have been on the front lines for years.
Since the beginning of the refugee crisis in 2016, Greek society has developed a web of social services funded by NGOs and government organizations to help refugees in the country. However, over the last few years, support has steadily eroded.
Giorgos Floros, general coordinator of the Blue Refugee Center, says that their location in Thessaloniki is the only centre in Northern Greece that continues to provide open door access to legal and educational services.
"The [blue] refugee centre was the first one that opened in November 2016 and then when the refugee crisis expanded, there were more than five community centres that provided all ranges of services," Floros shares. "But in the last two or more years, these centres have closed down."
Floros attributes these closures to a decline in the refugee population in the region as government policies shift to provide more services on the islands of Chios, Sapfous and Samos. For the migrants who reside in Northern Greece, The Blue Refugee Center specializes in helping them to integrate into Greek society.
"For the people that are staying in Greece, the first big challenge they will face is the challenge of communication," Floros says. "Basically, that means they need at some point to learn to speak Greek or English."
Floros adds that most of the adults he deals with struggle with finding employment, having limited experience with the Greek language.
"Children can go to school, so they will learn the language, but adults when they are still in the asylum-seeking phase, it is easier if there are support services close to them."
However, issues relating to language begin far before getting recognized status.
The journey to recognized status
Individuals seeking recognized refugee status must apply electronically through the Greek government's website for the Ministry of Migration and Asylum. While this has traditionally been offered at in-person service offices throughout Greece, during the COVID-19 pandemic, the application process shifted online.
The new system, which is only available in Greek and English, has become another obstacle for asylum seekers unfamiliar with either language. Sophia, legal advisor for the Blue Refugee Center, says that many asylum seekers struggle to navigate the site.
"We have had many difficulties, because a newcomer has to be informed that the only way to get access to the same services is now online," she notes. "And they have to have an email account. The majority of them did not have the necessary records in order to use the internet or have an email account."
Even after a migrant has received official refugee status, considerable challenges remain related to basic needs like getting enough food and proper shelter. Apostolos Veizis is the executive director of INTERSOS Hellas, an NGO funded through the EU's Emergency Support to Integration and Accommodation (ESTIA) program and has worked with refugee camps for the last thirty years. He says over 30 per cent of people using INTERSOS Hellas food services in Athens are recognized refugees, according to a recent survey conducted by the organization.
According to Veizis, part of the issue is that as soon as a person is granted official refugee status, financial support from the government is cut off after thirty days. Currently, the Greek government provides payments of between 150 Euros for individuals and up to 420 Euros for families of four or more. Veizis lists some drastic scenarios that he has witnessed once people run out of money.
"We see women doing sex work for two to three Euros to get food for their family," Veizis says. "We get stories of people that have been looking for months to find a shelter. And a lady that was talking to me the day before yesterday, she mentioned that after six months, she found a 30-square-metre place where eight or nine other people are living."
Life in the camps
In December of 2022, the Greek government announced it would begin the process of ending the ESTIA program. Migrants relying on the program for housing and social services will now be forced to return to the camps. According to Veizis, the people most affected by these recent policies changes are from marginalised communities.
"We have people with special needs, people with mental-health conditions, chronic medical conditions that you know, in the camp, life is not easy for," Veizis says. "Before they were using the apartments that were part of the city."
In addition to the closure of the ESTIA program, Veizis also notes that the steady privatisation of state provided services in refugee camps has further limited the ability of NGO's to be present in the camps. As a result, there is less direct contact between aid workers and migrants.
"Gradually, this access came to a minimum because the government was taking on more responsibilities," Veizis notes. "So, for example, today, catering, cleaning and security are being offered by private business. The only one remaining as a state-run business is so-called health care."
Veizis believes we are currently witnessing the beginning of the complete disintegration of the refugee system in Greece.
"So, in reality, we've been seeing the reduction of the axis of civil society," Veizis says.

Find out more about Concordia's Department of Journalism.
---