New Concordia governor Catherine Loubier brings high-level public- and private-sector experience to her role
Quebec's former top delegate in the United States helped initiate the record 2022 deal between Hydro-Québec and New York State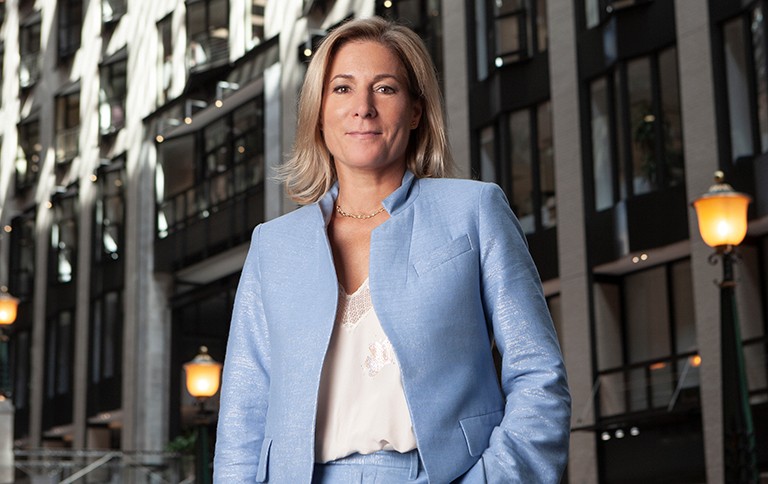 Catherine Loubier: "I am convinced that Concordia is well positioned to deliver a bright future for higher education."
Catherine Loubier, former delegate general of Quebec in New York, says she's excited to add her expertise to Concordia's Board of Governors over the next few years. At its June 18 meeting, the university's governing body welcomed Loubier as a new Board member.
Her wealth of government and private-sector knowledge will certainly be an asset for the Board. Among other roles, Loubier served as the province's highest-ranking representative in the United States from 2019 to 2021, deputy chief of staff to Quebec Premier François Legault from 2018 to 2019 and senior adviser to then Prime Minister of Canada Stephen Harper from 2013 to 2015.
Loubier's signature achievement as delegate general was leading the way for the record deal between Hydro-Québec and the State of New York, approved in 2022. At a value of $20 billion US, it was Hydro-Québec's largest-ever export contract and helped promote the use of clean hydroelectric power.
As delegate general, she also met Concordia President Graham Carr and other university representatives and alumni on several occasions in New York City.
Loubier's business-world background includes being global director of communications for the Renault-Nissan-Mitsubishi Alliance, based in Paris. She holds a certificate in finance from Harvard Business School and a BA and MA in political science from the Université du Québec à Montréal.
The Montreal native is now based in Los Angeles and acts as an advisor to the business community on public policy and governance and sits on several boards.
'I see universities as strategic national assets, part of our heritage and culture'
What interested you about joining Concordia's Board of Governors?
Catherine Loubier: I am thrilled to join the Board of Governors to support the university's objectives in the years ahead. I came to appreciate the university fully when I served as top diplomat for Quebec in the United States. I believe I can provide advice on efficient and action-oriented approaches to government affairs, policy-making and stakeholder relations.
I met Graham Carr and we collaborated on Concordia's activities in New York. I also met several Concordia graduates, and I was quite impressed with their resolve, quality of education and successful ventures.
Concordia deserves to be much better known as a dynamic citizen of the province.
What do you see as Concordia's role among Quebec universities, as well as internationally?
CL: I see universities as strategic national assets, part of our heritage and culture. Concordia is a source of knowledge and innovation that attracts international talent with the potential to live and work in Quebec after they graduate — impressively, more than 50 per cent of international students who studied at Concordia have settled in Quebec, well above the Canadian average of around 30 per cent.
Nearly 20 per cent of international students enrolled at Concordia come from the French-speaking world. Those who don't speak it can learn French, with Concordia's support, and integrate into Quebec society.
With more than 17 per cent of students who speak French and more than 35 per cent who use other languages, Concordia is diverse. It contributes to Quebec's reputation at home and abroad, where many graduates shine in different fields beyond our borders.
Concordia will turn 50 in 2024 and I am honoured to be part of the Board of Governors for that milestone. I am convinced that as a next-generation university Concordia is well positioned to deliver a bright, diverse and engaged future for higher education.
You helped spearhead the historic Hydro-Québec and New York State deal signed in 2022. How do you see that influencing the future use of clean hydroelectricity, especially in the United States?
CL: To my knowledge, this is the largest renewable energy deal ever made in North America, and it is the largest cross-border deal of its type. That certainly sends a message throughout our continent that transition to cleaner energy is possible. This new transmission cable from Quebec to New York City will run for 545 kilometres, with 60 per cent underwater and 40 per cent underground. This is an example of ingenuity and of how to deliver clean energy with resiliency and environmental safety.
After it becomes fully operational in the spring of 2026, it will quickly displace fossil fuel with clean, reliable "always-on" hydro power from Quebec. The project will play a key role in New York State's energy transition and will help lower greenhouse-gas emissions — the equivalent of removing approximately 44 per cent of the cars from New York City streets.
What can you share about your experiences in the higher echelons of the Canadian and Quebec governments?
CL: These experiences have brought me so many things, but I will single out the power of consensus because of its importance on any board, and because women excel at it. Reaching consensus around a board table, a cabinet table, in a province, in a federation like Canada or at the multilateral level such as the G20 meeting is complex. It requires hard work and strategic thinking.
Can you provide some insights from your experience for our students?
CL: I will offer this quote by Mark Twain: "They did not know it was impossible, so they did it." I made decisions in my career with that quote in mind and with a good dose of energy: I dared to try, I dared to ask, I dared to break the glass ceiling. I was always pleasantly surprised with the results and the positive response.
My central advice to students: work hard, respect others and show loyalty. Build your framework of values and adhere to it as much as you can.

Find out more about Concordia's Board of Governors.
---