John Molson School of Business student receives a Canada Volunteer Award
Concordia's Vanessa Manroop wins for her work with the Black Girls Gather book club and the West Island Black Community Association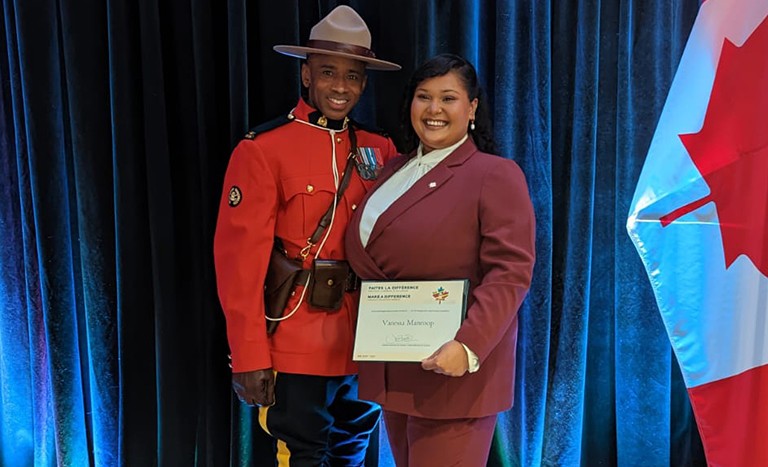 Vanessa Manroop: "It means a lot that my contributions were worthy of recognition for the entire region."
Vanessa Manroop, a third-year Concordia human resource management student, is the 2021 Government of Canada Volunteer Awards' Emerging Leader in the Quebec region. She was among five winners in the Emerging Leaders category, who each represented a region across the country.
The award recognizes volunteers aged 18 to 30 who have demonstrated leadership and helped to build stronger communities.
"It means a lot that my little corner of the world and contributions were worthy of recognition for the entire region," says Manroop, who travelled to Ottawa to accept the award and meet the other recipients.
In addition to receiving a certificate signed by Prime Minister of Canada Justin Trudeau, regional winners selected a not-for-profit organization to receive a $5,000 grant. Manroop's was awarded to the West Island Black Community Association (WIBCA), to support Black Girls Gather and their scholarship program.
'You can create a space where you can be exactly yourself'
Manroop's volunteerism began at her church and led her in 2015 to the WIBCA, where she worked with youth and seniors. In September 2020, Black Girls Gather launched out of WIBCA as a book club for Black girls and young women. Manroop is treasurer and a mentor.
Books that are selected by Black Girls Gather are all written by Black authors and often specifically highlight the experiences of Black girls and women. The program also organizes workshops with Black community leaders in Montreal and mentorship for participants.
"This idea came about because most of the women on the team went to predominantly white high schools — it's a culture shock to go to these spaces where no one looks like you and people don't relate to you. You always have to adapt — it's never the other way around," Manroop says.
"What we wanted to share with the girls is that who you are and who you're becoming is all right."
'Having people who believe in me has helped with my growth'
At Concordia, Manroop works to support other Black students through the Black Perspectives Office (BPO) and Homeroom, which offers new undergrads a place to connect with other students. She says this has provided encouragement, community and space on campus to manage her projects.
"The teams at Homeroom and the BPO have given me a lot of trust — and are always asking me what's next and pushing me further," she notes. "Having people who believe in me has helped with my growth."
Andrew Woodall, Concordia dean of students, says he considers this award wonderfully fitting for Manroop. "Whether it be at Concordia or in her local West Island community, Vanessa leads by example and reminds us of the importance of giving back."
Manroop expects to graduate in May and says she is still weighing her options. "I've learned that if you have a specific vision and you can't find it, you build your own."

Visit the Concordia LIVE Centre for volunteer opportunities on and off campus.
---