CASA Cares encourages Concordians to come together to provide food for those in need
MAR. 13: It's easy to join the Miracle Montreal Food Drive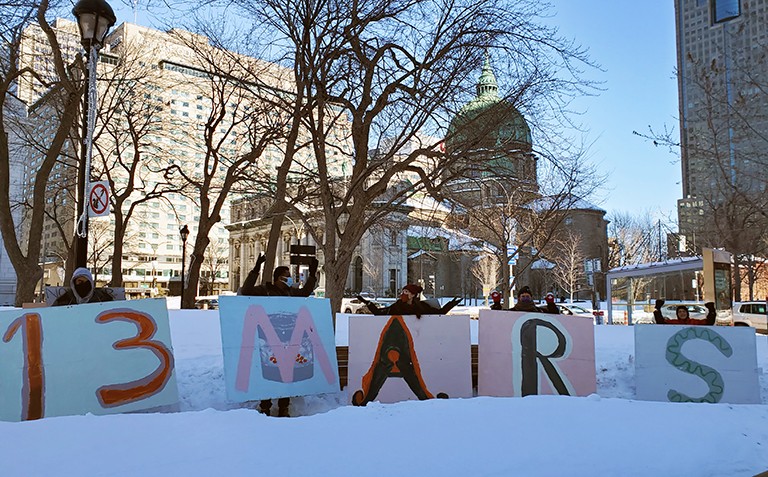 Divya Aery: "Volunteers can walk, bike or drive around their local area to pick up the goods, which will in turn be donated to food banks and families in need."
The CASA Cares student group is collaborating with Miracle Montreal for its upcoming citywide food drive. The grassroots initiative allows Montrealers to safely participate in helping eliminate food insecurity across the city.
The second Miracle Montreal food drive will take place March 13 starting at 10 a.m. Residents of Greater Montreal, including those living on the island and in north shore and south shore suburbs, can contribute by placing non-perishable food items on their doorsteps. Volunteers will then collect the items.
"Volunteers can walk, bike or drive around their local area to pick up the goods, which will in turn be donated to food banks and families in need," explains Divya Aery, CASA Cares's VP of involvement.
CASA Cares, a non-profit branch of the John Molson School of Business's undergraduate student association, aims to improve lives through fundraising and inspire students to get involved in the community.
The group hopes to recruit as many Concordia students and alumni to be volunteers and captains for Miracle Montreal, joining other local participants.
"The end goal is to get the whole city involved and be part of such an important event," says Aery.
"Volunteers can sign up at any time," says Kim Nguyen, PR coordinator of CASA Cares. "You can even register 30 minutes before the start of the event and still participate."
Concordians can get involved in three ways:
Miracle Montreal hosted its first food drive in September with the help of over 2,000 volunteers and donors. They collected some 20,000 kilograms of non-perishable foods left outside more than 30,000 homes. The donations benefited more than 100 food banks and other community organizations.
Miracle Montreal was initially inspired by an event started in Chatham-Kent, Ontario, where over 70 per cent of the city participated to help those in need during the COVID-19 pandemic.
Getting involved during a pandemic
"With everything being online, it can be hard to get involved and help the community during a pandemic," says Aery. Following CASA Cares's successful drive-in theatre event last summer, she is hopeful Concordians will join this initiative as well.
"This is an opportunity that allows anyone to help while still respecting social distancing rules," says Nguyen.
"The event is organized and run in such a way that none of the volunteers will interact with the donors. They will simply retrieve donations left on doorsteps and deliver them to the assigned places."
For more information on how to volunteer, contact: Divya Aery, VP Involvement, CASA CARES, at divya.aery@casacares.com.
Concordians can register now to get involved or visit Miracle Montreal for more information about the event.
---