Concordia community unites to recognize Black student success
The second annual graduation celebration signals the beginning of a university tradition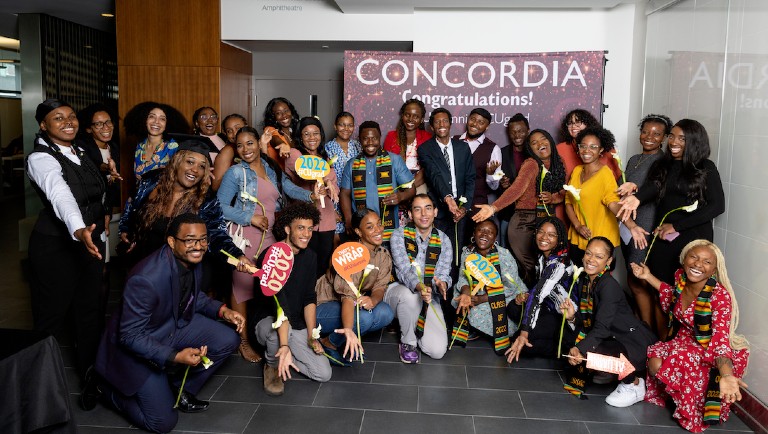 The 2022 Concordia Black Graduation Celebration took place on the rainy Saturday morning of June 18. But inside, an overwhelming sense of joy and pride filled the gathering space. Family and friends, faculty and staff fêted the many graduates in attendance, those who couldn't make it and past generations whose accomplishments continue to inspire.
The event was organized by the Black Perspectives Office (BPO) with the support of Concordia Alumni Relations. It opened with Montreal poet and educator Roen Higgins (BA 11) striking an inspiring tone that saw the audience unreservedly moved.
Higgins was followed by an address by event MC and Andrew Woodall, Concordia's dean of students.
"These ceremonies are important. They give us a moment to take stock. You're all here in your glory and in your beauty and in your hope. While we're here to celebrate you all as individuals, I want to remind everyone that this is a collective moment," Woodall said.
"Family, friends, faculty, staff — we're all in it together. You didn't get here alone and you're not leaving alone. We were, are and will be with you. We're all part of your success. We're all taking pride in it."
The common thread woven throughout the celebration was the power of community — its power to lend support and uplift in the difficult moments and its importance in reminding graduates of their accomplishments as proof-points to continue building and growing.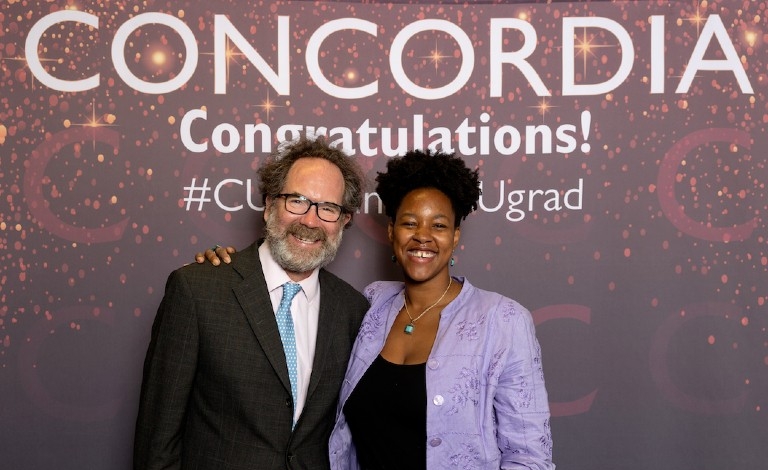 Left to right: Andrew Woodall and Annick Maugile-Flavien
'Every door is open to you'
Annick Maugile Flavien, founding coordinator and manager of the BPO, reminded students to take a moment to think about their journey. She stressed the importance of reflecting on the ups and downs and of students reminding themselves of their accomplishments and abilities when the world at times would prefer they take a back seat.
"Every door is open to you. We all believe in you. We're celebrating you. We're celebrating the generations of students who came before you, because we know how much Black students at Concordia and around the world continue to fight to belong in this world," Maugile Flavien said.
"And to the community, thank you for cheering on our students. Thank you for believing in them. Thank you for holding them when they cry. For supporting them and rooting for them even when they don't know you are."
Her address was followed by a video message from Concordia President Graham Carr and the presentation of student awards by BPO facilitator Isabelle St-Louis and Lisa White, executive director of the Equity Office.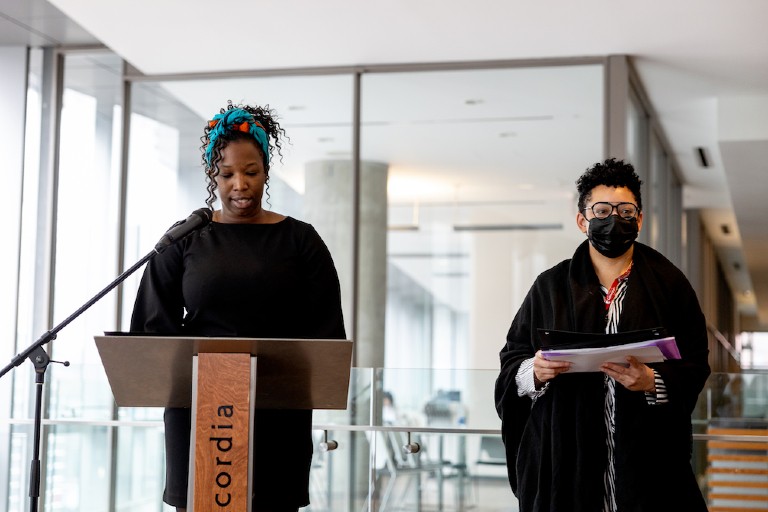 Left to right: Isabelle St-Louis and Lisa White
"We still have work to do to see our institutions address systemic barriers, but we at Concordia are deeply invested in seeing that work succeed," Carr shared in his message.
"During your studies here, you've become better equipped to overcome adversity, help others navigate change and contribute to the greater social fabric. My hope for you as graduates is that you will emerge feeling optimistic that you can make a positive difference in society."
Carr went on to thank the Class of 2022 "for standing as some of the university's finest ambassadors and as inspiration for future generations of Black graduates."
St-Louis and White welcomed award recipients to the stage who were greeted with enthusiastic applause across two categories: the Black Graduation Awards and Awards of Excellence.
'Examine, question, confront'
Angélique Willkie, chair of the President's Task Force on Anti-Black Racism and special advisor to the provost on Black knowledges and integration, took to the podium to share closing remarks.
She reminded the audience and those attending on Zoom that while it is the second Black Graduation Celebration in Concordia's history, it is symbolic. It signals continuity and suggests the beginning of a tradition.
Willkie explained that traditions remind us that Black peoples have and are part of the history of the university, and the significance of the celebration being held so close to Juneteenth is a reminder of the foundational role that Black ancestors have played in paving the roads that made the day's graduation celebration possible.
She also reminded the audience that while progress has been made, work is far from complete and must continue.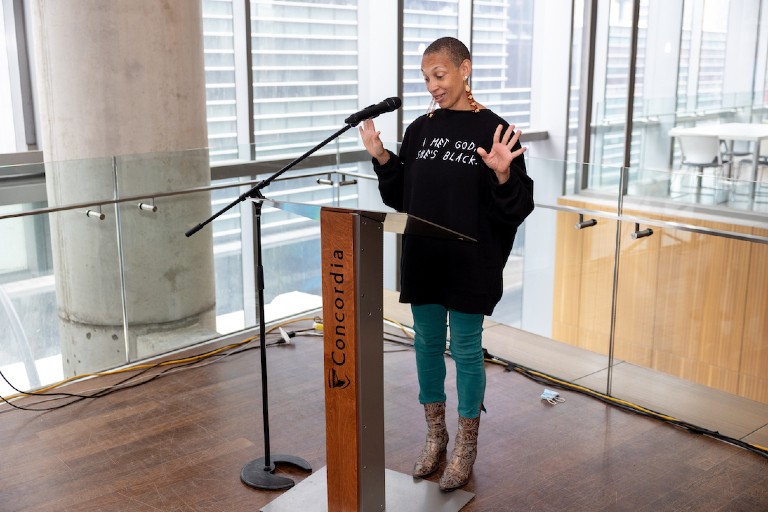 Angélique Willkie: "Find the courage to follow the winds that blow across your paths with intuitive curiosity, integrity and the profound conviction that you matter."
"The tragic events of the summer of 2020 have changed us all. There has been a tectonic shift in consciousness, in commitment and responsibility — not only at Concordia but across universities and communities of diverse origins in Montreal, in Canada and beyond," Willkie said.
"There has been significant recognition that biases live in the DNA of our institutional and social fabric. At Concordia that shift in consciousness has meant the courage to commit to the work of asking challenging existential questions," she added.
"That shift has provoked important steps toward anchoring equity, social justice and racial, ethnic and gender equity in our institutions. It has provoked fraught but necessary conversations about values, about who is properly represented, protected, nourished and who flourishes inside of our institutions."
Willkie continued. "This is your moment of paradox. Examine, question, confront. Call us out. Although it may sometimes be difficult, challenging your education, your educators and the contexts that have given rise to them is part of your empowerment," she said to students.
"It is part of what propels you further. It is your responsibility. It is part of affirming your own path as change-makers. Find the courage to follow the winds that blow across your paths with intuitive curiosity, integrity and the profound conviction that you matter."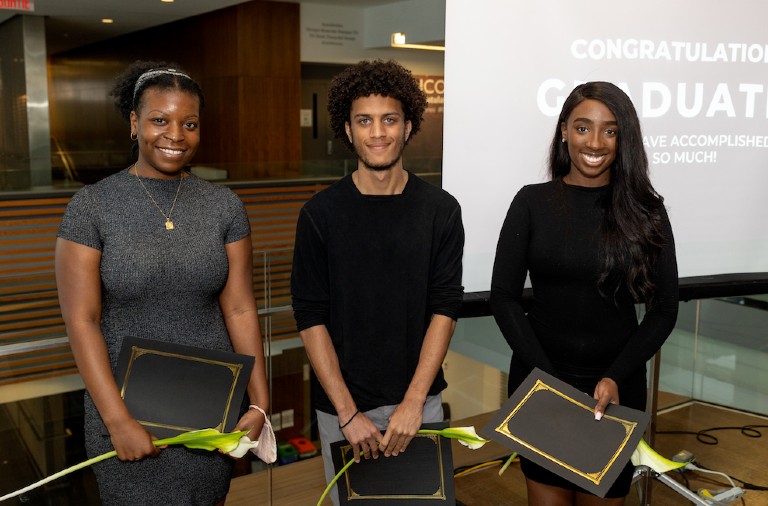 Left to right: Lillian Edwards, Quinlan Green and Ernithe Edmond
Black Graduation Awards for accomplishments as individuals and as a member of Concordia's Black community

Ernithe Edmond (BEng 22) is the co-creator of the non-profit organization My Mental Health Matters that won two awards in 2021 from Gala Dynastie and Forces AVENIR.

Throughout her university studies, Edmond was involved with Women in Engineering as director of outreach, served as an ambassador for the BPO and co-founded the Black Student Union.
Quinlan Green (BFA 22) spent his five years studying as a writer, actor and dramaturgical outside-eye, having learned within the contexts forged by and for Black scholars working at Concordia.
Lillian Ayana Edwards (BA 22) shows a passion for history and awareness of the importance of taking action to fight the prevalence of racial inequality in society. This passion ignited a burning interest that Edwards will now translate from history to the pursuit of justice with her recent acceptance to law school.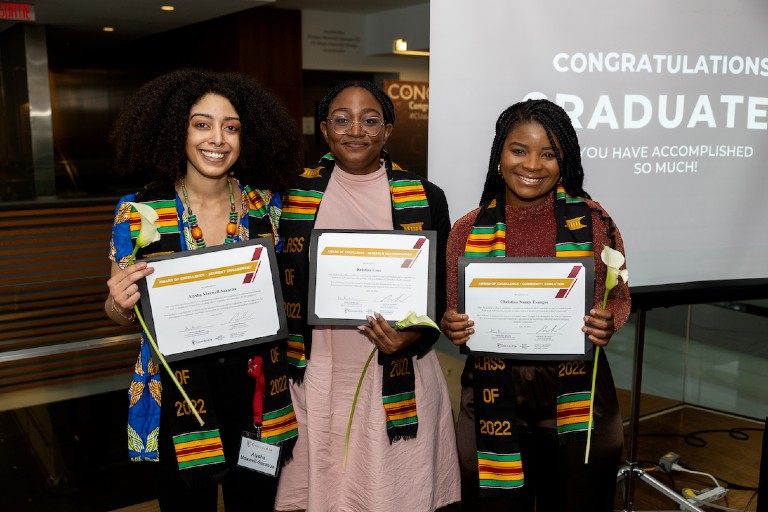 Left to right: Alysha Maxwell-Sarasua, Kristina Ceus and Christina-Nancy Eyangos
Awards of Excellence for impactful contributions to Concordia and the larger community
Kristina Ceus (BA 22) received the award for her passion and accomplishments in research and innovation. She undertook graduate-level research in psychology on the effects of discrimination on the mental health of Black students. Through her outreach, Ceus mobilized students to help develop mental-health resources and services to meet the needs of Concordia students.
Alysha Maxwell-Sarasua (BA 22) was honoured for her involvement in student engagement. She founded the Black Woman Initiative at Concordia to increase wellness opportunities for Black women on campus. She also mobilized the Department of Political Science around Black Lives Matter and organized a series of Black-centred events and conversations. Maxwell-Sarasua also sits on the Student Services subcommittee for the President's Task Force on Anti-Black Racism and was one of the student leaders and moderators for Concordia's first Black Student Town Hall.
Christina Nancy Eyangos (BSc 22) was nominated for her work in community education. She advocates for the rights of immigrant families and is the founder of the youth initiative Je Participe! which encourages the civic and democratic participation of young people from Black communities. She is also the founder of the non-profit organization Le Front pour l'intégration des noirs, which works with local merchants to redistribute unsold goods, particularly those from Afro-Caribbean markets of Montreal to families in need.
Keyara Valencia-Hinds (BSc 22) was celebrated for her leadership and advocacy. In 2020, she launched a campaign to raise awareness on the lack of inclusion and diversification in sport as well as mobilized student athletes toward addressing these issues. As a student-athlete liaison with the Black Canadian Coaches Association, Valencia-Hinds advocates for the wellness of athletes on and off the field. She also publicly represented and advocated for the interests of Black communities and served as a representative for the anti-racist education subcommittee of the President's Task Force on Anti-Black Racism.

Find out more about Concordia's Black Perspectives Office and the Black Alumni Network.
---