Concordia history professor's class assignments encourage innovative approaches to difficult subjects
Alison Rowley: 'Through these creative projects, my students are able to communicate to a much larger audience'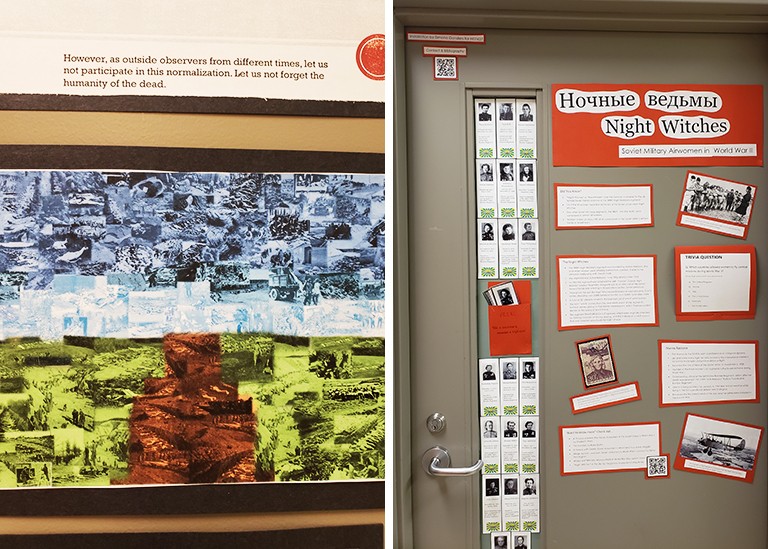 This fall, Alison Rowley, Concordia professor of history, has been offering experiential learning opportunities to her students and bringing attention to Soviet women's Second World War experience at the same time.
For her class Soviet Women & World War II (HIST 437/610), Rowley invited students to submit a wide variety of assignments that are more creative than a traditional research paper. They can choose to review a film or a podcast, analyze a Second World War object or be creative for an innovative assignment called "Decorate my Door."
Every week this term, students in Rowley's class have put up thought-provoking and eye-catching displays using a visible space on campus: her door on the 10th floor of the J.W. McConnell Building (LB).
"My student Zachary Mitchell found a way to conceptualize the horror of the millions of deaths during WWII," Rowley says. "I shivered when I saw Zach's door display, and it brought someone else to tears. It was so powerful."
"In four years of war, roughly 27 million Soviets — the majority of whom were civilians — were killed. This number is so immense that it is wholly inconceivable, so I tried to present a statistic in a visually evocative way," Mitchell says.
"I have seen that I have created something which, while imperfect, is reaching and speaking to a larger audience than any other essay or assignment I've worked on in my time at university."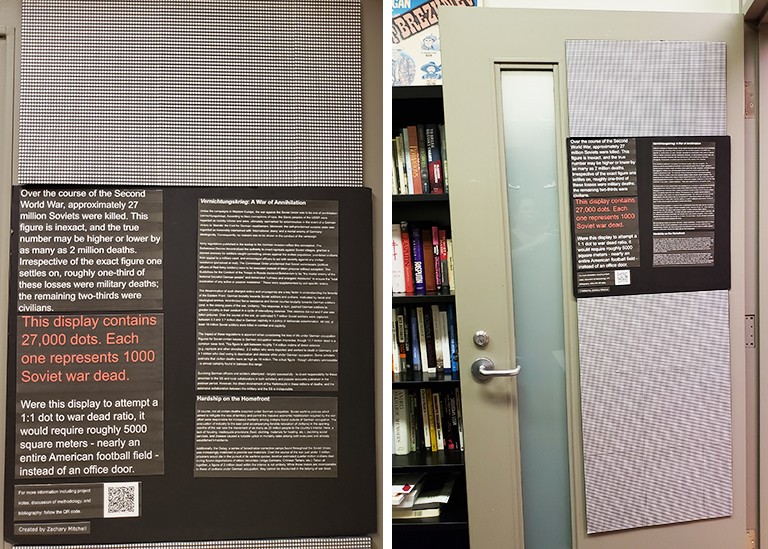 Student Zachary Mitchell found a way to conceptualize the horror of the millions of Soviet deaths during WWII.
The assignment recognizes that as students graduate into a constantly changing world and start their careers in non-traditional professions — everything from museum curating to video game storytelling — they increasingly need skills that are relevant for today's world.
Rowley points out that she is not alone in assigning tasks that go beyond the traditional 10- or 20-page research paper. "Many of my fellow faculty members are encouraging forward-looking scholarship beyond the publication of a journal article or essay that very few people may read," she says.
Student Dennis Stepanov's door display, which is up during the week of December 6, focuses on his great-grandmother, Antonina Nikolaevna, who was a frontline medical orderly in the Soviet Workers and Peasants Red Army.
The poignant photographs Stepanov included in his exhibit range from high school photos of his great-grandmother's class taken just weeks before Nazi Germany invaded the Soviet Union in 1941 — and the overwhelming majority of the students were killed — to pictures of the shrapnel from Axis artillery shells that tore through his grandmother's body and imbedded themselves deep inside her skin, and were surgically removed decades later.
"I used my great-grandmother's story as a platform to explore the experiences of the other thousands of women in similar positions who have not been afforded the attention they deserve," says Stepanov.
"Her experiences are worth telling, and that is why I am incredibly grateful to Professor Rowley for giving us the outlet to do something like this, and spark the curiosities of people passing by, allowing them to take a moment to stop and reflect."
"History is so much more than just what we learned in high school," Rowley says. "History is a living thing, and through these creative projects, my students are able to communicate to a much larger audience. My goal is to get the students so engaged in their learning that they never miss a class."

In 2022, Concordia made a commitment to offer an experiential learning opportunity to every incoming undergraduate student. Learn more about Experiential Learning at Concordia.
---