Mike Gasher (1954-2022): A life well-lived
Enn Raudsepp, distinguished professor emeritus and co-founder of Concordia's Department of Journalism, remembers his late colleague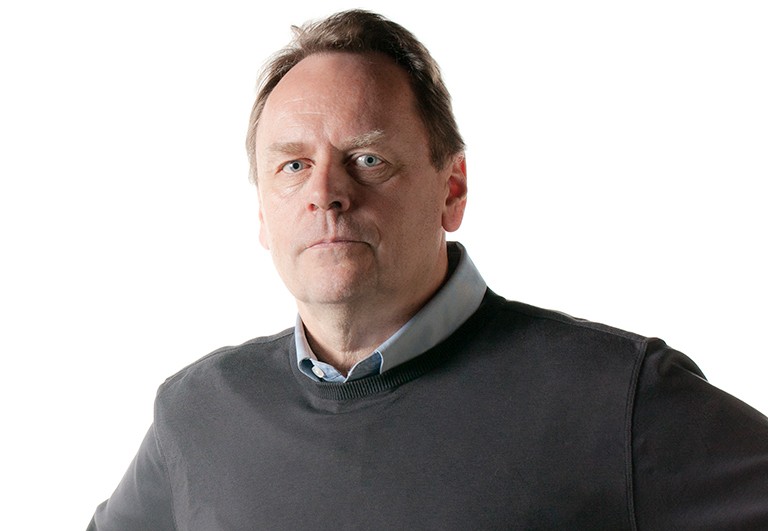 Mike Gasher | Photo by David Ward
I met Mike Gasher, PhD 99, in 1997 when he dropped by my office in the Bryan Building on Loyola Campus, where the Department of Journalism was located at that time. He explained that he had been a sportswriter, reporter and copy editor at a number of newspapers in Western Canada and had recently started the PhD program in the Department of Communication Studies at Concordia.
Married with two young children, he said that he was looking for part-time work and wondered whether the journalism department could use someone like him to teach in one of the writing and reporting workshops.

I was impressed by his softspoken but forthright manner, even more so when he went on to say that although he had enjoyed his years as a foot soldier in the trenches of daily newspaper journalism, he had long felt a need to better understand the place of journalism in society, both as it actually was and how it could or should be. A half-hour later, it was quite clear that Mike had given serious thought to those issues, and I was willing to bet that he would not only be an excellent teacher but also had the potential to contribute to the betterment of society.

As it happened, we did have a teaching vacancy in a workshop course, and so it was that Mike began 19 years as a mainstay of the journalism department. During that time, he completed his PhD, was hired as a tenure track professor, became a distinguished research scholar and graduate program director, and eventually replaced me as department chair, serving in that capacity for four years, during which time he was instrumental in setting up our MA program.

By the time Mike retired in 2016, he was a full professor and a nationally recognized scholar whose six books and numerous articles were frequently cited by other scholars working in the fields of community and cultural policy, representation in the news media, the political economy of the news media and the geography of news. He also co-authored Media and Communication in Canada, widely viewed as the "gold standard" of introductory textbooks on the subject.

The expertise he acquired from his extensive research made him a much sought-after teacher, especially at the graduate level, where his meticulous mentoring of MA candidates is often mentioned by them as a significant factor in their success. Well-loved as a teacher, Mike was equally highly regarded by his colleagues as someone who could always be relied on to pitch in no matter what the work might be, whether revising the curriculum, advising students, doing committee work or representing the department at university functions.
As I prepared to retire after 30 years in the department, I knew that I would be leaving it in good hands with him at the helm.

Mike was, I should say, a thoroughly good person — the kind of person who always wanted to think well of others and consequently had a plethora of friends and a dearth of enemies. Moreover, he was fun to be with, thoughtful and articulate whether talking shop or chatting about life or sports over a few beers.

Mike loved the outdoors and was an avid practitioner of outdoor sports and activities. Before his retirement, he moved to Rigaud, Quebec, and then to a suburban cottage on the banks of the Ottawa River just across the border from Quebec, where he and his family — wife Dianne and children Adam and Danielle — delighted in the availability of kayaking and cycling, almost literally in their back yard, as well as the nearby golf, curling and skiing facilities.

That such a man was struck down by cancer at the all-too-early age of 67 was a cruel twist of fate. To the end he was steadfast and true to his nature, writing a final column for the Vankleek Hill Review and making sure that his wife and family would be looked after, before succumbing to the inevitable on September 27, 2022.
---