There's still time to give to Concordia's 2022 Centraide Campaign
Donors can add to this year's total before the closing event on December 7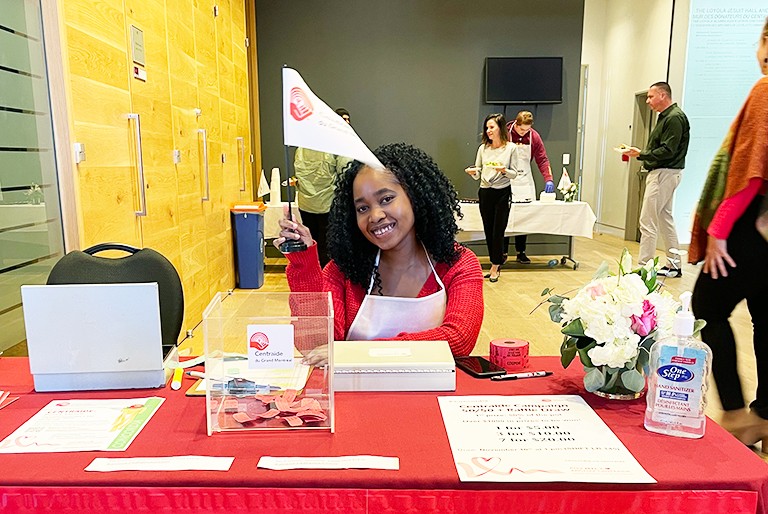 Eddel Kilingi of Alumni Relations, at the Loyola Pasta Lunch at the Loyola Jesuit Hall and Conference Centre.
Concordia's Centraide Campaign 2022 has been extended — so there's still time to help the campaign meet its goal in order to make a difference for Montrealers this year.
"Once again, Concordians have displayed their generosity, even with our present, challenging economic situation," says Nadia Bhuiyan, vice-provost of partnerships and experiential learning and campaign co-chair.
"They showed up in full force at our live events, including pasta lunches, a bake sale, a chess tournament, Comedy for a Cause and a screening of the movie C.R.A.Z.Y. And the online Pet Photo Contest was a big hit. The university community's support and encouragement really made a difference this year."
Concordia's 2022 Centraide Campaign goal is $205,000. The total for the official campaign, which ran from October 11 to November 18, will be announced at the Centraide Closing Event at the SHIFT Centre for Social Transformation in LB 145 on December 7, 11:30 a.m. – 12:30 p.m.
Concordia President Graham Carr will be on hand, and the raffle winners and top three critters from the Pet Photo Contest will also be announced.
Since 1975, Concordia has helped raise funds for Centraide of Greater Montreal, which supports 350 agencies and projects and more than 800,000 individuals in Montreal and Laval and on the South Shore. In 2021 Centraide raised a record $62.6 million.
"We've extended the Concordia campaign because the real need for many Montrealers continues. Our final 2022 tally includes all gifts before the year end," says Philippe Beauregard, chief communications officer and the campaign's co-chair.
"While today's economy is tough on all of us, it's especially hard on those already in need. So we encourage those who have not yet done so to donate — or for those who already have given, if possible, to increase your contribution."
To donate:

Learn more about Concordia's Centraide Campaign 2022.
---