Concordia's Centraide Campaign events are back in person
Fundraisers for the important cause include pasta lunches, a comedy night and a pet photo contest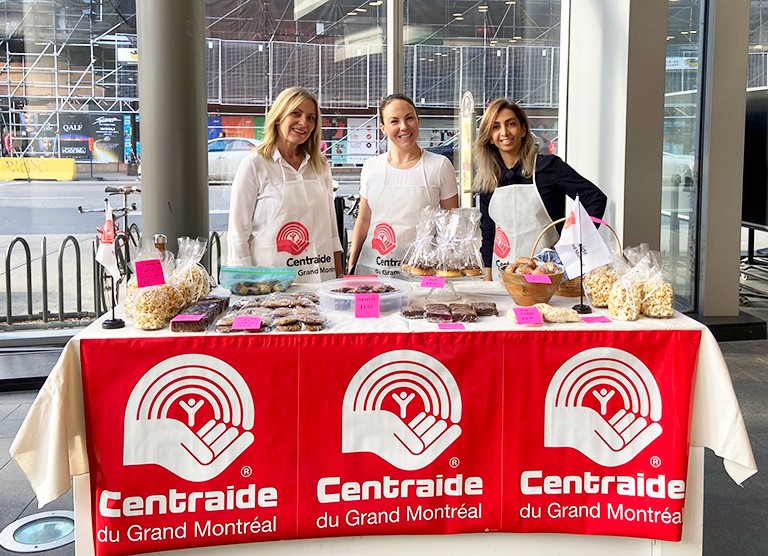 Bake sale volunteers Julie Klucinskas, Chelsea Bonneau and Elham Farsad helped raise over $1,000 for Centraide.
After patiently waiting for more than two years, members of the Concordia community are finally able to demonstrate their support for the Centraide Campaign — in person.
Last year Concordians contributed $216,287 toward the campaign, which was held entirely remotely.
This year's campaign's goal is $205,000 and runs until November 11.
A number of live fundraising and other events have returned, and there are still other ways to contribute to the campaign.
The funds benefit Centraide of Greater Montreal, which supports 350 agencies and projects and more than 800,000 individuals on the island, in Laval and on the South Shore.
Launch event
The 2022 launch event welcomed about 30 university senior administrators, managers and donors and Centraide of Greater Montreal representatives to the 10th floor of the Molson Building on October 13. Those in attendance were encouraged to make a leadership gift — $1,200 or more — or increase their previous gift amount.
Nadia Bhuiyan, vice-provost of partnerships and experiential learning and campaign co-chair, Concordia President Graham Carr, Claude Pinard, president and executive director of Centraide of Greater Montreal, and Irene Nattel, managing director of Global Research for RBC Capital Markets and a Centraide major donors cabinet member, addressed the gathering.
Carr spoke about how his time as a Centraide board member helped him learn of the real social disparities in Montreal. He added that he's well aware that many students face socioeconomic challenges, which were only extenuated by the COVID-19 pandemic.
"I'm proud in my own way to be a Concordia ambassador for Centraide. You, too, are all ambassadors," he told the donors.
Pinard reported that about 17 per cent of Montrealers pay more than 50 per cent of their net earnings for housing — and often that housing is not in good condition. Centraide's ultimate goal "is to break the cycle of poverty," he added.
"We don't just want to provide a Band-Aid. We want to make sure everyone has a place to eat and a place to live, but we also need to fix the causes of poverty."
Other opportunities
Concordians looking for chances to donate have a few options this year, such as by buying raffle tickets being sold at events and around campus, and department bake sales.
The Centraide pasta lunch is a long-time university tradition. The plate of pasta with meat or vegan sauce, salad, a roll, beverage and dessert, all for $15, is available at the Centraide Loyola Pasta Lunch at the Loyola Jesuit Hall and Conference Centre on November 3 from 11:30 a.m. to 2 p.m.
Faculty, staff and students already gathered in the atrium of the J.W. McConnell Building on the Sir George Williams Campus for the hearty meal on October 25, and raised $1,442.
Not all the giving opportunities are in person. For a chance to win a $100-gift card from Mondou and other prizes, Concordians can enter the Pet Photo Contest for Centraide by submitting a shot of their beloved animal friend along with a $10 donation. The deadline to submit a photo is October 28 at 5 p.m.
All Concordians are invited to the Centraide Campaign Closing Event at the SHIFT Centre for Social Transformation in the J.W. McConnell Building, room LB 145, at 1 p.m. on November 10. Graham Carr will reveal this year's campaign's total funds raised, and the raffle winners and the top three pets from the Pet Photo Contest will also be announced.
This year, the "closing event" isn't really the closing event — something the comedians at Centraide: Comedy for a Cause certainly will have fun with. Sophie Buddle will headline the lineup at the Comedy Nest, 2313 Ste. Catherine St. W. (Pepsi Forum), 3rd floor, on November 11 from 8 to 9:30 p.m.
Admission is $15 and open to those 18 or older from the Concordia community along with their friends and family.
Other events include a chess tournament in H-655.02 on November 10 from 5 to 8 p.m., and a screening of the iconic Quebec film C.R.A.Z.Y., directed by the late Jean-Marc Vallée, in EV-1.615 on November 17 at 5:30 p.m. Keep an eye on the Centraide Campaign website for more news and information.
Proceeds from all the events and sales go to Centraide. So join the fun and raise some funds!
To donate, please email centraide@concordia.ca for more information.
Learn more about Concordia's Centraide Campaign 2022.
---