Concordia fine arts student Jason Sikoak honours residential school survivors with his Truth and Reconciliation keepsake coin design
The commemorative medallion is a collaborative effort between Inuit, First Nations and Métis artists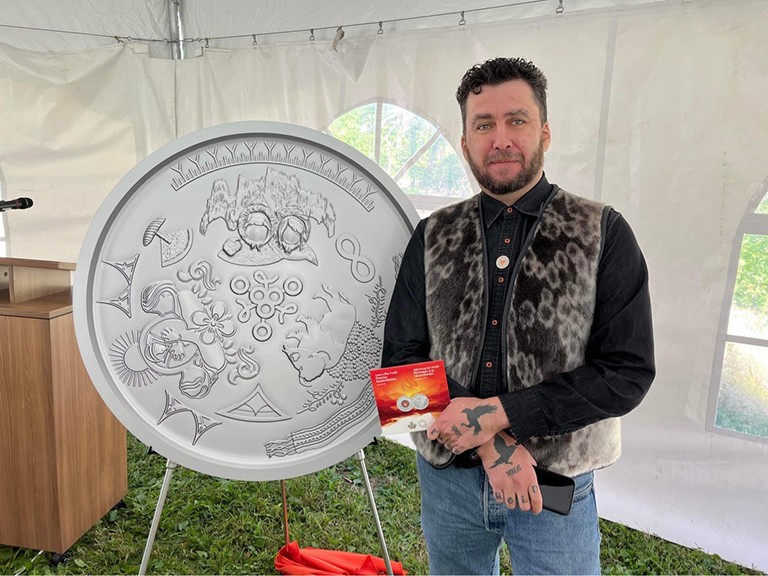 Jason Sikoak stands next to the Truth and Reconciliation keepsake medallion that he helped design.
It would be a major achievement for an artist to have their work featured on Canadian currency just once in the span of a career, let alone twice. But that's exactly where Jason Sikoak, a fourth-year studio arts and art history student at Concordia, finds himself.
Sikoak (Inuit) is originally from the Inuit community of Rigolet, Nunatsiavut in Labrador. He was on hand in Winnipeg last week with collaborative artists Leticia Spence (First Nations) and JD Hawk (Métis) for the ceremonial unveiling of their keepsake commemorative coin.
The medallion was created to honour residential school survivors and victims. It is intended to ensure that Canadians never forget the more than 150,000 First Nations, Inuit and Métis children who were forced by the state to attend Residential Day and Boarding Schools after being taken from their families.
"I'm very honoured and humbled to be a part of this," Sikoak remarked. "It feels a little surreal, to be holding this in my hands after so long and so much work by so many people!"
One face of the coin bears the inscription "Every Child Matters" in French and English. At the centre an arrangement of orange hands represents the sun as a source of life. In addition, footprints follow the perimeter of the coin, indicating ancestors walking with younger generations.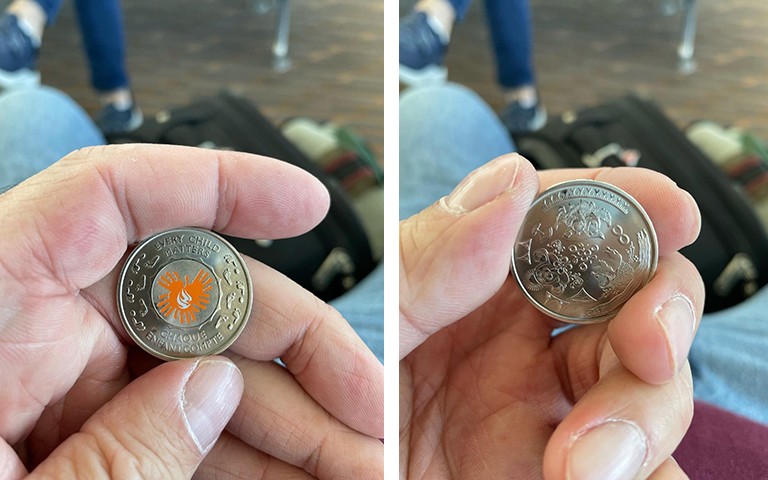 Forefronting themes of cultural preservation
On the opposite side of the keepsake, First Nations rights, teachings and culture are represented by symbols of water, a stylized fireweed flower; and to the left, a triangular motif inspired by parfleche (a rawhide carrying bag) designs.
The Métis Nation is represented by the Métis sash; a beadwork flower; the bison; and to the left, the infinity symbol that represents the joining of two cultures, First Nations and European.
The Inuit perspective is represented by traditional tattoo line work, an ulu (a traditional curved knife), the Northern Lights and a brother and sister who were sent to residential schools.
Speaking of his work on the two siblings, Sikoak reflected to APTN, "I left them faceless so that any Inuk who looks at the medallion could potentially remember their relatives."
It's a sobering reminder that the scars brought on by the Residential School System are not only from the past, but sources of contemporary pain for so many within the Indigenous community.
'A very important story'
Evoking similar themes of cultural preservation roughly a year earlier, Sikoak's first coin depicted a sea goddess from an Inuit storytelling legend who goes by Nuliajuk, among other names. Representatives from the Royal Canadian Mint invited him to enter a contest to design a silver coin — and he won. In an interview with the Nunatsiaq newspaper of Nunavut and Nunavik at the time, Sikoak spoke of his motivations: "For me, Nuliajuk is a very important story in reclaiming my heritage."
As for his future plans, Sikoak says he's hoping to open a studio for young artists who haven't yet developed a portfolio. And given the accolades that he's acquired in such a short period, emerging talent is likely to benefit greatly from such an esteemed mentor.

The Truth and Reconciliation keepsake commemorative coin can be purchased through the Royal Canadian Mint. Net proceeds from the sale will support the work of the Na-mi-quai-ni-mak Community Support Fund (Na-mi-quai-ni-mak is an Anishinaabemowin name meaning "I remember them"). Established by the National Centre for Truth and Reconciliation, Na-mi-quai-ni-mak is a community fund that assists survivors and their communities carry out healing, wellness and commemoration activities.
---