Lifelong friendships and fond memories at the Loyola College for Diversity and Sustainability
Three graduates look back on their time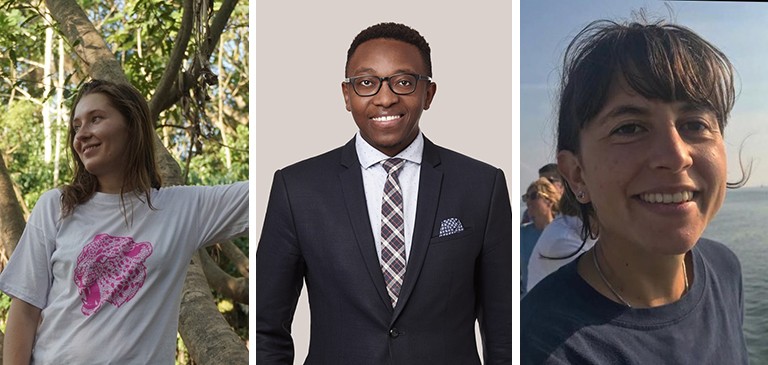 From left: Lidiya Beida in the Peruvian rainforest, Moses Gashirabake and Clea Montanari.
As the Loyola College for Diversity and Sustainability turns 20, three alumni reflect on their experiences there and provide updates on where they are today.
Lidiya Beida (BA 21)
The minor in sustainability studies was a really good fit. I had the opportunity to gain hands-on experience. I took one course with Dr. Carly Ziter, planting a pollinator garden at Loyola Campus.
Some of my best experiences at Concordia were with the college. I was able to do so many interesting things.
Right now, I'm doing a master's in geography at the University of Toronto. My research is based in the Peruvian Amazon, where I'm investigating links between rainforest biodiversity and the livelihoods of Indigenous women who specialize in handicrafts like textiles and ceramics.
Moses Gashirabake (BA 13)
I was invited to join the college in the third year of my honours in political science degree at Concordia. I joined the college to enhance my understanding of environmental protection issues, diversity and inclusion.
I discussed serious issues and made lifelong friendships with professors as well as fellow students, who continue to be positive influences. These connections became very useful when I joined McGill University for my degrees in common law and civil law.
I am currently the founder and CEO of Mo Gashi and Partners, a legal and business consulting firm in the Ottawa-Gatineau area. I also serve on many boards of charities and not-for-profit organizations.
Cléa Montanari (BA 19)
What I really enjoyed about the college is that it was quite small. I felt like there was a lot of leeway and freedom to take initiative.
The college served as a place with a community-like environment. Rebecca Tittler was always very present and kind. Her door was always open.
I became part of the student association of the college, and that really gave me agency to create projects and put my values into action.
I'm currently doing my master's in environmental policy at Wageningen University in the Netherlands, and I will soon be working at the Living Planet Institute in Paris as a research assistant to help set up the European Citizen Science Academy.

Learn more about Concordia's Loyola College for Diversity and Sustainability.
---