Concordia biology interns make a difference through urbaNature Education
5 summer students take on work in biodiversity research through the Montreal NGO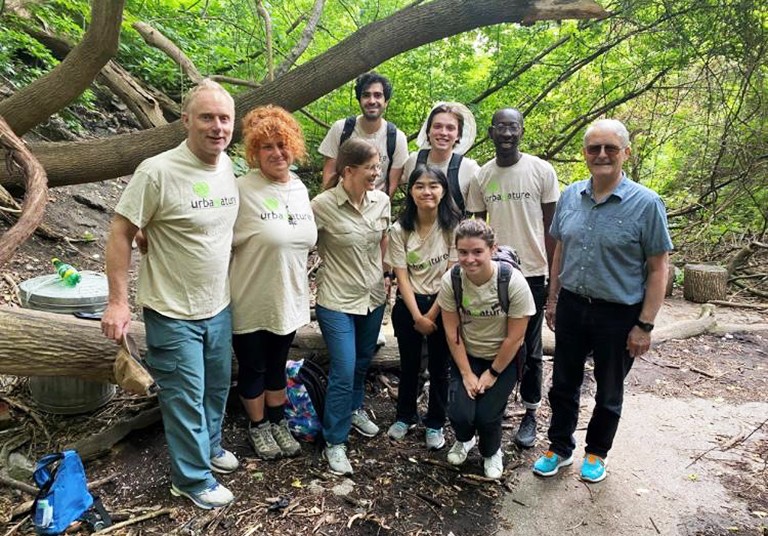 "urbaNature is a holistic approach to biology and public education." | Photo courtesy urbaNature Education
Biology professor Emma Despland collaborated with local NGO urbaNature Education (UNE) to place five Concordia students in the Canada Summer Jobs program this summer. The selected students participated in eight-week internships in urban biodiversity education and research in local green spaces in Montreal's Notre-Dame-de-Grâce and Westmount boroughs.
According to Despland, the internships provide an opportunity for students to get experience in the non-profit sector while allowing Concordia to build meaningful community connections and support an organization working toward sustainable development goals.
UNE was founded in 2018 by Lisa Mintz and her colleague Holly McIntyre with the aim of teaching environmental education and facilitating human connection with nature in an urban environment. Mintz is also the founder of Sauvons La Falaise, where her mission was to protect the eco-territory of the Saint-Jacques escarpment. It's an area she refers to as an "orphaned urban wilderness" which has now been transformed from a dumping ground into a grand park.
"I started urbaNature Education because I can save as many green spaces as I like, but if the next generation does not see a value in nature, then I am wasting my time," Mintz explains.
'Self-discipline, organizational skills, leadership and curiosity'
In 2021, Concordia's collaboration with UNE was set into motion when Margaret Guest, aide to Liberal Member of Parliament Marc Garneau, put Mintz in touch with Despland, who offered to act as a mentor for a Concordia biology student. That first summer student was Marc-Antoine Poulin, who studied bees and butterflies on the Falaise and led educational events.
"The projects urbaNature conducts are generalist studies aimed at detecting the presence of species in urban environments to know how to better understand ecosystems humans inhabit," Poulin says.
"To be able to do this, interns must learn self-discipline, organizational skills, leadership, and, most importantly, curiosity."
This year, two additional mentors were brought on, Rebecca Tittler and Carly Ziter. Poulin also began to supervise the four new summer students: Max Kerby Edmond, Gabrielle Gingras, James Mourani and Queena Ying-En Ng. Their mandate from mid-May to the first week of July was to do biological surveys of trees, birds and certain insects in NDG and Westmount parks, including the Falaise. They also implemented educational programming.
"urbaNature is a holistic approach to biology and public education," Poulin adds. "The internship experiences that we offer are a rare opportunity to practice both the scientific aspect of conservation as well as the public outreach experiences that young scientists desperately need to learn."
Gingras, who is going into her fourth year in the Human Environment program at Concordia, says that their group took on three different research projects under the guidance of the three mentoring professors over the course of the past four weeks: examining bird diversity, the biodiversity of trees and assessing the biodiversity of bees and butterflies.
"When I signed up for this internship, I was hoping to get some research experience and I think I've definitely gotten that," Gingras says.
'A greater awareness of the fragility of life on earth'
Gingras adds that the group of interns also conceptualized and hosted educational events for the community, which mainly consisted of nature walks. Zoe Schipper, another human environment student at Concordia associated with the Falaise, joined the urbaNature interns in the development of many of these activities. These nature walks included included Early Birds, a morning walk to study birds; Garden Hop, which focused on the different bugs and pollinators in municipal gardens; Night Light, a firefly walk; and Night Life, a nocturnal study of creatures such as bats.
"I've lived in Montreal my whole life and I never knew there was an entire nature park behind the Rose Bowl between the Super C and the MUHC hospital," says Schipper about the Falaise. According to her, it is an essential tract of land that provides migration territory to animals in the area, as it is a green belt between different parks in the region of Montreal. This makes it a pillar of biodiversity and therefore a necessity to the well-being of the city.
Through immersion into this "wild" space and other parks and community gardens in NDG/Westmount, the urbaNature interns were able to access a type of learning that was vastly different from their day-to-day schooling. Ng, a cell and molecular biology student, said that this was a highlight of the internship for her.
"I have learned a lot of things that were so different from academic classes," Ng says. "We learned to identify different birds, plants and pollinators and gathered data through observation."
Despland says she particularly likes the connection with urbaNature since their work in nature education is so important for city residents.
"We are all aware now of the great mental-health benefits of contact with nature. It is also true that experience with nature fosters a greater awareness of the fragility of life on earth and a desire to protect it — things we sorely need in these times of climate and biodiversity crises."

Find out more about Concordia's Department of Biology.
Get involved with urbaNature Education.
---