Remembering John McKay: 'He was a source of much inspiration'
Former colleagues pay tribute to a brilliant mathematician whose influence spanned the worldwide mathematical community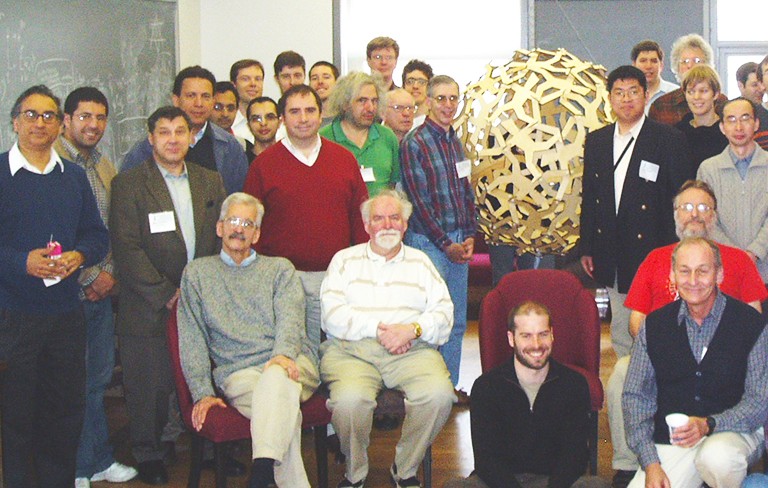 McKay, pictured centre, in a beige and white striped shirt, at a 2007 conference held in his honour.
Friends, colleagues, former students and the world of mathematics are mourning John McKay.
The distinguished professor emeritus of Concordia's Department of Mathematics and Statistics in the Faculty of Arts and Science passed away recently, leaving behind a significant body of work and a large network of colleagues and friends.
Among McKay's accomplishments, two special domains came into existence because of his insights: "Monstrous Moonshine" and the "McKay correspondence."
"They both bridged a priori completely unrelated topics relating to symmetries and geometry, and both led to a vast variety of results that clarified and rendered more comprehensible their deeper meaning," John Harnad, a fellow mathematics and statistics professor, explains.
Finding pearls among marbles
"Aside from his energy and broad curiosity, he had a phenomenal instinct for finding the singular mathematical pearl in a field of marbles," recalls Hershy Kisilevsky, a fellow Concordia mathematics and statistics professor.
The two met in the early 1970s. Kisilevsky was teaching at the California Institute of Technology in Pasadena, where McKay had a visiting position. After McKay moved to Montreal and to Concordia, Kisilevsky followed.
"He was quite influential in my decision to return to Montreal. His international reputation gave worldwide visibility to Concordia's mathematics and computer science departments."
Attracting colleagues to Concordia
Kisilevsky isn't the only person who McKay inspired to make the Montreal move. Clement Lam, professor emeritus in the Department of Computer Science and Software Engineering, first met McKay as a student at Caltech, before a chance encounter brought them together years later.
On his way to a job interview elsewhere, Lam's flight was delayed, leading to an unplanned stop in Montreal.
"Knowing John was in Montreal, I called him up. He told me he had just joined Concordia University, and that it was starting a new computer science department," Lam recalls.
"He asked whether I would like to meet the chair of the department. This impromptu meeting resulted in a job offer from Concordia."
Awe-inspiring work
Harnad, who remained close to McKay throughout his life, fondly remembers his friend's professional accomplishments.
"He was remarkable in many ways. His contributions within his fields of specialty, in particular: coding theory, group theory and number theory, were viewed with a certain awe by those who knew of them, even many who could not grasp their detailed significance," Harnad says.
"He was greatly respected and appreciated, not just within the departments of mathematics and statistics and computer science at Concordia but throughout the worldwide mathematical community."
Uncovering cosmic conspiracies
Henri Darmon, a former student of McKay's who is now a faculty member at McGill University, recalls how McKay "conveyed a vivid sense of mathematics as a great intellectual adventure."
"In his world, mathematics abounded with cosmic conspiracies, and it was our mission to uncover them," Darmon says. "His romantic vision of mathematics had a strong impact on how I approach the subject, to this very day."
'A source of inspiration'
Harnad expresses gratitude for his professional and personal relationship with McKay.
"He was a good friend and a source of much inspiration for the many who knew and admired him. He will be sorely missed, and fondly remembered."
---