Concordia sweeps the 2022 Northeastern Association of Graduate Schools Awards
Amir Hooshiar and Zhikun Chen take home prizes for outstanding PhD dissertation and outstanding master's thesis, respectively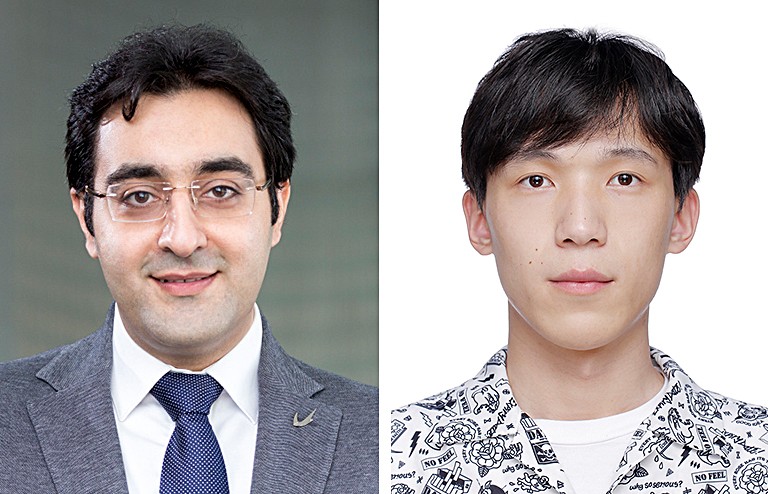 Amir Hooshiar and Zhikun Chen.
The Northeastern Association of Graduate Schools (NAGS) recently honoured two Concordia graduate students. The association is a regional affiliate of the Council of Graduate Schools drawing from postsecondary institutions from across Northeastern Canada and the United States.
Amir Hooshiar took home this year's prize for outstanding dissertation in Agricultural, Biological and Health Sciences. He is supervised by Javad Dargahi, professor of mechanical, industrial and aerospace engineering.
Meanwhile, Zhikun Chen (MASc 20) won for outstanding master's thesis, which includes physical sciences, mathematics and engineering. He is supervised by Chunjiang An, assistant professor of building, civil, and environmental engineering.
This is the first time that Concordia students have earned both NAGS awards in the same year.
"Being recognized by NAGS demonstrates the high-quality research being done at the master's and PhD levels here at Concordia," says Faye Diamantoudi, interim dean of graduate studies. "Both Amir and Zhikun are examples of applying research to tackle important societal challenges."
NAGS honoured Chen and Hooshiar a special virtual awards presentation on April 28.
Giving robot-assisted surgery a human touch
Robot-assisted surgical interventions have gained popularity over the last decade due to their minimally invasive nature. These robots are typically remote controlled that decrease the amount of exposure to X-ray radiation for both patients and doctors.
However, the widespread use of this technology has been slowed because the main way to control these robots is joysticks, which cannot convey natural sense of touch. This leads to a decrease of the surgeon's situational awareness and an increase in botched surgeries.
To remedy this, Amir dedicated his research to developing a new robotic platform that recreates the sense of touch for surgeons during the surgery. The PhD graduate in mechanical, industrial and aerospace engineering focused on creating a technology that is both tactile — what you feel with your skin — and haptic — the spatial awareness that allows your limbs to sense force.
Hooshiar conducted bench tests at Concordia to develop force estimation models, tactile display and a haptic feedback system that was integrated to form one surgical robotic platform. He validated the platform experimentally, and it showed improved performance in addressing haptic feedback and enhanced safety during remote interventions.
Currently, Hooshiar is director of the Surgical Robotics Centre at McGill University's Department of Surgery. As a part of his postdoctoral research, he is leading a team to develop the next generation of intelligent interventional robots
A greener, more efficient way of cleaning up oil spills
Oil spills continue to have devastating environmental effects on coastlines across the globe. Chen, who earned his MASc in building, civil and environmental engineering at the Gina Cody School of Engineering and Computer Science in 2020, studies the efficiency of how spills are cleaned. His research is investigating the application of surface-washing agents (SWAs) to extract oil from coastal surfaces.
The first part of Chen's thesis was a comprehensive literature review of the current and emerging green technologies to treat oiled shorelines using SWAs. He then worked at developing a new green SWA that would reduce toxicity and improve the efficiency of cleaning oil from surfaces.
Chen conducted batch experiments to verify the effectiveness of the SWA using what is known as a nanocellulose-based nanofluid that uses biomass from plants. He conducted a preliminary study to evaluate its oil removal performance and compared it with some commercial surfactants.
He found that the nanocellulose has a high potential for application as a surface-washing agent for shoreline cleanup due to the low cost, low toxicity and high efficiency.
Zhikun is continuing his PhD research at Concordia and will continue to assess the developed SWAs.

Learn more about Concordia's School of Graduate Studies.
---