Concordia's in-person summer camps offer a safe and fun learning environment for children and youth
From science and engineering to physical activity, art and theatre, the 2022 program has something for everyone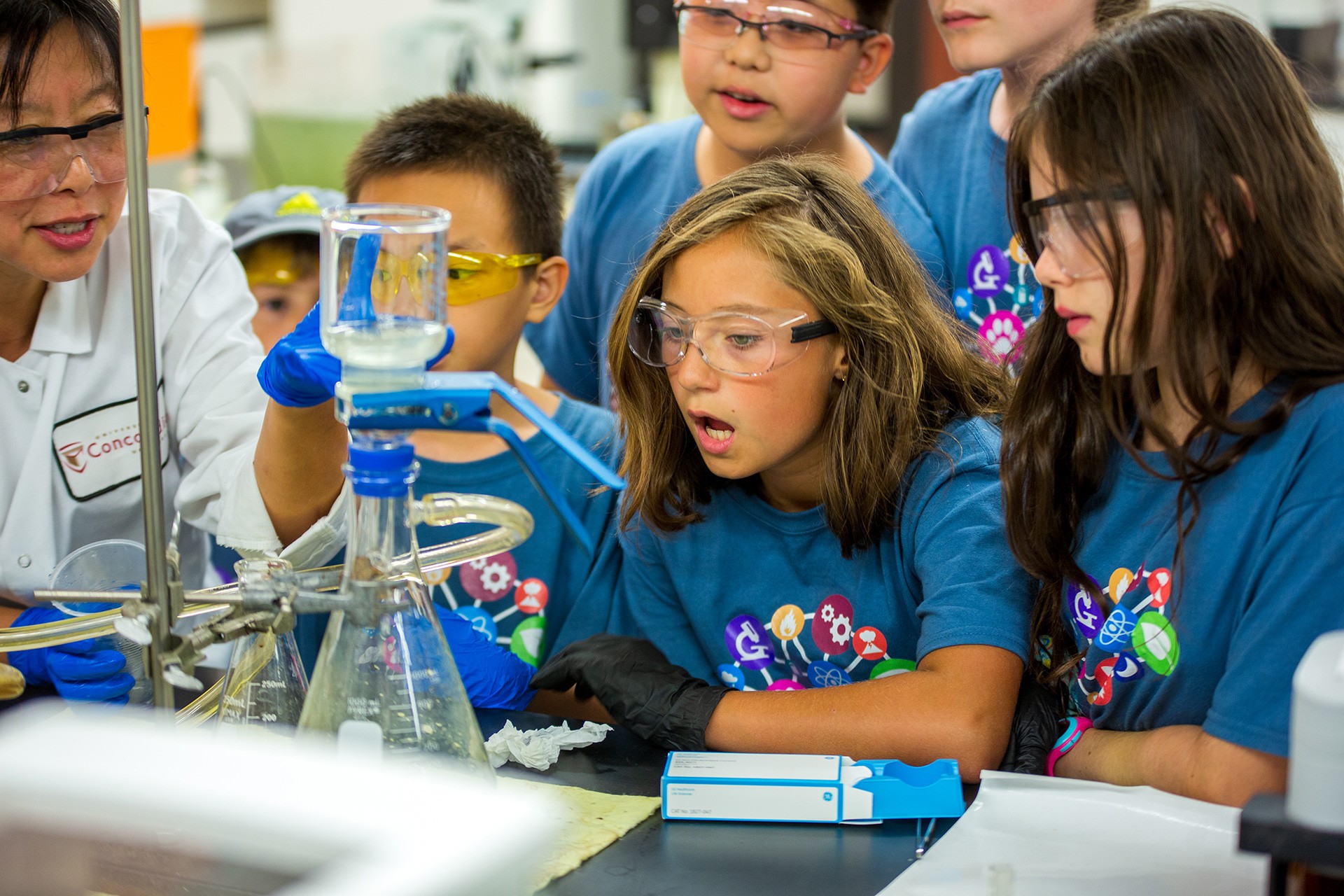 Nadia Bhuiyan: "The bonds children form with other kids and especially the camp counsellors are always invaluable."
Concordia's summer camps are back in person this year, with an exciting new lineup of activities for your children, from engineering to art to athletics.
Camp organizers have worked closely with the university's Environmental Health and Safety office to deliver a fun and safe summer experience. All camps will observe the guidelines set by Quebec's Commission des normes, de l'equité, de la santé et de la sécurité du travail and each has a virtual option in case the university needs to revert to remote delivery.
The summer camps also provide an experiential learning opportunity for all the Concordia students who are serving as camp counsellors this year.
Here is the 2022 summer camp lineup:
CIADI Science and Engineering camp
This camp is hosted by the Concordia Institute of Aerospace Design and Innovation (CIADI) and the Gina Cody School of Engineering and Computer Science from July 4 to August 19.
It teaches children ages 6 to 12 about science and engineering concepts in a fun, easy-to-understand way. Nadia Bhuiyan, vice-provost of partnerships and experiential learning at Concordia, says the camp is offering as many new activities, experiments and off-site visits as possible to keep both new and returning campers engaged and excited.
The camp has partnered with Let's Talk Science, a Canadian charity focused on children's science, technology, engineering and math (STEM) education and skills development to plan and organize experiments.
LTS also provides support to Concordia's camp counsellors, many of whom are Concordia students. During the summer, camp counsellors will develop technical, communication, leadership, mentorship and organization skills, says Bhuiyan.
"One of the great outcomes of the camp are the bonds that children form, not only with one another, but also with the camp counsellors. These are always invaluable," Bhuiyan adds.
"At the end of the summer, you can see how hard it is for them to say goodbye."
STEAMpunks camp
From August 1 to 12, high school students will learn science, technology, engineering, art and math (STEAM) concepts through lectures and training, hands-on workshops, exciting industry visits, a weekend retreat and social outings. The emphasis is on linking arts and STEM subjects.
The camp will give high schoolers exposure to a wide array of learning opportunities.
"The idea is to give participants from high school and CEGEP an introduction to diverse concepts. We hope that they find something that really piques their interest or resonates with them, that they may want to learn more about in the future."
STEAMpunks will be staffed by Concordia undergraduate and graduate students and co-directed by Carole El Ayoubi from the Gina Cody School of Engineering and Computer Science and Alison Loader from the Faculty of Fine Arts.
GirlSET (Girls Summer Engineering and Technology) camp
This two-week online summer camp from July 4 to 15, gives girls in grades 8 to 11 hands-on technology and engineering experience. They'll participate in interactive workshops on different fields of engineering hosted by Concordia graduate and undergraduate students and take part in an exciting computer programming challenge.
During some of the workshops, campers will have the ability to work with open-source software and simulators, which could be helpful in a future engineering or technology career.
Gina Cody (MEng 81, PhD 89), the first woman in Concordia history to earn a PhD in building engineering, will speak to campers in a live online session.
The girls will get to learn from university students who will share their experience about their engineering programs and mentor campers, under supervision of faculty members, during the workshops.
"This will help campers to find their interest early and make a successful plan for their future," says Rose Gomar, lecturer in Concordia's Department of Electrical and Computer Engineering.
Concordia Athletics camps
Lace up the kids' sneakers and put on their jerseys for the Concordia Athletics summer camps! The camps for ages 6 to 7, 8 to 9 and 10 to 12 will run weekly from late June to late August, and they have multiple activities per day.
Campers will get to participate in physical, sports and cultural activities including aerobics, volleyball, lacrosse, street hockey, theatre, arts and crafts, dance, martial arts and many fun water games.
All activities are hosted by Concordia Stingers athletes and students from different departments across Concordia University. Krzysztof Kmiecik, community programming coordinator for Recreation and Athletics, says students get the opportunity to gain invaluable and transferable skills in leadership, teamwork, interpersonal communication, activity design, recreation animation.
"This provides an enriched learning experience for our students and it creates a dynamic environment for the children they serve."
YMCA – Concordia Fine Arts camps
The Faculty of Fine Arts and the Quebec YMCA — now in their third year of collaboration — are offering a day camp that will immerse children aged 5 and 17 in the arts this summer.
The programming offers a wide range of activities including visual art, music, dance, theatre, puppetry and video game design. There is something for every taste that will help children explore new passions and modes of expression and creation.
The YMCA – Concordia Fine Arts Camps combine the university's fine arts expertise with the experience of an organization that has been running summer camps for decades.
Day camps will be held at Concordia's Sir George Williams Campus, and registration for all activities is now open.

Find out more about Concordia's 2022 summer camp program today!
---