John Molson School of Business students finish 1st overall at the 2022 Jeux du Commerce
Concordia delegates reach the podium 11 times at this year's edition of the Université Laval-hosted case competition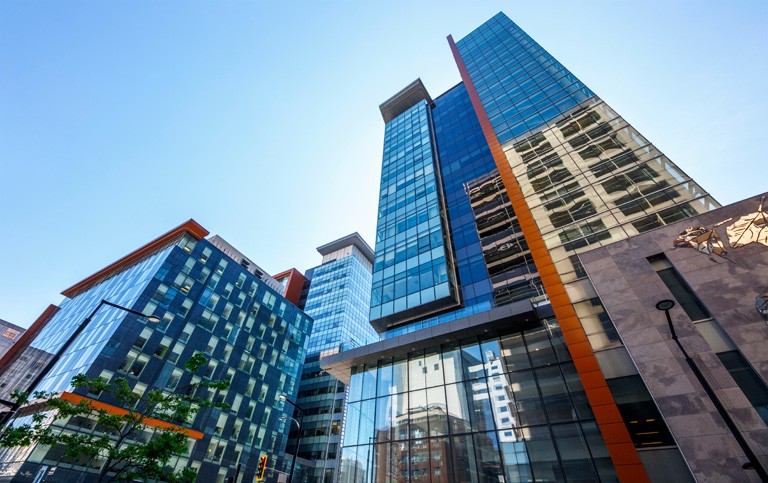 The John Molson School of Business delegation of students had a stellar showing at the annual Jeux du Commerce case competition. The prestigious event was hosted by Université Laval and took place virtually from January 7 to 10.
Although initially planned to be in person, the sharp rise of COVID-19 cases prompted the organizers to switch to an online format two weeks prior to the competition.
This last-minute and massive shift in preparations did not hinder the students, despite having been coached the entire fall term for an in-person performance. This resilience and adaptability shone in the team's 11 podium finishes.
"We are so proud of our students," says Anne-Marie Croteau, dean the John Molson School of Business.
"Particularly in this extra stressful and uncertain time, to deliver such a strong finish across so many disciplines exemplifies the strength and importance of the school's case competition program. It also shows the resilience of our students and the invaluable support from the program's countless coaches and volunteers," she says.
"On behalf of the entire John Molson community, congratulations to all the delegates."
'Ask questions, attend events and go for it!'
Participating in the Jeux du Commerce requires students to take the COMM 499 seminar course at Concordia, which is taught by management lecturer Nora Baronian and supported by volunteer coaches, most of whom are competition alumni.
To qualify for the course, students try out for the team during the spring. An average of 300 students apply for 84 academic delegate positions.
These students then participate in one of three competitions over the course of the academic year: Jeux du Commerce; JDC Central, organized by the Canadian Association of Business Students; or ICBC, hosted by Queens University.
"Getting involved in case competitions has been the highlight of my university experience and allowed me to grow both as a business student and as a person," says Sara Cholmsky, current finance and international business major and member of the JDC delegation.
"I've been given the opportunity to travel, meet incredible people and receive multiple job offers from various industries during my three years of competition. I recommend to students who want to get involved to ask questions, attend events and go for it!"
Fourteen universities across Quebec and eastern Canada take part in the Jeux de Commerce. The final John Molson delegation consisted of 86 delegates: 40 in the academic disciplines, four in debate, 18 in sports, 11 in participation, four in social, seven internal, one coordinator and one faculty advisor.
The final standings for Concordia were as follows:
Academic Cup: First place
Overall standing: First place
Engagement Cup: Second place
First place finishes: Debate, including MVP Megan Chau; 24HR; Entrepreneurship, including MVP Dylan Ross; Finance, including MVP Marie-Jeanne Fontaine; Marketing and Social
Second place finishes: Human resources, including MVP Laura Tiberiu
Third place finishes: Surprise case, including MVP Karl-Yuri Nkori; Sustainability; Management information systems/Digital strategy; International business
Additionally, John Molson's Isabel Wong won the competition's Prix Reconnaissance.
"I am beyond proud of everyone involved in this program," Baronian says.
"The students and the coaches constantly surpass our expectations. The students can attest to how enriching it is being involved in case competitions. I encourage all students to consider applying for the committee."

Below is a full list of the delegation's participants.
Academic delegation
Head coach: Nora Baronian
Vice-president, academics: Isabel Wong
Vice-president, academic coaches: Katherine Bouchet and Nowaisir Khan (Debate)
Overall coordinator for the games: Rémi Riopel
Academic disciplines
Accounting
Team: Nicolas Bergeron, Demetre Christopoulos, Philip Blanchard-Krulic
Coaches: Tashi Alexander-Ryan, Arad Banis, Anthony Di Placido, Kevin He, Jasper Fyson, Syndey Kletnieks, Brianna Meagher
Management information systems/Digital strategy
Team: Thomas Blanc Bolelli, Steven Camia, Justin Ledo
Coaches: Jonathan Ha-Tran, Glenn Funamoto, John Fragos, Amanda Onesi
Entrepreneurship
Team: Loïc Christie, Sara Cholmsky, Dylan Ross
Coaches: Aubrey Hansen-Barkun, Rudy Grow, Alexanne Lefebvre, VK Trần
Finance
Team: Samuel Castilloux, Marie-Jeanne Fontaine, Émile Martel
Coaches: Philippe Carmant, Christopher Kovalchuk, Benjamin Philippe, Michel Loutchkine
Human resources
Team: Callee Chesser, Lavanna Laass, Laura Tiberiu
Coaches: Veronika Ness, Glenda Agyemang, Megan Chau
International business
Team: Rita Belarbi, Susan Habib, Michael Di Salvatore
Coaches: Tania Konczynski, Christopher Kennedy, Christophe Hebert, Melissa Gaglietta
Marketing
Team: Isabel Wong, Veronica Mieila, Karim Hatem
Coaches: Alexandra Fillion, Maria Patronidis, Salar Molaei, Matt Litwin
Strategy
Team: Gabriel Persechino, Éloïse Turgeon, Daniel Borges
Coaches: Christian Bonneau, Simon Leblanc, Cynthia Petruzzi, Kim Nguyen, Rudy Grow, David Lafreniere
Sustainability
Team: Axel Gizard, Maya Bobotis, Nick Bonneau
Coaches: Justine Carlone, Chloé Evans, Shannon Lloyd, Lucas Fraser, Amr Addas
24HR/Interactive
Team: Olivier Cloutier Faucher, Liana Israilian, Janani Pandarassivame, Wei Jie Jing
Coaches: Michael Richardson, Colin Philip, David Lafreniere, Fatima Malik
Product operations management
Team: Dolby Ly, Alan Sarmasty, Mohammad Buhidma
Coaches: Michael Blakely, Mahesh Sharma, Olivia Urban, Nathalie Geukers
Tax
Team: Philip Blanchard-Krulic, Dai Wei Zhang, Tev Lim-Gelinas
Coaches: Tashi Alexander-Ryan, Guanfu Teng, Vincent Dufresne-Lienert
Surprise case
Team: Karl-Yuri Nkori, Paniz Mehrabian, Ryan Walker
Coaches: Ben Carr, Rodrigo Trigueros, Emil Vanjaka
Debate
Team: Dayiny Balasingam, Megan Chau, Charles-Antoine Bourget, Nicholas Tramley
Coaches: Nowaisir Khan, Tristan Waldie, Claire Kelly, Christopher Tardy, Kira Cormier, Natasha Viviane, Phil Blanchard-Krulic
Non-academic disciplines
Sports
Teams:
Kickball: Tony Leo, James Zhen, Brandon Mundl, Danny Lam, Khai Trinh Le, Cameron Simmons, Sarah Forestell, Faith Choi, Emma Roy
Flag football: Nana Nsiah, Tristan Scandar, Niello Kafidi, Philippe Soucy, Charif El Rhilani, Zachary Rubert, Maya Chalkoun, Rachel Cosby, Beatrice Racanelli
Coaches: Louis-Xavier Lachapelle, Remi Riopel
Participation
Team: Andrew Kaprielian, Angelique Dinh-Vu, Diana Lucia Valdivia Manrique, Olivia Valcourt, Marina Bertilotti Barette, Natalia Torres, Sitara Long, Sofia Hashemi, Soumaya Ponnambalam, Tharshika Tharmasingam, Vinchenzo James
Coaches: Maxime Duquette, Justin Lo Presti, Inder Pamar
Social
Team: Clara Boucher, Melissa Axiotis-Perez, Kirolos Shinoda, Liam Pinsonneault-Edmond
Coaches: Vinchenzo James, Justin Lo Presti, Mary Dolly Chouha, Natalie Asfour, Taylor Graham, Karim Hatem, Anmol Sharma
Internals
Carlie Naidoo, Jovana Gavric, Maxime Duquette, Justin LoPresti, Nowaisir Khan, Louis-Xavier Lachapelle, Avia Pacetti

Learn more about the John Molson Case Competition program and follow Concordia's competition results.
---