This winter, be aware — move with care
How to stay safe amid the snow and ice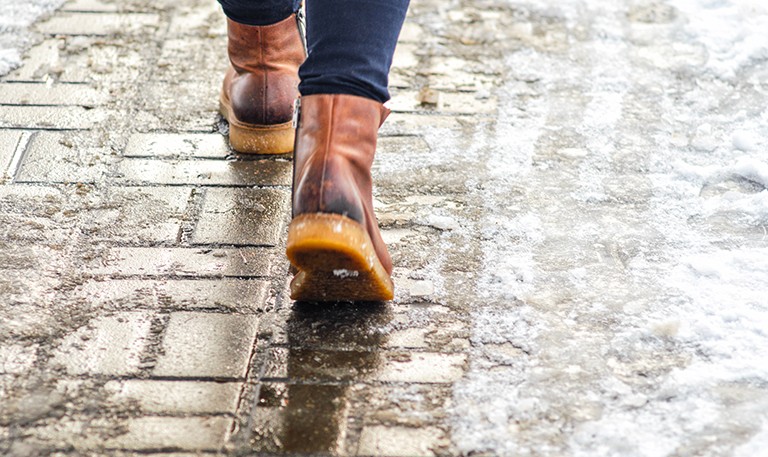 Snow, slush, rain, ice — we're in the thick of the winter season, and with that comes increasingly erratic weather. Due to the changing temperatures and the resulting hazardous conditions, Concordia's Campus Security is reminding all students, faculty and staff to be hyper-aware of their surroundings when walking to and from university buildings.
Brigitte Boutet, Concordia's emergency preparedness officer, believes the key to safely travelling in the winter months is to adapt to the season's conditions.
"It is important for everyone to take necessary precautions for their own safety and to avoid any injuries. Even the best snow removal services aren't able to deal with the unexpected surprises of Mother Nature," she explains.
Her advice? Adapt to winter by adjusting your walking behaviours to the daily conditions, and take the necessary precautions to avoid hurting yourself.
Your SAFETY is a priority
Here are a few additional safety tips to observe:
Footwear
Wear proper footwear — opt for rubber soles, galoshes or spiked ''crampons.'' Avoid any sleek or smooth-soled shoes for walking outdoors. You can always change once inside.
Choosing your path
Use paths that you know are clear and accessible. Avoid shortcuts and walk consciously. Walk on snowy rather than icy areas.
Avoid walking near roofs or along the sides of buildings where there is risk of falling snow and ice.
Avoid unnecessary outdoor walking when conditions are bad. Opt for indoor corridors and tunnels when possible.
Reporting
Report any ice patches or hazardous areas to Concordia Security in person or by phone at 514-848-3717 or to Facilities Management at 514-848-2424, ext. 2400.
Walking around
Anticipate your next step, scan for hazards ahead and avoid distractions when walking. Instead of looking down, look up and focus on the conditions of sidewalks.
Avoid putting your hands in your pockets. It is easier to keep your balance with your hands by your side.
Know the safe way to fall to avoid injuries: bend knees, twist to the side and tuck head. Avoid using your hands and arms to break the fall.
Lean forward while walking like penguins do. This favours balance and stability.
Walk slower than usual. Adapt your walking speed to the snowy and icy conditions.

Learn more about pedestrian safety at Concordia.
---