Concordia makes 2 new appointments to enhance student success
Laura Mitchell and Julie Foisy both bring years of experience working at the university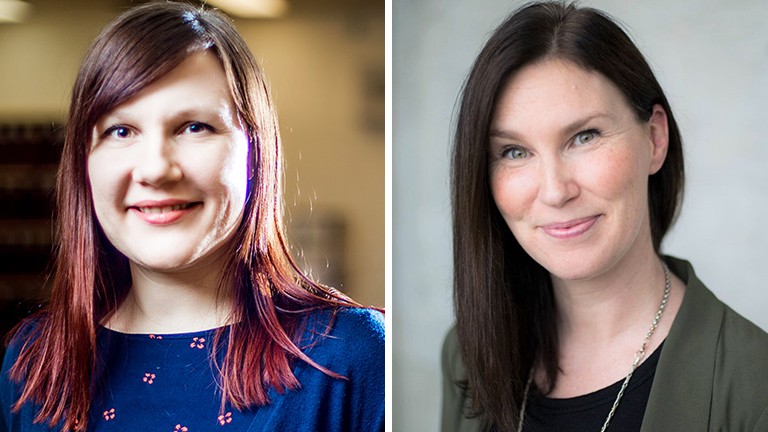 Laura Mitchell, executive director of student experience, and Julie Foisy, director of the Student Success Centre.
Concordia has made two important appointments in student services and for the overall student experience on campus.
Laura Mitchell is the university's first executive director of student experience. In this role, she will oversee and strategically plan for the continued growth of Concordia Health and Wellness Services, the Student Success Centre and the Dean of Students Office.
This position will also prioritize the integration of student services across administrative units and academic faculties, and generate new opportunities to optimize the overall student experience, thereby increasing both recruitment and retention.
"The creation of the executive director of student experience position highlights the importance for Concordia to support students and their success," says Marius Paraschivoiu, vice-provost of planning and student experience. "Laura understands the students at Concordia and can create new initiatives that enhance their experience."
Building on previous Concordia leadership experience
Mitchell came to Concordia in 2015 as the first director of Concordia's newly formed Student Success Centre, designed to bring together key academic and professional support units beneath one roof.

Under her leadership, the Student Success Centre has evolved into a key pillar of the Concordia student experience. Along with important developments in learning services and career readiness, Mitchell has overseen the growth of the very popular student mentor program, the creation of the FutureReady undergraduate skills development program and the integration of the Student Advocacy Office as part of the centre.
As a way of integrating skills development into university curriculum, two University Skills for Success courses open to all undergraduate students were designed and implemented under her leadership.
She also supervised the development of the bright, modern and spacious new Student Success Centre, which opened in July 2019 and which will serve the community for years to come.
"My aim is that students have the resources and opportunities to transition well into their new level of studies at Concordia, to meet any challenges in their academics, to thrive in their mental and physical well-being and plan confidently for and develop the professional skills they need for their career after university," Mitchell says.
The Student Success Centre has a new director
Replacing Mitchell as director of the Student Success Centre is Julie Foisy (BA 05), who most recently served as associate director for Concordia's Institute for Co-operative Education.
During her tenure, she led the operations and service delivery for the institute and built strong relationships with faculty and staff to enable partnerships and smooth execution of programs and initiatives.
Foisy also oversaw the revision of a mentorship program with a focus on retention and growth as well as the development of microlearning modules for students on internships.

"As a first-generation student, I learned early in my university studies how important para-academic life can be. I'm thrilled to have the opportunity to return to Concordia and contribute to the impressive work already being done within the Student Success Centre," she says.
"This new role is a dream come true."
Foisy held several roles at the University of Toronto over the past decade. The road to her new position was influenced by her time as a student in Concordia's Department of Psychology. She worked for Jennifer McGrath, associate professor of psychology, on a Canadian Institutes of Health Research–funded project identifying how social determinants impact children's health.
"Working with Dr. McGrath on childhood inequalities in health translated to a passion in understanding how underrepresented groups access and are successful in higher education. I look forward to using my experience and passion to continue building on the excellent work of the Student Success Centre," Foisy says.

Mitchell sees Foisy as a natural fit. "Julie fundamentally understands that the university experience goes beyond the classroom and that student success and retention depend on services that are accessible to as many students as possible," she says.

Learn more about Concordia's Student Success Centre.
---