Struggling to balance your studies with parenthood? There's help
The Concordia University Student Parents Centre offers support, resources and activities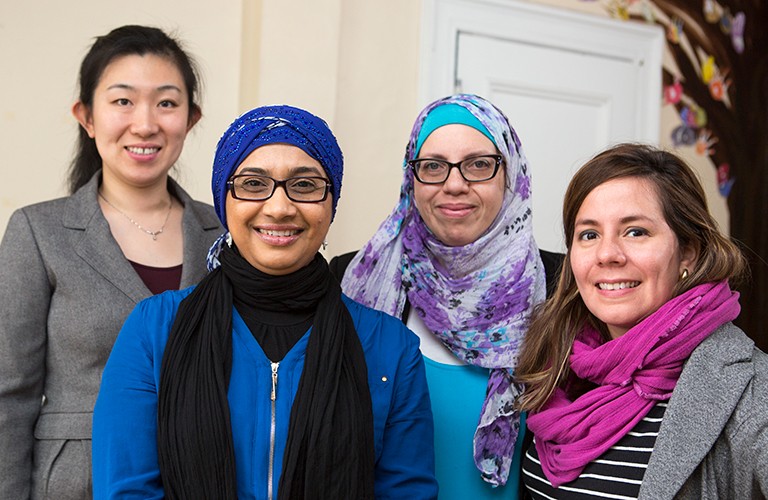 A photo of the staff at the Concordia University Student Parent Centre, taken pre-pandemic.
Being a student can be hectic. Maybe you're balancing your studies with a part-time job — during a pandemic. Maybe you're doing all this while raising children. This is the reality for an estimated 15 to 20 per cent of Concordians.
Luckily for those students with little ones, the Concordia University Student Parent Centre (CUSP) provides invaluable services to help them navigate life. In operation since 2010, CUSP offers practical workshops ranging from time management to study habits to tax clinics, as well as numerous activities for children and families.
For parents, by parents
CUSP coordinator Sumaiya Gangat was raising three children when she graduated from Concordia with a BA in child studies, so she can very much relate to the students who seek CUSP services.
"Like everyone, student parents are looking for community, and for them that means activities that can involve their children, and talking and sharing with other parents. At the core, CUSP is about community building."
According to Gangat, 75 per cent of her clientele are international students, many of whom may not have the same support network that Canadian born students have. For many of them, CUSP is a lifeline.
Take Mohamed Dardir who received his PhD in building engineering in 2019. He came to Concordia in 2016 from Egypt and his wife and young son soon followed. The initial transition was difficult for his then three-year-old son.
"My boy really missed family and friends at first. What CUSP allowed us to do was to create a new network here in Canada. Through the centre we made new friends. And their kids became friends with my child and soon we were doing activities together."
For Dardir, meeting other student parents was practical when it came to his schoolwork.
"Some days I would have my son with me on campus and I would call a friend and we would meet at CUSP. The kids would play and then we would take this time and study."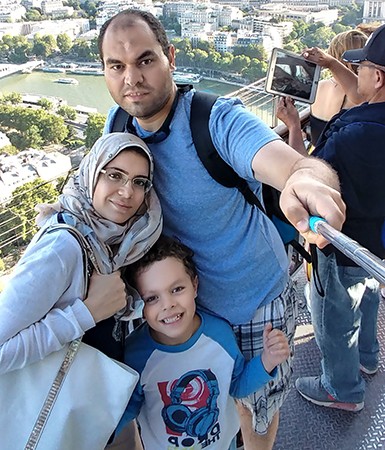 Mohamed Dardir and his family.
Yasmina Zeng, a mother of three.
Activities for students and their children
The closure of the centre due to the pandemic has not slowed down such services.
Providing children with activities so students can focus on their academics is a big part of CUSPs programming. CUSP student volunteers offer kids three-hour homework sessions. On Sunday's, CUSP hosts a study break that include online activities for children so parents can have undisturbed study time.
Yasmina Zeng, a mother of three who is pursuing a degree in engineering and computer science, regularly takes advantage of such programs.
"If a CUSP activity matches with one of my classes I register my kids, and this allows me to focus on my work. There is a lot of diversity in the programming. My kids like the drawing classes and story times and also getting help with their homework."
In the end, CUSP embodies what campus communities strive to achieve.
"We are a support system," explains Gangat. "And that means supporting student parents and their children both socially and academically."

Find out more about the Concordia University Student Parents Centre, and check out the numerous virtual CUSP activities for you and your children.
---