Graham Carr builds bridges toward Montreal's future
The Concordia president discusses the central role of universities in designing our new normal with the Chamber of Commerce of Metropolitan Montreal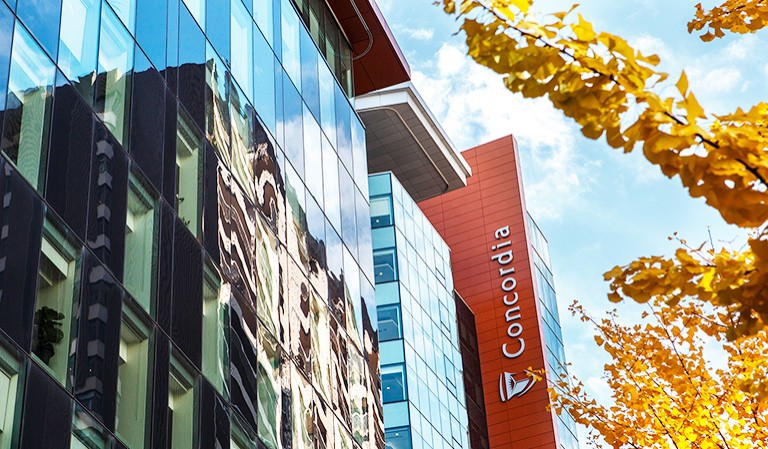 It was a different kind of keynote address.
On August 27, Graham Carr delivered his first major public speech since becoming Concordia's president last November — to the Chamber of Commerce of Metropolitan Montreal (CCMM). But since shortly after the COVID-19 pandemic lockdown in March, the CCMM has adopted a virtual format for its weekly lunchtime speeches.
Under the new format, speakers give brief opening remarks, and then CCMM president Michel Leblanc interviews them on a variety of topics. The formula has helped the CCMM maintain member interest and the all-important sense of connection such networking bodies provide.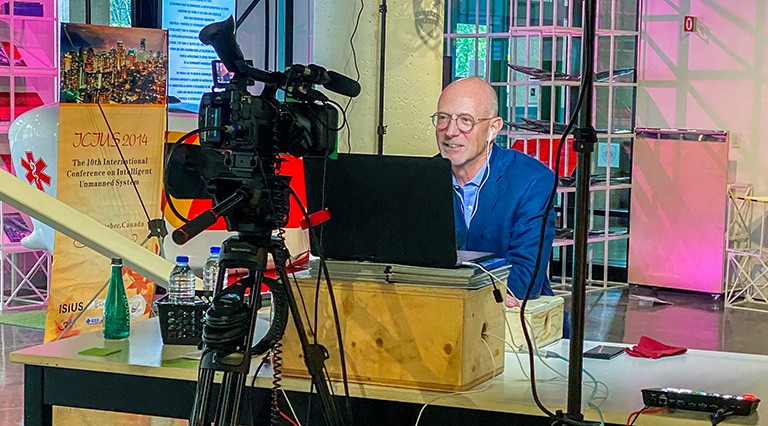 Carr outlined three bridges to the future: digital, health and the biological sciences, and sustainable city design.
The speech: Three bridges to Montreal's future
Connection was, in fact, the theme of Carr's opening remarks. Some 350 viewers watched Carr, speaking remotely from Concordia's 4TH SPACE and entirely in French, discuss how Montrealers can work together to design the city's new normal and position it for global success after the COVID-19 crisis.
"Universities are the cornerstones of the knowledge economy," he said, which places Montreal on solid ground going forward. "Only Boston can rival Montreal for the title of North American Capital of Higher Education."
Picking up on the city's insular geography, Carr outlined "three bridges to the future" — areas that leverage Montreal's considerable assets in the industrial, startup, not-for-profit and university spheres. The three fields are becoming more integral to the city's civic well-being and more scalable internationally than ever before.
The first such bridge Carr sees is digital. Montreal is a powerhouse in gaming, artificial intelligence, digital art, visual effects, new media and cybersecurity. Examples of the city's leadership include Ubisoft, CGI, Mila at the Université de Montréal, HEC and École Polytechnique, Element AI, Moment Factory, and Canada's leading cybersecurity centre at Concordia.
The second bridge is health and the biological sciences — certainly top of mind during the pandemic. Montreal is the only Canadian city with two medical schools — both world class — and is home to many other centres of excellence. Among them is Concordia's PERFORM Centre, the largest preventive health facility in North America.
Beyond health proper, the ongoing biorevolution, which combines biology and technology, has already demonstrated its enormous economic impact in agriculture, materials and energy, and consumer products and services. Concordia's Genome Biofoundry, Canada's first, is a key asset in this revolution.
Third is sustainable city design. Montreal tops the list of the world's most desirable places to live, but now faces the same challenge so many of the world's great cities do — how to reanimate its dense downtown core in an era of physical distancing.
Luckily, many of the principles of sustainable urban design, such as prioritizing green space and pedestrian and cycle traffic, are already advantages for Montreal.
The city's universities hold many keys to the future in sustainable urban design. Carr cited strengths at them all, including the nation's only Canada Excellence Research Chair (CERC) in Smart, Sustainable and Resilient Communities and Cities, at Concordia.
The CERC provides a model for the kind of collaboration between disciplines, institutions and sectors that will be pivotal to the success of all three of Carr's bridges to the future.
He suggested the city leverage networking bodies like the CCMM as one way to organize its progress. Another is to transform the city into a living lab — an open innovation ecosystem that combines public and private research, harnesses Montreal's strong startup culture and prioritizes inclusivity.
Both methods would be strong talent magnets, solidifying Montreal's greatest competitive asset in its global knowledge economy, talent.
Carr reemphasized the importance of working collectively to overcome the present crisis. "Together we can take on one big question: how can we offer a city that's liveable, prosperous, just, fair and inclusive for all the community?" he said.
"I have no doubt that all the universities will be delighted to contribute to this effort."
The Q&A
Michel Leblanc began the question period by praising Carr for delivering what he called the most generous speech he'd ever heard from a university president toward the city's other universities.
As the first university leader to speak to the CCMM since the pandemic began, Carr proceeded to answer questions on a variety of topics related to the rapidly evolving higher education experience and its far-reaching implications.
Alternating between English and French, Leblanc and Carr discussed:
the pandemic's effect on international students
new online services for all students
tuition fees and the enduring value of a university degree
Quebec's low tuition rendering it even more attractive to international students now
the need to expand work-integrated learning placements to attract talent
the advantages of online learning and how it prepares students for the new world of work
universities' role in teaching online literacy
the value of diversity — at all times, and especially during the Black Lives Matter movement
the pandemic's effects on research
Carr also praised the cooperation among the province's universities, exemplified by the decision by the Fonds de recherche du Québec to finance Regroupements stratégiques, a program which encourages researchers to work together in large teams.
"That spirit of collaboration is something that's been fundamental to how research has been carried out in Quebec in modern times," he said. "It should set an example for others elsewhere in the world and be a great marketing strategy to attract high quality researchers and high quality students to Quebec."

Learn more about how Concordia sets its sights further and more broadly than others as a next-generation university.
---