Concordia welcomes a new Indigenous Directions project coordinator
Alumnus Allan Vicaire is former director of the McGill First Peoples' House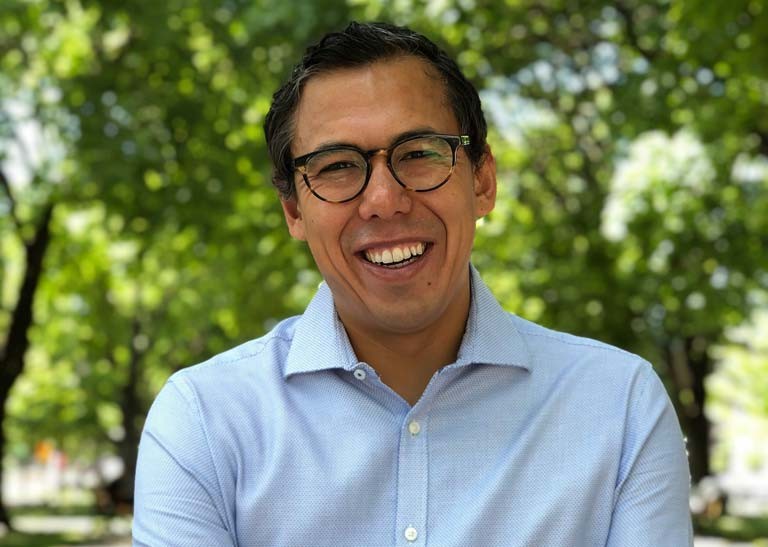 Allan Vicaire: "It's very important to build a community that reflects the cultural values that our students hold in order for them to succeed." | Photo by Pascal Héon
Concordia's Office of Indigenous Directions has a new project coordinator — alumnus Allan Vicaire (BA 09).
Vicaire reports to Manon Tremblay, senior director of Indigenous Directions. He will support Tremblay, in addition to providing the team with project management expertise and strategic advice on building dialogue and reaching consensus on the execution of their strategic plan.
In his new role, Vicaire will also be responsible for coordinating projects that advance the implementation of the Indigenous Directions Action Plan. The plan's goals are to construct a new, shared future based on responsibility, reciprocity and respect by taking concrete steps toward the decolonization and Indigenization of Concordia.
Additionally, Vicaire will be a central figure in maintaining close working relationships with members of the Indigenous Directions Leadership Council, associated working groups and units across the Concordia community. He will also work to establish strong networks with external organizations and stakeholders that include other post-secondary institutions and community organizations.
Vicaire has served as the director of the McGill University First Peoples' House since 2017, and in the six years previous he was an Indigenous education advisor at McGill's Social Equity and Diversity Education Office.
Vicaire is currently completing his MA in Education and Society at McGill. He has shared his expertise at a number of local, national and international conferences on topics ranging from raising the profile of Indigenous affairs at a large university to engaging Indigenous youth through culturally rooted science initiatives.
"Allan brings the Office of Indigenous Directions the very best qualities that we sought in a candidate," Tremblay says.
"His track record of accomplishments extends as far and as wide as the positive impact he has had on countless students, faculty, staff and community partners in his previous roles at McGill."
She adds that Vicaire possesses energy, drive and an understanding of the diversity and complexity of Indigenous knowledge systems. "This will enable him to build reciprocal and long-term relationships with Indigenous communities and our many partners in our journey to create a more welcoming and inclusive university for Indigenous students, faculty and staff."
'It's exciting to work and help advance Indigenous affairs on a campus that helped shape me into who I am today'
Could you tell us a bit about yourself and your work at Concordia?
Allan Vicaire: I am Mi'kmaw from the Listuguj community and I graduated from Concordia in 2009 with a BA in Political Science.
I'm proud to be the new project coordinator for the university's Office of Indigenous Directions. My role is to support senior director Manon Tremblay in her efforts to advance Indigenous affairs on campus.
My top priority is working with the community to ensure that we implement the Indigenous Directions Action Plan.
What brought you to stand as such a strong, visible and supportive advocate for change?
AV: It's my upbringing. I'm very lucky to come from a supportive community, which remains a constant source of inspiration for me — especially seeing the outstanding work that they do.
What has also inspired me over the last years in higher education are the youth. I've witnessed so many students make positive changes on campus through dialogue. I truly admire their tenacity and strength to advocate for change.
My community, the people that I've met across my life and students have shaped the person that I am today. They have and continue to test me on my beliefs and way of thinking and they push my boundaries. This fuels my desire to be a better person and an agent of change on campus.
What are some of the signs of progress you've witnessed in the evolving relationships between Indigenous students, staff and faculty with universities in Quebec?
AV: Over the last nine years, I've witnessed first-hand the progress of Indigenous affairs on university campuses.
I'm seeing more and more interest from the university community to engage. I remember when I first started in higher education — it was very challenging to get folks on board in organizing or participating in Indigenous activities. But over time, thanks to the Truth and Reconciliation Commission of Canada, society has become more aware of who we are, our histories, our resiliency and the success of our communities.
While we still have a long way to go, there have been many successes in Canada. Our voices have been amplified and people began to listen that much more.
So, it's wonderful today to see many institutions taking action to ensure that we educate our youth through meaningful dialogue. I am seeing universities begin to build those relationships with communities. It's a sign that we are moving in the right direction.
I also see that universities are beginning to provide the education that our Indigenous students have long asked for. Together, we're setting up Indigenous studies programs for our students and seeing some institutions allocate additional resources, including scholarships.
One of our goals is to widen that path to post-secondary education for Indigenous youth. Whether or not they attend university, we want to ensure that the choice is available to them and that we let them know that we're here to support them at all levels of the institution.
What do you see as some of the remaining gaps between what Indigenous community members would like to see and what universities offer?
AV: We definitely require more funding. We still need to build and grow a dedicated space for Indigenous students. We also need to examine where we can build specific supports across the university for Indigenous students. While it is great to have a dedicated space, we can't be siloed into one space for support. We really need to decolonize all spaces to support our students.
We still need to hire more Indigenous faculty and staff across the university. Students want to see themselves reflected in the services they access and the courses they take.
We really need to cultivate a space that increases incoming Indigenous scholars. And we need to support these students financially and provide them with the resources to succeed.
As former director of the First Peoples' House at McGill, what type of spaces and experiences do you strive to provide for Indigenous students?
AV: While at McGill, I strove to provide an inclusive, culturally safe space for students — a space where they could find support academically, culturally and a sense of belonging. The First Peoples' House is a home away from home for students.
The most important experience that I wanted to provide students was a sense of community. The First Peoples' House is very important because many of our students have left their community and moved to a big city like Montreal and can feel a bit lost — especially in the classroom. They do not see themselves reflected in the curriculum nor the student body. It's very important that we strive to build a community that reflects the cultural values that our students hold in order for them to succeed.
What excites you most when thinking about Concordia's Indigenous Directions?
AV: What excites me the most is really coming back to Concordia. This is the community where I began to find my voice.
I was active in the Indigenous student community and, at that time, the Concordia Queer Union. It's exciting to work and help advance Indigenous affairs on a campus that helped shape me into who I am today.
I really want to help heighten and advance Indigenous affairs to provide that transformational growth for our upcoming generation.

Find out more about Concordia's Indigenous Directions Action Plan.
---