Class of 2020: 5 ways to share your CU pride
Learn how Concordia's newest grads can creatively celebrate their special moment with family and friends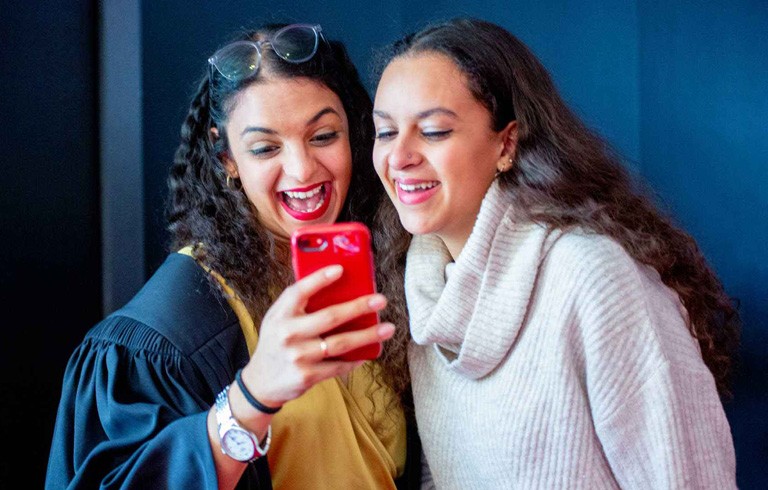 Without a doubt, Concordia's Class of 2020 graduates will never forget this year. Why not make it memorable in positive ways?
The university is fêting its more-than 6,200 grads through CU Celebrate, an online hub of news, links and images. The official virtual festivities begin June 18 at 11 a.m. ET and will include congratulatory videos from Concordia leaders, star alumni, honorary degree recipients and others.
Concordia will be planning an in-person celebration for graduates and the honorary degree recipients when circumstances permit.
The new grads will join the 220,000-plus Concordia alumni network. Many families and friends will honour their special moment in creative fashion, such as drive-by cap-and-gown celebrations.
For instance, Natalie Phillips, Concordia professor in the Department of Psychology, invited three of her students for a "convocation picnic" on June 14.
Here are five ways new grads can share the experience with their loved ones.
1. Join the grad dance party!
Who knew Zooming could be so much fun? Boogie along with fellow grads at the virtual graduation dance party, led by DJ Chris Tan, BFA, 11, of Royce and Tan.
June 18, 2020, 8 – 9:30 p.m.
Register now because space is limited.
2. Post your fave pics on Instagram with the CU filters!
You worked hard for your degree, so be sure to let everyone know of your Concordia success CUgrad filter for Instagram photos.
3. Get your Concordia convocation GIF pack!
Now that you really did it — earned that degree — tell the world with your convocation GIF pack.
4. Planning your own online celebration?
Make your Zoom backgrounds CU beautiful! Tired of your friends seeing your messy bedroom? Take advantage of striking campus images for your Zoom background.
5. Share your congratulatory messages with CU hashtags!
Be sure to share your admiring messages and photos using the CU hashtags: #CUgrad2020, #CUalumni, #CUpride.
Check out CU Celebrate for updates and to join the online graduation festivities on June 18 at 11 a.m. ET.
---