Concordia-led online project combats seniors' isolation through conversation, art making and media creation
The engAGE Living Lab Digital Era Response virtually connects older adults with university students and researchers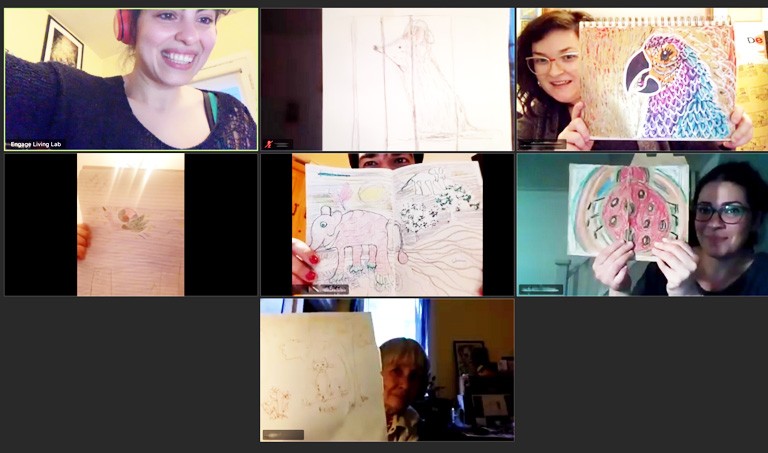 With mounting challenges facing older adults during the COVID-19 crisis, engAGE, Concordia's Centre for Research on Aging, has been busy adapting to this new reality. Thanks to support from the Fonds de recherche du Québec — Santé (FRQ-S), the engAGE Living Lab Digital Era Response (ELLDER) has risen to the challenge.
The FRQ-S project led by engAGE researcher Janis Timm-Bottos, is geared towards combating social isolation among older adults by coming together in a third space for conversation, art making and media creation.
ELLDER — coined by engAGE researcher Najmeh Khalili-Mahani — had to shut down its physical space at the Cavendish Mall in the Montreal municipality of Côte Saint-Luc due to COVID-19 in March. Yet the ELLDER team remains committed to their mission of adapting as needed and testing different avenues of creative engagement in a media savvy era.
"The project plans on consolidating and distilling the shortest and safest path to connectivity, to fit 'actual' needs — rather than those that we imagine from our own tech-pushing perspective," says Khalili-Mahani, founder of ELLDER's Media Spa offerings. Together, the team will continue to learn from the elders and document cost-effective, health-promoting models of bringing isolated seniors, university students and researchers together for the benefit of all.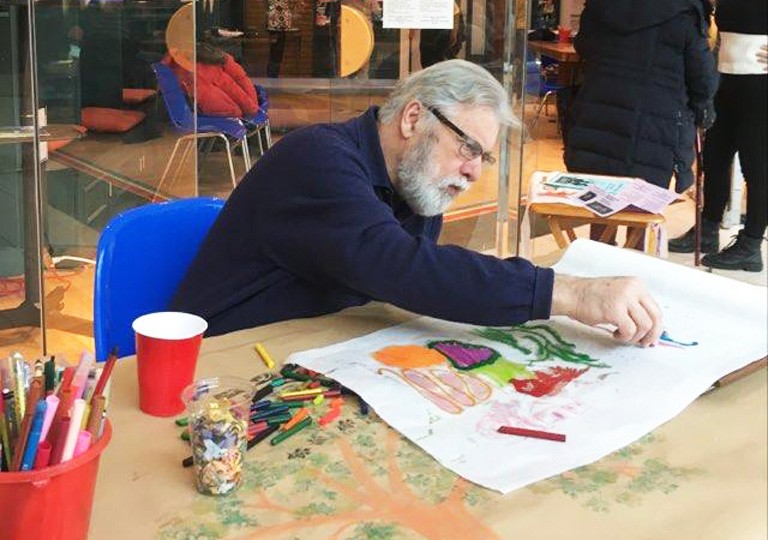 engAGE Living Lab founding member Leo Bottos making art outside the physical location at the Cavendish Mall, before its March closure due to the COVID-19 pandemic. | Photo by Janis Timm-Bottos
A new wave of digital art hives
Older adults and Concordia students have led a new wave of digital art hives that have emerged primarily on Facebook. Art hives, which follow the Art Hives Network's principles, bring together diverse individuals for unstructured art making. The online versions are proving to be a welcome environment for participants to spend time together.
Since not everyone has access to art supplies, especially during the pandemic, participants are asked to share what they are working on and, if necessary, gather everyday home objects — such as coffee, spices and cereal boxes — that can be creatively transformed into pieces of art.
Veteran community activist and artist Lorraine Loiselle and her partner, George Hill, were working on a digital animation project at the engAGE Living Lab before the closure on March 12. To fight feelings of isolation due to chronic illness and to share the work happening in the lab, Loiselle launched an online platform, becoming the first example of an online art hive made especially for the engAGE Living Lab participants.
As Loiselle wrote to participants on Facebook: "Arts and Crafts Projects and Fun connects you with the people outside your room of isolation. This group grew from my need to get out of the house, yet couldn't, so I connected with you via FB. How you immediately helped me with my pain, anxiety and sense of purpose was astonishing! So, our goal here is to share our crafts, do live-streaming from our private spaces, or simply post and share, and inspire by helping out others, and, of course, ourselves."
Other popular projects were also initiated. A team of Concordia students and volunteers committed their skills to the Pop-up Virtual Art Hive, launched March 16 by Heidi Lee Smith, and a weekly volunteer-led Open Mic Hive has been started by Julia Krolik and co-hosted by Concordia students Peter Zhuang and Marc-Alexander Chan.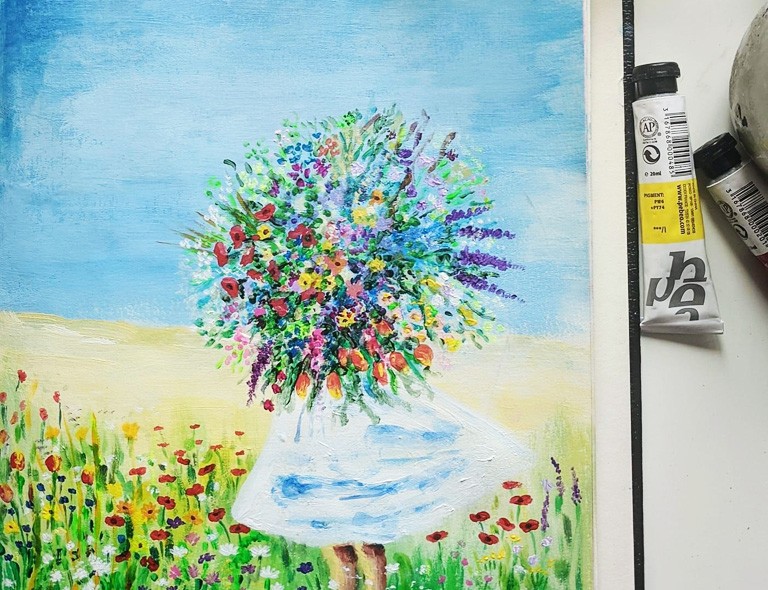 Next steps for ELLDER
Expanding creative ways of connecting through the gifts and skills of older adults and students has informed ELLDER's new schedule, which began May 25. Online sessions include Concordia alumni offerings, such as "Postcards from the Kitchen" a recipe-sharing, storytelling and cooking group, led by art therapist, Lindsay Clarke. Also a read-whatever-you-want book club with artist and art therapist Cynthia Davis, a digital literacy skill sharing platform and "Good Drama," hosted by the coordinator of ELLDER Sandy El-Bitar.
"Bringing people back into their bodies in new ways is one way to connect playfully with oneself and with others especially during this time of highly constrained movement," says El-Bitar, who is also drama therapy student at Concordia.
Thanks to the support of a Concordia's Sustainability Action Fund grant, Zoom videoconferencing has become a stage for participants to connect through improvisation, storytelling and creative exchanges.
"Thank you for giving me the space to remember who I am, what I need and the care that I deserve," a drama session participant says.

For more information check out the new schedule on Facebook.
---