Concordia professors confront the unique challenge of teaching kinesiology, athletic therapy and physiology at a distance
Moving online is no small feat for a field that relies on in-person interactions
How do you learn to assess injuries or measure blood pressure and body fat online?
That's a question faculty in Concordia's Department of Health, Kinesiology and Applied Physiology were faced with last week. Like the rest of the university, they suddenly needed a strategy for taking their classes online so students could learn from home during the COVID-19 closures.
The task presented a unique challenge for professors in this field: taking concepts that need to be taught in person and bringing them to a virtual setting.
"These are things that require on-site, individual interaction. You need to have someone next to you showing you how to do it and correcting you," says Patrice Desaulniers, a technical officer and neuromuscular physiologist in the Exercise Science program.
As well, some labs take place in training facilities where students are taught to use the training equipment and instructors are usually on hand to point out any errors. "We can talk about it and show videos, but if you don't have someone leading you, it's very difficult."
Moving online was no small undertaking. The department has been running 70 lab sessions per week this term. For those sessions, faculty are shifting to online video demonstrations.
To address the challenge of assessing student competencies, lab instructors will host one-on-one meetings using Zoom video-conferencing and asking them to demonstrate the techniques they've been learning in class, hopefully on another individual in their home.
"It mimics what would have happened in the classroom — individually or in pairs, students showing that they're mastering this skill," says Véronique Pepin, associate professor and department chair.
However, faculty are still trying to figure out a work-around for students who are living alone.
Another challenge that presented itself is how video demonstrations will work. "Where is the camera directed? Can you see the hand placements? Can you hear the instructor?" asks Richard DeMont, associate professor and Athletic Therapy program director.
"There are a lot of non-typical teaching things that you need to think about to set that system up."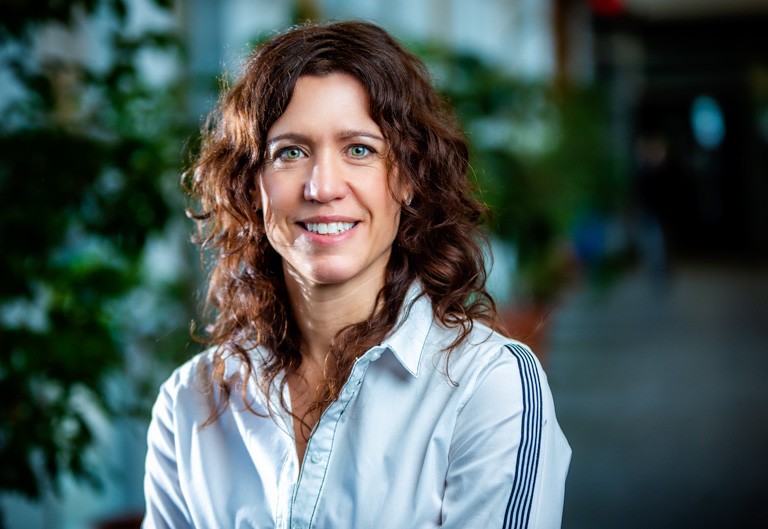 Véronique Pepin, associate professor and chair of the Department of Health, Kinesiology and Applied Physiology.
All hands on deck
As for lectures, professors will either use Zoom video-conferencing with their students, or narrating of PowerPoint slides and video lectures available through Moodle. There's a degree of flexibility around how faculty deliver their lectures.
"Some people have kids at home now. They won't be able to do live lecturing if they have to home-school their kids or take care of their parents," Pepin says.
"We've been accommodating of different formats for that purpose, but we've asked people to make sure that at some point they have the opportunity for discussions through a chat room or Zoom."
Professors will also post case studies online for students to review and come back with plans for how they would assess the problem or plan a rehabilitation program. They'll also be asked to have small group conversations like they would in a lab setting, DeMont adds.
On top of all the particular classroom considerations, the department has to contend with the reality that many of its students who were completing internships were unable to finish all of their required 125 hours, notes Alain Leroux, associate professor.
"What we did, with supervisors, is we prepared different types of assignments for our students to do at home. They won't complete all their hours, but at least we can compensate for what was lacking."
The oral presentation aspect of the internships will be done over Zoom, Leroux adds. "Normally, we'd sit in a room all together and each student would talk about their stage and present a case study. We'll replicate the same thing online."
Last week was an all-hands-on-deck scenario, as professors considered how to make fundamentally in-person studies into online courses. Richard Courtemanche, associate dean of academic programs for the Faculty of Arts and Science, joined a mock-up Zoom teaching lesson to help out his colleague.
In addition, Peter Darlington, associate professor in the Department of Health, Kinesiology and Applied Physiology, set up the mock Zoom class for Neural and Hormonal Control of Human Systems (EXCI 360) , and discussed different course options with his students.
Pepin also credits the department's lab instructors and teaching assistants, who she calls troopers.
"I don't think a single person complained," she says. "Everyone was like, 'Let's find a way,' and they helped each other out."


Concordia's campuses and libraries are currently closed, and courses have moved online as of Monday, March 23. Follow along with updates and info on COVID-19.
Check out online resources from Concordia's Centre for Teaching Learning, developed to help professors move their courses online. And consult the schedule of live information sessions.
---