Concordia introduces designated smoking and vaping areas… but not for cannabis!
Revised policy clarifies restrictions on cannabis and expands smoke-free zones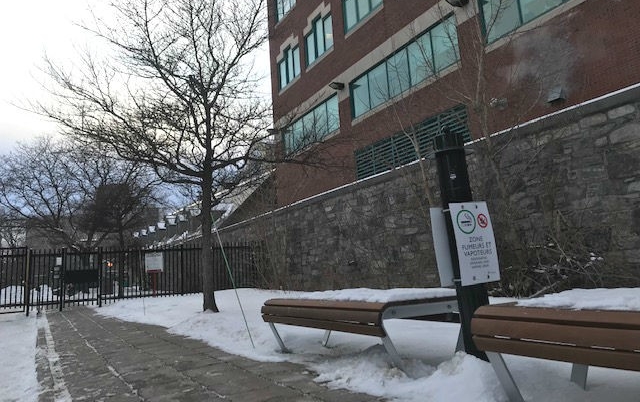 The Government of Quebec has tightened up regulations on the use of cannabis beginning January 1, 2020. As with other educational facilities, cannabis is prohibited on university grounds.
One notable change is that people must be at least 21 years old to use, possess or purchase cannabis.
Another change in the revised bill is a restriction on smoking or vaping cannabis in outdoor, public areas. However, you may want to check municipal websites since cities and towns have some discretion in establishing local bylaws.
Concordia has worked to align its regulations with the revised provincial law, including restrictions on the possession and consumption of cannabis on campus­. The new Policy on Tobacco, Cannabis and Vaping (VPS-1) also forbids possession of cannabis in residence spaces and its marketing or sale anywhere at the university.
New Designated Smoking and Vaping Areas
The revised policy on smoking and vaping further restricts where those activities can take place on university grounds. Concordia has identified four locations for smoking tobacco or using e-cigarettes: two on Loyola Campus and two on Sir George Williams Campus.
The new areas are being referred to as Designated Smoking and Vaping Areas (DSVAs). They include basic installations like a cigarette waste receptacle, signage and a bench for those who need to sit down. They also respect provincial law on being at least nine metres from any door, air vent or window that can be opened. Cannabis cannot be smoked in the DSVAs.
Enforcement of new smoking and vaping rules will ramp up in the spring. That's when smokers will be required to either use the DSVAs or move onto city property, while respecting applicable laws. They will no longer be allowed to smoke or vape in campus areas like the Quad, the Grove or the Grey Nuns Gardens.
Why create DSVAs?
The university set up the DSVAs for a number of reasons. It wants to expand its smoke-free zones, going beyond the minimums required under Government of Quebec legislation. The hope is that non-smokers will experience less second-hand smoke as a result.
Establishing official DSVAs should also help reduce the amount of discarded cigarette butts around university buildings. Throwing a cigarette butt in a regular trash bin poses a fire risk. Moreover, provincial legislation restricts the presence of ashtray-type bins in areas where the nine-metre rule applies. Therefore, some people who smoke cigarettes discard the butts on the ground.
However, institutions are allowed to provide a way for people to safely dispose of cigarettes in DSVAs, something that should help reduce litter.

Learn more about Concordia's new Policy on Tobacco, Cannabis and Vaping and smoking cessation services.
---