Concordia's Henry F. Hall Building renos ramp up
More active learning spaces and greater inclusiveness are important features of the upcoming changes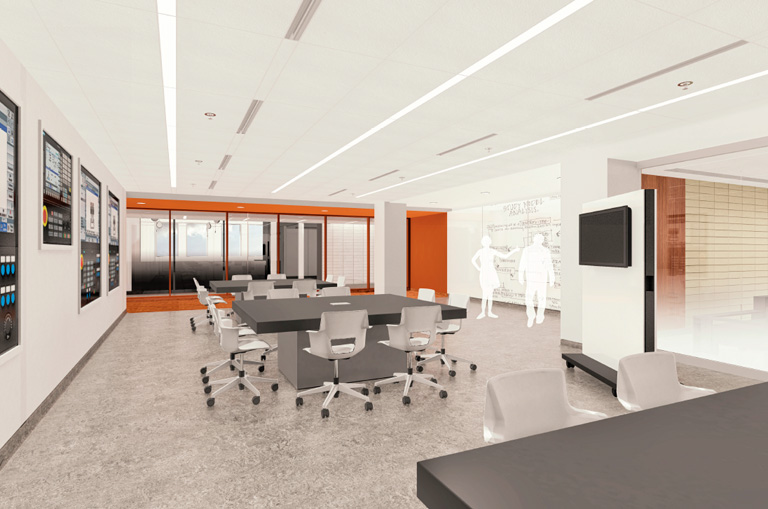 Marie-Claude Lavoie: "Renovated classrooms will be more student-centred and technology-rich." | Images: NFOE
Among Concordia's dozens of facilities, the Henry F. Hall Building is certainly one of its most emblematic. Completed in 1966, the building's brutalist exterior looks as solid as ever. However, five decades can take a toll on interiors. And the current demands of teaching and learning have also evolved.
"The need for active learning classrooms has increased across faculties," says Marie-Claude Lavoie, associate vice-president of Facilities Management.
"Older Hall classrooms are being transformed to be more student-centred, technology-rich and physically adaptable, with moveable table and seating options for increased group work."
Because of the lack of alternative space, the university has had to modernize the Hall Building section by section. The 2020 delivery of the Learning Square will change that, providing capacity for 650 students in eight large, modern classrooms. It will also allow for entire floors of the Hall Building, including washrooms, to be redesigned.
A bright idea
To get a sense of how the Hall Building will look five years from now, visitors can take a walk by the new Student Success Centre on the seventh floor (H-7).
Though the work is still underway, you can already see how open and bright the space is — thanks to a redesign and more access to natural light. There are also more areas for group work, both in hallways and in workshop rooms. After full delivery of the space, Facilities Management will move on to the modernization of entire floors, taking on H-6, H-4, H-9 and H-5.
The toilets of tomorrow
In January 2020, the entire sixth floor will be closed off and renovated. The work includes a full redesign of washrooms. There will be a large, inclusive washroom and three individual washrooms for those with greater accessibility needs.
"The main inclusive washroom will be open to all — literally. There will be no main door leading to the space," says Lavoie.
Stalls and their doors will be nearly floor to ceiling for privacy, while a common sink and mirror space will be shared by everyone.
"Those who don't feel comfortable in an inclusive space will have the option of up or down a floor or two to find men's and women's washrooms."
When all is said and done, the Hall Building will have six large, inclusive washrooms on H-1, H-4, H-6, H-7, H-9 and H-11 and gendered ones on the other floors — plus the individual ones.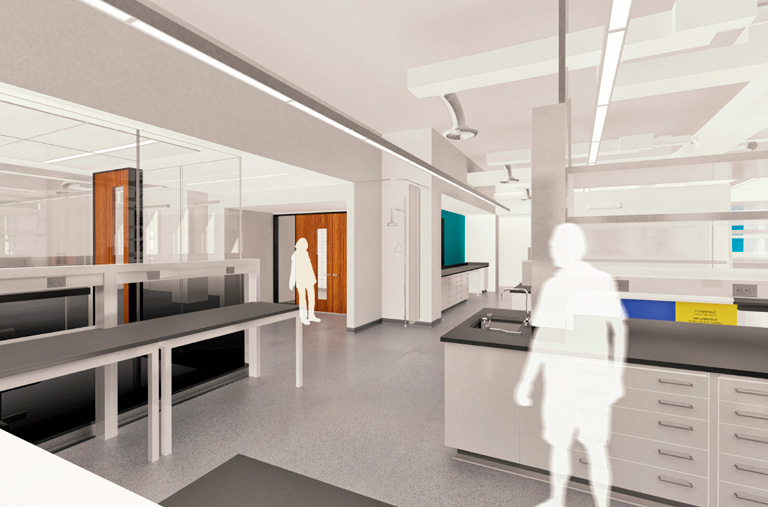 New lab space
In September, work kicked off on 2,000 square metres of new space on H-10 for the Gina Cody School of Engineering and Computer Science. The project will include new teaching labs, four wet labs and Concordia's first living lab. It will be an environment for students to experiment with real-time building automation, heating, ventilation, air conditioning controls, and lighting management systems. Passersby will be able to get a glimpse thanks to the glass opening from the hallway.
The new space will also feature an aerospace lab for students working on airplane, helicopter and other aeronautical devices. Those needing to build prototypes and models will have access to one of two maker spaces: one for wood, another for metals and composites.
The teaching labs are being constructed with the needs of the new Department of Chemical and Materials Engineering top of mind. However, in contrast to the department's space at the new Applied Science Hub, the Hall Building facility will be open to undergrads.
"Many of Concordia's most remarkable lab spaces are associated with specific research groups. These new spaces will be far more accessible," notes Lavoie.
"In their final year of study, undergrads, in particular, will be encouraged to take advantage of the facilities to enrich their hands-on experience."

Learn more about the work of Facilities Management.
---