Montreal is the best student city in North America
'Concordia is characterized by a diversity of people from around the world'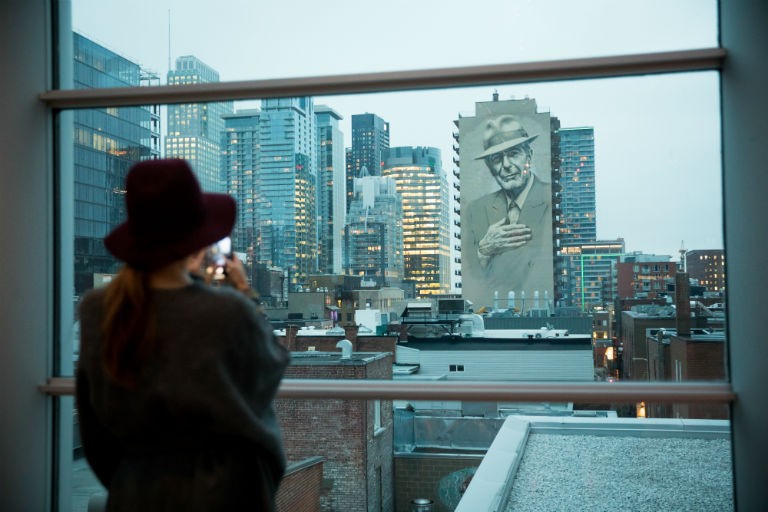 © "Tower of Songs" by El Mac and Gene Pendon | Photo by Susan Moss
Montreal retained its title as best student city in North America in the 2019 QS Best Student Cities index. It placed sixth worldwide. London, England, took top spot, followed by Tokyo, Melbourne, Munich and Berlin.
The index looks at affordability, reputation, the mix of people living in the city and its popularity among employers as a place to recruit.
"We travel the world meeting with future students and we see that they continue to be very drawn to Montreal," says Matthew Stiegemeyer, Concordia's director of student recruitment.
"The cultural scene, the fact that it's a hot spot for tech and the arts, and its reputation for offering a welcoming environment — these are all things that prospective students find very attractive."
A great place to live, students agree
Montreal tied with Melbourne for the number two spot after Munich in the Student View category, which captures students' impressions of eight factors: tolerance and inclusion, diversity, friendliness, ease of getting around, affordability, nightlife, employment opportunities, and arts and culture. The closest Canadian contender was Toronto in 14th place.
The number of students who stayed, or planned to stay, in the city after graduation was also an element of Montreal's strong showing. QS notes that Montreal is celebrated for its diversity and inclusive ethos.
"That's something that we know is reflected at Concordia. We're very proud that, like the city around us, the university is characterized by a huge diversity of people from all around the world," Stiegemeyer says.
"The vibe on campus is welcoming and open. It's part of the appeal of studying here — you don't know who you're going to meet and how those connections will shape you."
Other strengths: desirability and student mix
Montreal came in eighth worldwide in the Student Mix category, which looks at the proportion of international students that make up a city. A higher number means a city is "more likely to be well-prepared to welcome even more."
QS also rated Montreal well — ninth in the world — in the Desirability category, which encompasses a city's safety, pollution and corruption levels, as well as how likely students are to identify it as their dream city.
The only category where Montreal did not crack the top 50 worldwide was affordability, a change from 2018, when the city came in at 47th. That's likely because the economy is booming in Quebec, says Stiegemeyer.
"Montreal is a very vibrant place to be and the city is undergoing a bit of a revitalization. There's an energy and excitement in the air."
The top three most affordable student cities for 2019 are Budapest, Kuala Lumpur and Wrocław.

Learn about life in Montreal and start your academic journey at Concordia.
---