'Why I came to Concordia … from the United States'
Student Kirsten Morrison talks diversity, residence life and poutine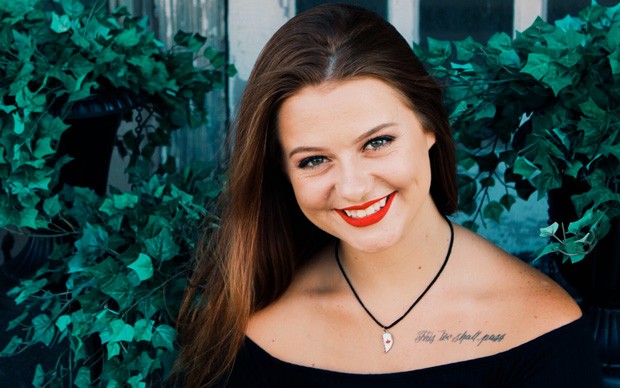 Kirsten Morrison: "Montreal is my favourite city in the world." | Photo by Addison Beckham
"Why I came to Concordia" is a series profiling international students. Check out the stories of students from South India, New Delhi, Belize, the United Arab Emirates and France!
Kirsten Morrison finds great inspiration from her professors in the Department of Applied Human Sciences. The second-year human relations student hopes to one day impact others in the same way.
"I want to help as many people in this world as I can," Morrison says.
Originally from Arkansas in the Southern United States, Morrison did not plan to attend university after graduating from high school. That all changed once she took a campus tour at Concordia and fell in love with the university.
Now Morrison is firmly entrenched in the Concordia community, where she works as a resident assistant on the Loyola Campus and volunteers for various events, including Open House and Orientation. In her free time, she also likes to stay active ice skating at the Ed Meagher Arena.
More than anything, Morrison wants to make her family back home proud of her accomplishments at Concordia.
'Living in residence is a great way to meet new people'

Why did you choose Concordia?
Montreal is my favourite city in the world and I love both of the university's campuses. I appreciate the skyscrapers, endless restaurants and stores that surround the Sir George Williams Campus, and all the trees and open spaces located on the Loyola Campus.
Most importantly, I chose Concordia because of how many programs and opportunities it has to offer. Whether you want to volunteer, work or play a sport, there is always something to get involved with outside of class!
What are the top three things you like about Montreal?
My favourite thing about Montreal is its diversity. This city attracts people from all over the world and is a very welcoming, accepting and open-minded place to live. When I am around individuals who come from other cultures or who have different beliefs, they accept me for who I am — that is one of the best feelings in the world.
I also love the food in Montreal. The city has great sushi, and is famous for its bagels and poutine — which I eat at least three times a week! On Sainte-Catherine Street, there are tons of restaurants that serve a variety of food options.
Lastly, Montreal has many activities to keep you busy. In the summer, many people attend the International Jazz Festival, the Grand Prix, Osheaga, Pride and the Tam-Tams. Igloofest, Montréal en Lumière and several holiday markets will make sure you still get out even when temperatures drop during the winter months.
What are your top three pieces of advice for international students at Concordia?
Put in your requests for international documents as early as possible and keep up with all the deadlines. I wasn't aware that some of the wait times are very long, so it's important to get ahead of the game.
Apply for as many scholarships as you can. Any additional funding you can put toward your schooling will make your experience at Concordia that much easier!
Visit the website for the International Students Office (ISO) regularly. Their workshops are very informative, especially when it comes to health insurance, international fees and migrating to Quebec. Social events are also helpful for making new friends and learning more about Concordia and Montreal.
What is your favourite spot on campus, and why?
I lived at the Grey Nuns Residence during my first year at Concordia. Living in residence is a great way to meet new people — that's where I met my best friend, Madi.
The Grey Nuns Building has an interesting history that is fun to discover. It is also very accessible and surrounded by restaurants, stores and bus stops. On top of that, there are group study rooms and a chapel for silent studying.
What are your impressions of the International Students Office (ISO)?
The staff at the ISO is all very welcoming, helpful and understanding. They always greet you with a smile and point you in the right direction. I have gone to the ISO many times while at Concordia.

Find out more about Concordia admissions for international students.
---