Concordia's Technical Sector Support Staff sign a new agreement with the university
Alex Macpherson: 'I'm proud of the agreement we've reached'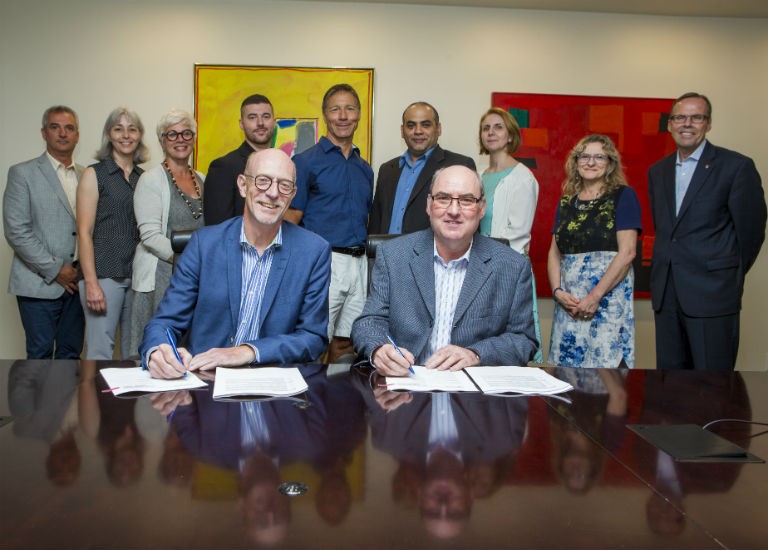 Carolina Willsher, associate vice-president of Concordia's Human Resources, expressed her great appreciation for the Concordia University Union of Support Staff - Technical Sector (CUUSS-TS) and university bargaining teams as they gathered to sign their collective agreement on July 12.
"Thank you very much for your efforts," Willsher said. "We're really pleased to be here to sign the agreement. It's going to hold us in good stead for the next round of bargaining."
At the signing event, the HR and CUUSS-TS representatives acknowledged that negotiations always create an interesting, sometimes tense, dynamic. However, they explained that the strong relationship they had built over the years, their hard work and their understanding of the needs of both sides of the bargaining table allowed the teams to reach a mutually satisfying agreement.
"We're getting to know each other better," Alex Macpherson, president of CUUSS-TS, said. "The time spent working together has paid off because there's a better understanding between us."
He reported that in his nearly 10 years as president, this round of negotiations, which lasted a year and a half, was the shortest.
"I'd like to thank the HR team members for their time and hard work," he added. "I also want to thank my team because we do spend hours at this. And I'm proud of the agreement we've reached."
During the signing celebration, the teams agreed that the university is a great place to work — and not just due to the compensation or benefits. It's the important work of faculty and staff like the CUUSS-TS members, and the recognition of this work by the university administration, that make Concordia a success.
"It's a group effort. Everybody is involved, and I think that there has been a change," Macpherson said.
"I think that CUUSS-TS members are feeling proud of the image of Concordia and feel appreciated by the university administration. That's very valuable. Thank you for that, too."
The university representatives pictured at the signing: Pierre Claude Bourke, Graham Carr, Roger Côté, Sonia Coutu, Gabriel Prévost, Sonia Ruiz, Anne Whitelaw, Carolina Willsher.
The CUUSS-TS representatives pictured at the signing: Brian Cooper, Luae El-Sarraj, Alex Macpherson.
---