Concordia researcher Théo Chauvirey is using mushroom roots to imagine the future of metro design
'If we want to bring about real change, we must consider bio-inspired solutions'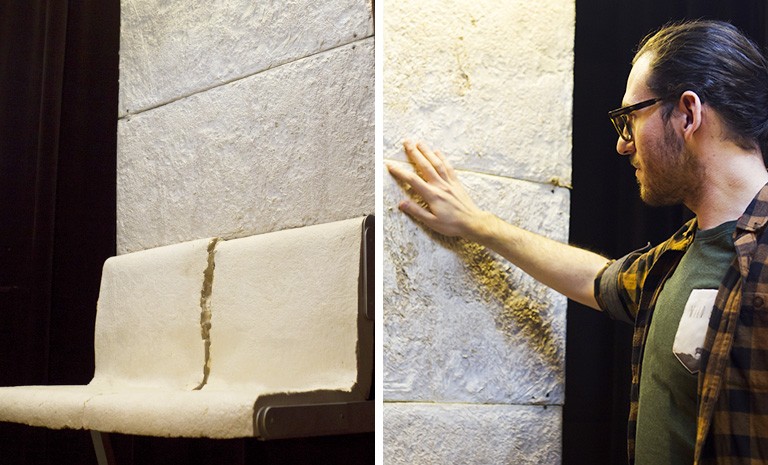 Théo Chauvirey: "Mycelium is lightweight, strong, fire retardant and completely compostable." | Photos by Agustina Isidori
The state of the environment continues to make headlines, and the news is usually bleak. From the United Nations Intergovernmental Panel on Climate Change's 12-year warning to the growing number of extreme weather catastrophes, it's hard not to get discouraged when thinking about our global future.
Luckily, some people are channelling that anxiety into positive change — and Concordia master's student Théo Chauvirey is one of them. He is using the power of biomaterials as a sustainable approach to metro design.
His means to get there might seem like an unlikely one: fungus. Chauvirey is working with mycelium, which is the white filamentous matter that grows in soil and produces mushrooms.
"It's lightweight, strong, fire retardant and completely compostable," he explains.
"My research aims to investigate how to integrate mycelium-based biomaterials in public transport design, as well as how to phase out oil-based fibreglass-reinforced composites."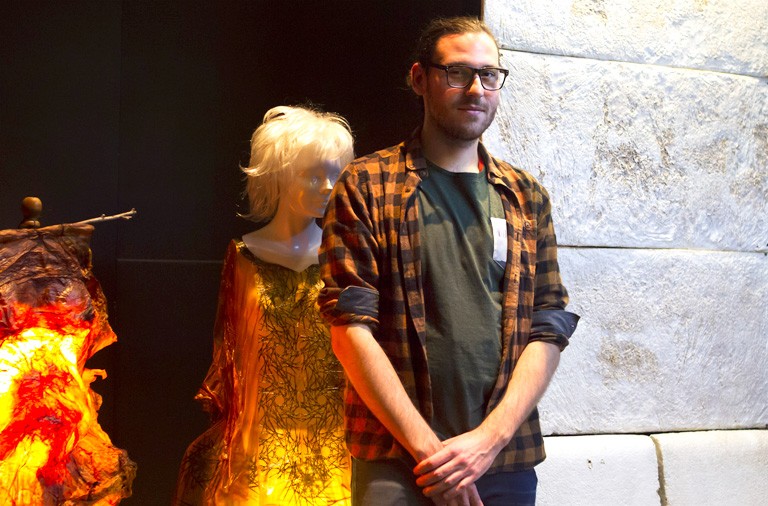 Chauvirey showcased his design projects at the Montreal Mini Maker Faire last November.
Working under the supervision of Martin Racine, associate professor in the Department of Design and Computation Arts, Chauvirey produced a full-scale model of a section of a metro car. They made the seats, wall and ceiling all using mycelium-based biomaterials.
The idea came to Chauvirey after the Société de transport de Montréal (STM) launched its call in 2016 for projects to give the old MR-63 metro cars a second life.
"These materials are environmentally problematic because they work with petrol-based products and are almost impossible to recycle," he says.
"If we want to bring about real change, we must consider bio-inspired solutions."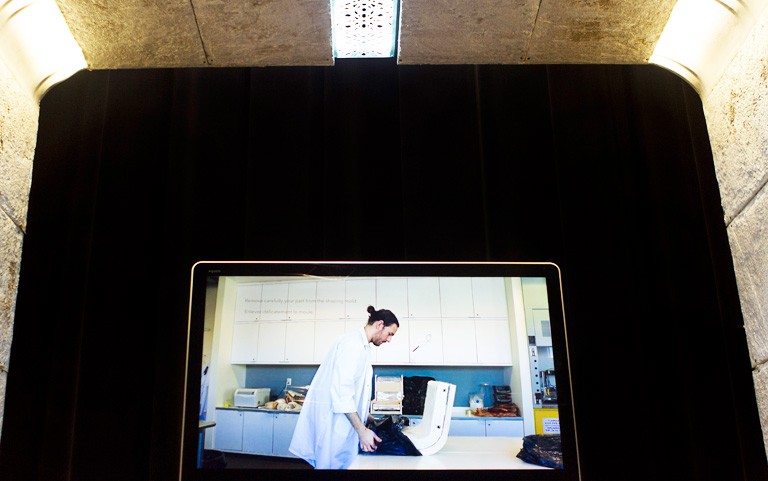 For Chauvirey, Concordia is a great fit for pursuing biomaterials research. In January, he built and showcased an installation at Concordia's 4TH SPACE as part of its Cities: Urban Essentials programming.
Chauvirey has also benefited from resources like the Milieux Institute for Arts, Culture and Technology, a multidisciplinary research institute within the university that provides the spaces and tools he needs to conduct these kinds of projects.
"Thanks to Milieux, I had the chance to meet extremely inspiring people such as bio-artist WhiteFeather Hunter, with whom I had the chance to collaborate on creative projects using living biomaterials."
Chauvirey's advice for anyone interested in joining the field?
"If you feel concerned about all the environmental issues in this world, you are already on the right track. Be critical when you observe your environment or the way people behave, but also look for potential."

Find out more about Concordia's Department of Design and Computation Arts.
---