Concordia and TRAC sign a five-year agreement
The new agreement between the university and teaching and research assistants will be in effect until 2021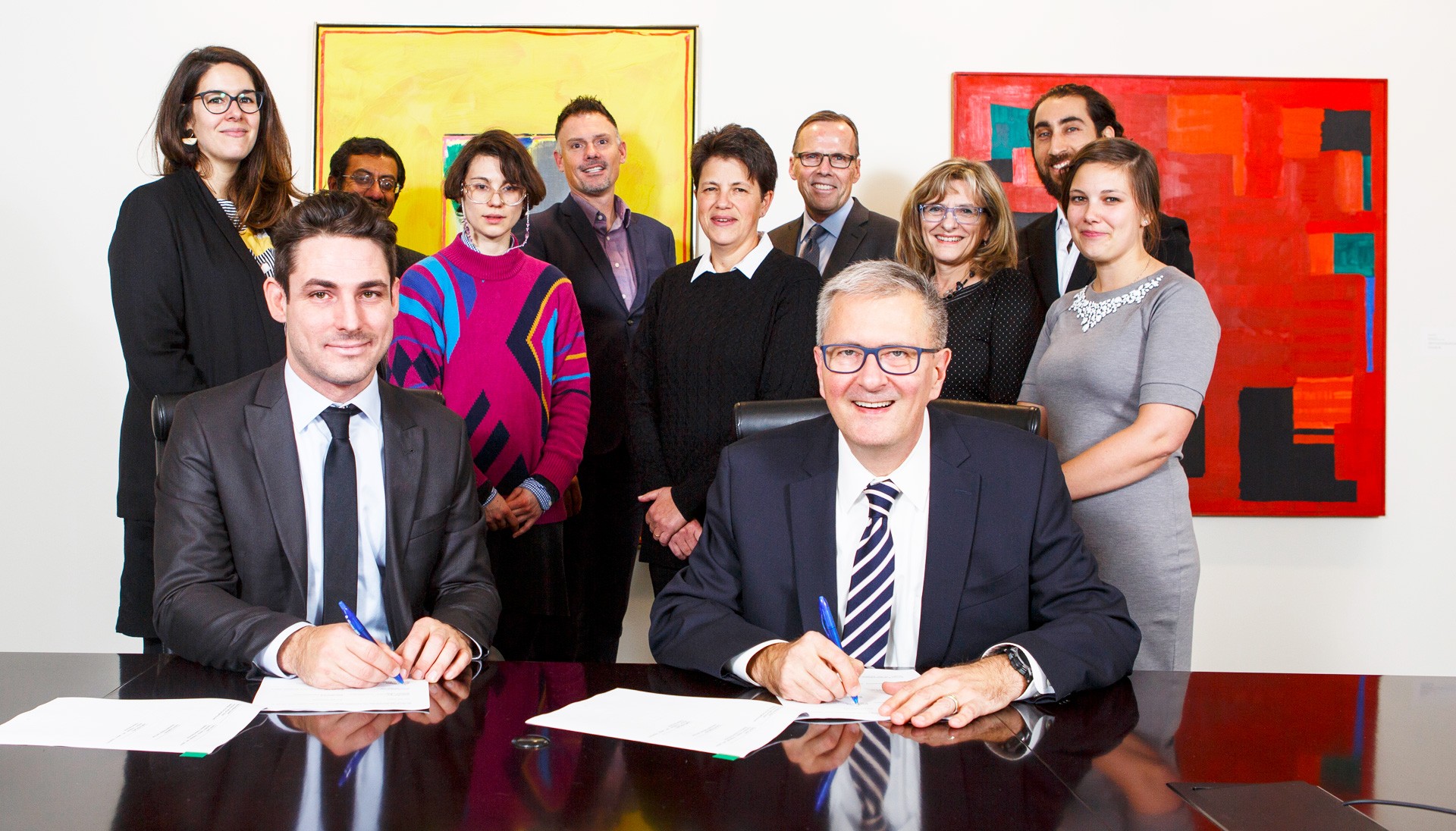 The union of Teaching and Research Assistants at Concordia (TRAC) and the university bargaining teams met to sign their new collective agreement on October 29, 2018.
"We did a lot of work since the last agreement to get us to a space where we could meet the needs of both parties and find common ground," says Carolina Willsher, associate vice-president of Human Resources. "It's not always easy, and it takes time, but I believe we achieved it. Congratulations to both teams."
The parties began meeting for negotiations in May 2017 and a memorandum of agreement was signed in June 2018.
Jeremy Tessier, president of the TRAC, was also pleased with the outcome of these negotiations. "Our members help make Concordia a great place to study, and it's important to take a moment to highlight their contributions and value their labour," he says.
"I would like to recognize the former TRAC president Alexandre St-Onge Perron and his counterpart at the bargaining table, vice-provost Nadia Hardy. Their positive leadership has allowed us to make great strides towards fostering a relationship of mutual respect in the bargaining process and beyond."
Some of the differences between this and past agreements stem from the fact that TRAC is now one union instead of two (TRAC-TA and TRAC-RA). The unions were amalgamated in 2016. The bargaining teams worked on merging their two collective agreements.
It is also a five-year agreement, one of Concordia's first.
Nadia Hardy, vice-provost of Faculty Development and Inclusion, added that she is pleased to see a five-year agreement, and very proud of the collaborative approach that guided the work of both teams.
"The five-year term is important in two ways. Firstly, it is a testament to the goodwill exhibited by both teams. Secondly, it provides stability and time for strengthening our working relationship," she says. "We greatly value research assistants' and teaching assistants' contributions to the research and teaching that take place at Concordia."
The collective agreement will be posted on the Concordia web pages shortly.
Those present for the university: Roger Côté, Govind Gopakumar, Nadia Hardy, JoséEve McCarthy, Alan Shepard, Carolina Willsher. Regrets: Philippe Beauregard, Graham Carr, Denis Cossette, Sonia Coutu.
Those present for TRAC: Jean-Michel Fortin, Natalie Greenberg, Gonzalo Quintana Zunino, Jeremy Tessier, Marie-Helene Vanier. Regrets: Yvon Barrière, Alexandre St-Onge Perron.
---