5 things you need to know about Concordia's 2018 Centraide campaign
OCT. 22-DEC. 10: Join others in supporting the vital city-wide efforts of the charitable organization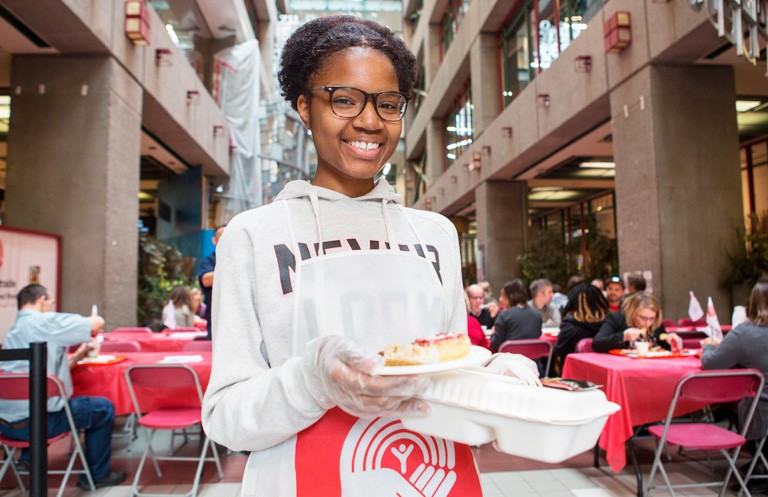 The Concordia community has an exemplary record of supporting worthy causes, including its own Campaign for Concordia and Concordia Shuffle along with a number of external fundraising initiatives.
Topping that list is the Concordia Centraide Campaign. Since the founding of Centraide of Greater Montreal in 1975 — just a year after Sir George Williams University and Loyola College merged to form the new university — Concordians have constantly backed the annual fundraising drive.
"I'm always proud to see how our students, faculty and staff step up for Centraide," says Concordia's president, Alan Shepard.
"We are not just part of the Concordia family — our efforts to support Centraide have a ripple effect for the entire community and benefit us all."
The 2018 Concordia Centraide Campaign launched October 22 and continues until December 10. The campaign's slogan, "Give to Centraide — YUL be glad you did," cleverly reminds donors of the value of the work done by the charitable organization for Montrealers.
"Concordia has long played a central role in the development of Montreal, as is emphasized by our strategic direction embrace the city, embrace the world," says Nadia Bhuiyan, vice-provost of Partnerships and Experiential Learning and one of this year's campaign co-chairs.
"Among our many reasons, we support Centraide because of the important way it advances so many local priorities."
Philippe Beauregard, chief communications officer and the other campaign co-chair, agrees.
"While Centraide aims 'to break the cycle of poverty and social exclusion,' it also strives to make our community a better place by supporting families, education programs, neighbourhoods and a host of other services."
Centraide of Greater Montreal's 2017 campaign raised $56,165,000 — and Concordians can help it surpass that mark this year.
Here are five things you need to know about the 2018 Concordia Centraide Campaign.
1. Concordia will play host to several events
There are a number of campaign events to look for from now until December 10.
The always-popular $15 pasta lunches will again be held on both campuses. The food is donated and the serving staff are volunteers, so all proceeds go to Centraide.
Alan Shepard will help wrap up the campaign at the Centraide closing celebration on December 10, 4 to 5 p.m., in the Abe and Harriet Gold Atrium, EV Building, 1515 Ste. Catherine St. W.
Watch for news of a 50/50 draw and other events and fundraising opportunities during the campaign period.
2. Your support benefits Greater Montreal
Centraide helps 500,000 people each year in Greater Montreal, which includes the island, Laval and the South Shore.
While the Quebec economy has been doing relatively well in recent years, Centraide reports that there are still large swaths of the local population struggling to keep up.
In the Montreal region, one of four children grows up in a low-income family, one of three seniors lives alone and over half of recent immigrants live in poverty. Although the city's unemployment rate has been dropping, that doesn't necessarily spell relief for the poor — 40 per cent of those living in poverty do, indeed, work.
3. Donating to Centraide is the most efficient way to give
Centraide supports 350 local agencies and projects that include academic initiatives, homeless shelters, services for the most vulnerable and neighbourhood networks.
If these agencies had to raise money on their own, their yearly fundraising costs would go up by $9 million. These savings go directly to those in need.
4. There are several ways to give
Through the Concordia Centraide Campaign, donors can make a one-time gift or a payroll deduction — often the most effective way to donate.
And every gift counts. For example, a donation of just $4 per week adds up to $208 per year. With the tax credit, the actual cost is even smaller and amounts to about $0.38 per day.
Download the paper pledge form for faculty, staff and students or retirees.
5. YUL be happy you did
Playing a part in the Concordia Centraide Campaign can be rewarding — especially since Centraide donors' generosity over the years has had a measurable impact on the city.
For instance, thanks in part to Centraide's partnerships with schools, agencies and youth and family groups, high school graduation rates in Greater Montreal have jumped from 67.7 per cent in 2009 to 79.8 per cent in 2016.
Tangible results of donations can also be seen in a number of Montreal regions. For example, this year 1,100 refugees in Ville-Émard/Côte-Saint-Paul received support to help them integrate into the community. And in Pointe-Saint-Charles, funds helped generate 200 collective garden apprentices, one community grocery store and 500 collective kitchen participants, as well as a much-needed new bus route.
Volunteering is also a means for people to further enrich themselves and improve ties to their community. Volunteer opportunities for the Concordia Centraide Campaign include helping out with a pasta lunch or other campus Centraide events, or organizing a fundraising event.

Watch for regular email updates.
Visit Concordia Centraide Campaign to learn more and see the infographics that depict Centraide's multiple services.
For more information or to volunteer, contact centraide@concordia.ca.
For managers: To organize a visit to your department or unit from a Centraide volunteer who can explain more about the campaign, contact centraide@concordia.ca.
---