STEM SIGHTS: The Concordian who solves Mars rover challenges
Grad student Parna N. wants to bring space robotics to new heights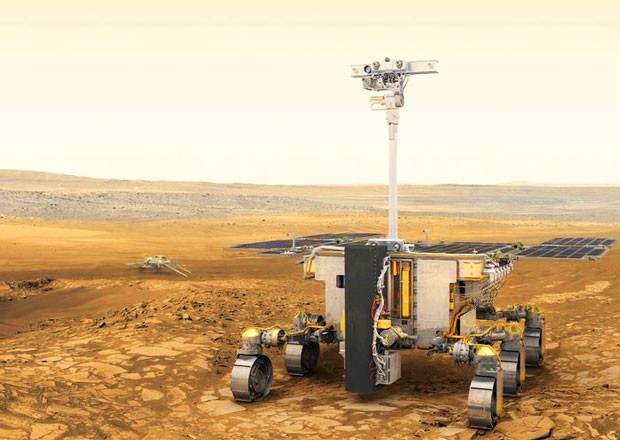 You've probably seen footage of novice astronauts floating around in the back of aircraft during training for zero-gravity environments.
To make this possible, they are sent up on parabolic flights, named for the aircraft's trajectory. The planes rise sharply, then descend just as sharply, creating a freefall effect that gives the feeling of weightlessness.
Parabolic flights offer an affordable and fairly accessible way to simulate a low-gravity environment, and the Canadian Space Agency runs a program to make them available to Canadian researchers conducting experiments.
One of those researchers is Parna N., a master's student in space robotics with the Concordia Institute of Aerospace Design and Innovation (CIADI). She uses computer visualization techniques to investigate the effects of reduced gravity on the performance of ExoMars rover vehicle wheels while they drive in a loose layer of dust and soil on the surface of Mars.
ExoMars is a joint research mission between the European Space Agency and the Russian space agency Roscosmos. They expect to send their rover to Mars in 2020.

'I don't remember a day I wasn't fascinated by space exploration'

How does this specific image (top) relate to your research at Concordia?
The image shows concept art for the ExoMars rover. We have developed an automated soil preparation and robotic frame system to test the terramechanics of the ExoMars flexible rover wheel.
The flexible wheels were developed for the ExoMars program by a Canadian company called MDA, utilizing Martian specifications from the European Space Agency.
As part of the research project I am working on, the soil preparation and robotic frame system will be loaded onto an airplane. We'll conduct a series of parabolic flights, simulating the Martian and lunar gravity to investigate the effect of gravity on both rover and soil, and their interactions.

What is the hoped-for result of your project? And what impact could you see it having on people's lives?
We hope it contributes to solving some challenges presently facing the Mars rovers.
Spirit, the Mars Exploration Rover, became stuck after five years on Mars. The Curiosity Rover, from the Mars Science Laboratory, sustained tears and punctures in its wheels.
In-depth understanding of rover-terrain interactions will have a broad and long-term impact in the field of terramechanics. Beyond that, it will increase rover safety and performance, which translates into a higher scientific return for future space missions.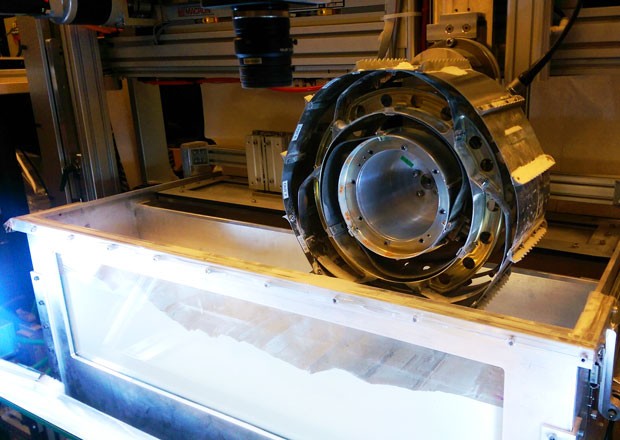 Parna N. and her fellow researchers plan to send this machine on a parabolic flight to simulate how the Exo Mars rover's wheels might move on the surface of Mars in reduced gravity.

What are some of the major challenges you face in your research? What are some of the key areas where your work could be applied?
Designing, analyzing, assembling and programming an automated robotic system for flight campaigns while considering the critical emergency situations and the standards of safety that must be followed have been both challenging and rewarding.
There have been many unforeseeable design hurdles due to the constraints on flying this type of robotic apparatus. But with the invaluable support of my colleagues and the incredible supervision of Krzysztof Skonieczny, an assistant professor in the Department of Electrical and Computer Engineering and the Canada Research Chair in Aerospace Robotics, we have found solutions for unexpected surprises so far.
The principal technological application is the development of software tools for rover operators which link available rover telemetry to classes of terrain interactions.

What person, experience or moment in time first inspired you to study this subject and get involved in the field?
I don't remember a day that I wasn't fascinated by space exploration. While growing up reading sci-fi books and watching sci-fi movies, space travel and exploration seemed like a future I would like to live in. My interests in robotics were developed gradually. Right after graduating from university, I applied to two open positions in Germany.
Following a stint with the robotics department at the Karlsruhe Institute of Technology (KIT), I moved to the Netherlands to acquire knowledge and experience in space robotics at the European Space Agency before continuing my studies and joining the Aerospace Robotics Laboratory at Concordia.

How can interested STEM students get involved in this line of research? What advice would you give them?
The field of robotics is growing fast so there will be countless opportunities out there for students who specialize in this field to get involved. For space enthusiasts, joining Space Concordia or other student projects can provide indispensable experiences in robotics, satellites, or even rocketry.
I would advise students to find a mentor to steer them in the right direction, surround themselves with passionate people, be creative, indulge in curiosity and enjoy it.

What do you like best about being at Concordia?
The opportunities to get involved in student projects, particularly space-related student projects, is fairly unique at Concordia compared to many other universities in Canada.
The main reason I moved from the west coast of Canada to Montreal is the space-related opportunities. So far, my favourite time at Concordia is working with my colleagues in the lab.

Are there any partners, agencies or other funding/support attached to your research?
We are funded by the Canadian Space Agency with MDA as our industrial partner in research collaboration with McGill University. In addition to that, we have been in contact with the European Space Agency and have received tremendous support and feedback from them.

Learn more about Concordia's Institute of Aerospace Design & Innovation.


---