7 Concordians who make international headlines
The President's Media Outreach Awards honour the year's top newsmakers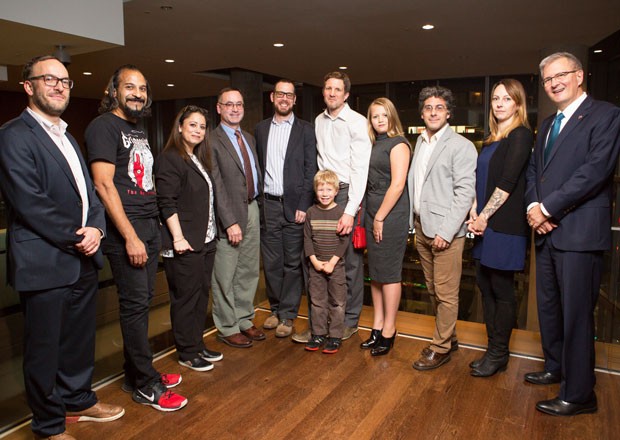 (L to R) Philippe Beauregard; Vivek Venkatesh; Nadia Naffi, Graham Dodds; Adam Radomsky; Johan, Jason and Florence (accepting for Kimberley Manning); Jean-Philippe Warren; Jennifer Drummond; Alan Shepard.

Knowledge dissemination through media interviews
The President's Media Outreach Awards recognize researchers, faculty and staff who garnered media coverage over the past year in news outlets around the world.
At a celebration last week, Concordia's president Alan Shepard expressed his appreciation to this year's seven "newsmakers" who devoted their time — beyond the demands of their research and teaching — to highlighting the excellent work being done at the university.
Shepard stressed the importance of Concordians taking pride in their achievements, whether through opinion pieces or during interviews with journalists. Doing so, he said, allows readers, viewers and listeners to appreciate the effect of those achievements on the wider world.
Working with journalists to produce stories about research activities at Concordia is exactly the kind of "knowledge dissemination" funding agencies now demand of academics, Shepard added.
Concordia's chief communications officer (CCO) Philippe Beauregard joined the president in congratulating faculty and staff members for helping to tell the stories of what Concordians accomplish year in and year out.

This year's President's Outreach Award winners are:
Adam Radomsky – Research Communicator of the Year (International)
Vivek Venkatesh – Research Communicator of the Year (National)
Nadia Naffi – Graduate Research Communicator of the Year
Jean-Philippe Warren – Communicator of the Year (Francophone Media)
Kimberley Manning – Opinion Leader of the Year
Graham Dodds – Expert Commentator of the Year
Jennifer Drummond – Communications Ambassador of the Year

Media outreach through The Conversation
Beauregard also celebrated the partnership Concordia forged this past year with The Conversation Canada, an innovative digital media outlet dedicated to bringing scholarly work to a general readership.
He invited André Gagné, a past President's Media Outreach Award winner and one of the earliest to respond to the invitation to "join The Conversation," to discuss his experience.
Gagné, an associate professor in the Department of Theological Studies, as well as a digital fellow at the Montreal Institute for Genocide and Human Rights Studies (MIGS), spoke enthusiastically about working with the editors of The Conversation.
Gagné has so far published two pieces: one on the importance of understanding religious extremism, published on the 16th anniversary of 9/11, and another on how Donald Trump's presidency has emboldened right-wing extremism in Canada.
Gagné said he was stunned at the number of high-profile media outlets that picked up his article, thanks to The Conversation's open-source platform. His work was featured, in both French and English, in such leading outlets as Newsweek and Le Figaro.
A number of other academics, including several from the inaugural cohort of Public Scholars graduates, have published in The Conversation or have pieces forthcoming.

2017 President's Media Outreach Award winners – in detail

Research Communicator of the Year (International) – Adam Radomsky
Adam Radomsky, a professor in the Department of Psychology, co-published a scholarly study on safety behaviours – the things people do to make themselves feel less anxious.
Thanks to his paper, along with his previous published research, a health reporter contacted Radomsky for his input on intrusive thoughts for an article that appeared on USNews.com and was carried around the world.

Research Communicator of the Year (National) – Vivek Venkatesh
Vivek Venkatesh, a professor in the Department of Education, has developed a vast network of collaborators for his various research projects.
His high media profile this past year was a result of his role with Project SOMEONE. The project aims to combat online hate by building awareness and resilience, as well as creating digital spaces for positive dialogue.
Venkatesh focuses on hate speech in extreme metal music scenes, exploring the tensions between hate speech, free speech and artistic liberty.
Project SOMEONE's timeliness (along with Venkatesh's now-legendary T-shirt collection) has made Venkatesh popular with the media in Quebec, and has earned Concordia terrific visibility through an article in the Globe and Mail.

Graduate Research Communicator of the Year – Nadia Naffi
Nadia Naffi is a PhD candidate and fellow faculty member in the Department of Education. One of the first cohort of Public Scholars graduates, Naffi has devised new and compelling ways to share her research with audiences outside academia.
As an education technology student, Naffi researched how social media shapes attitudes toward refugees. She was interviewed by Vice, CJAD and Breakfast Television Montreal, and her research was the subject of a Radio-Canada report. Naffi also has an article forthcoming in The Conversation.

Communicator of the Year (Francophone Media) – Jean-Philippe Warren
Jean-Philippe Warren, a professor in the Department of Sociology and Anthropology, accepted the award for Communicator of the Year (Francophone Media) on behalf of his close collaborators Sherry Simon, a professor in the Département d'études françaises, and Steven High, a professor in the Department of History and co-founder of the Centre for Oral History and Digital Storytelling.
This year, Warren and his colleagues embarked on a year-long partnership with Journal Métro to present a portrait of several of Montreal's boroughs. Their features focused on Little Burgundy, Mile-End and Hochelaga-Maisonneuve, among others. The campaign showcased Concordia research that aligned with the City of Montreal's 375th anniversary celebrations.
Warren's research was also the subject of articles in Le Devoir, and he was featured as a guest on the Radio-Canada radio program "Plus on est de fous, plus on lit!"
Coverage of Concordia's research by Quebec's French-language media outlets is of immense value to the institution's reputation and public profile, Beauregard pointed out.
"The efforts of Concordians who are able to communicate in French as well as English are held in high regard by top academics and administrators at our university."

Opinion Leader of the Year – Kimberley Manning
Opinion pieces and the informed perspective of Concordians are increasingly being featured in publications and media outlets, helping shape public debates. Kimberley Manning, principal of Concordia's Simone de Beauvoir Institute, was tireless in her campaign for Bill C-61, the Senate bill on the rights of transgender people.
Writing op-eds that were published in a variety of newspapers across the country and testifying before the Senate, Manning stepped into the spotlight and argued openly with opponents of the legislation. She shared her expertise on transgender rights and bore witness to the experiences of transgender people, especially children, in Canada.
Manning was, in fact, away in Toronto pursuing her advocacy work on the evening of the award ceremony. Her husband, Jason, executive director of Academic Policy, Planning, and Strategic Initiatives (APPSI) in the Office of the Provost and Vice-President, Academic Affairs, accepted the award on her behalf.

Expert Commentator of the Year – Graham Dodds
Graham Dodds, an expert on US politics and an associate professor in the Department of Political Science, was Concordia's Newsmaker of the Week six times this past year, thanks to his commentary on last year's US election.
Dodds has been featured widely in a variety of print and broadcast media. A friend to early-morning television news, Dodds is a frequent contributor to Breakfast Television Montreal, CTV Montreal and CJAD.
He has developed a reputation as a scholar who rarely says no to sharing his perspective on US president Donald Trump, as well as on the constitutional provisions for the Executive Office of the President and the country's Supreme Court.

Communications Ambassador of the Year – Jennifer Drummond
The award for Communications Ambassador of the Year recognizes media work by a member of the Concordia community who is not a researcher or faculty member. This year, it went to Jennifer Drummond, coordinator of Concordia's Sexual Assault Resource Centre (SARC).
Drummond was the public face of the university's consent campaign launch, which garnered coverage in the Montreal Gazette, and on CTV and Radio-Canada.
She also spoke out most recently as an expert in the wake of the Harvey Weinstein, Gilbert Rozon and Éric Salvail sexual abuse and harassment scandals and the resulting #MeToo social media campaign.

Find out more about how Concordia's Media Relations department can help get word out about your research.

---