'I want to instill in students a love and interest for the legal profession'
Morton Minc becomes Concordia's first jurist-in-residence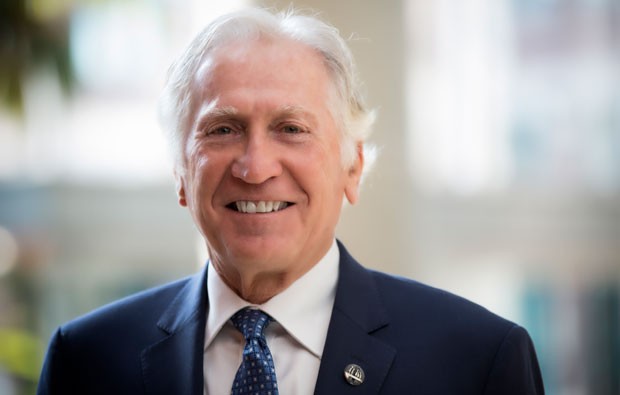 Judge Morton Minc: "If we can contribute to our society, it's a win-win situation."

Concordia is welcoming Morton Minc as its new jurist-in-residence, the first appointment of its kind for any English university in Quebec.
"I think this is a wonderful opportunity to pique students' interest in the law and instill a love and interest for the legal profession," says Me. Minc, who will serve his two-year tenure in Concordia's Department of History, within the Minor in Law and Society Program.
Minc will moderate a panel discussion on October 19, 2017, about the legal implications of the maltreatment of children.
The campus event features the following panelists: Morton Minc, the Honourable Patrick Healy (Quebec Court of Appeal), the Honourable Martine Nolin (Quebec Court, Youth Court division), Me. Delphine Mauger (Criminal and Penal Prosecutions) and Me. Robert Hamel (Legal Aid, Youth Court division). Admission is free, but registration is required.

'Exciting and innovative'
The idea for the jurist-in-residence program came following meetings with Concordia's president Alan Shepard, provost Graham Carr and the dean of the Faculty of Arts and Science André Roy.
"Our Faculty is thrilled to welcome Me. Minc," says Roy.
"Students will benefit from his many years of experience in law and social justice. I had the opportunity to speak with him about the numerous projects he intends on carrying out for the next two years, and I am confident that his residency will catalyze our vision for our program in Law and Society."
Minc acknowledges there are challenges involved in setting up a jurist-in-residence program in a university without a law faculty. But he sees many possibilities for Concordia students who are curious about the legal profession.
"I think it's exciting and innovative," Minc says.
The program includes mentoring students, bringing eminent jurists to the university, organizing field trips to tour different courthouses and attending trials. Minc also hopes to hold conferences at Concordia.
The judge's career has focused on social innovation in the court system. After obtaining an arts degree from Sir George Williams University (one of Concordia's founding institutions) in 1967, Minc went on to study law at Université de Montréal, graduating in 1973.
He then entered private practice, where his work took him across the country and included lecturing at both Concordia and McGill. In 1993, he was appointed judge at the Municipal Court of Montreal, where he eventually became chief justice in 2009.

'Problem-solving court'
In this role, Minc initiated and encouraged programs designed to improve justice for the disadvantaged — from the homeless to survivors of domestic abuse, to people with mental illness or addiction.
"Social programs were one of our mainstays, and this small jewel of a court was a perfect setting," he explains. "Because the court was not too big or too small, it was great for promoting social justice programs."
This approach to social justice programs was known as "problem-solving courts," or "cluster courts."
Minc believes there is a need and an obligation for courts to fulfill that responsibility to its citizens.
"Some people cannot succeed at the program the first time around. That's to be expected," he says. "But just because someone makes one mistake in their lifetime, if they are rehabilitated, they shouldn't be burdened with a criminal record. Are we going to save every person? Absolutely not. But if we can contribute to our society, it's a win-win situation."
The social justice programs at the Municipal Court of Montreal proved tremendously successful, and reduced the rate of recidivisms significantly. Judges from both national and international levels, including the Supreme Court of Canada, frequently visited Minc's court to experience the court's approach regarding social justice programs.

'Be serious and sincere'
The judge believes that Concordia and the Law and Society Program have an important role to play in shaping future jurists.
His advice to would-be lawyers?
"Be serious and sincere with your clients. Be involved in the community, and whatever interests you; whether it's civil law, criminal law, specialties of law, or social issues. Above all, you have to develop a strong and serious work ethic, and have a love and passion for whatever you choose in the future.
"That will lead you to a successful career in law."

Register today for the Legal Implications of the Maltreatment of Children panel discussion, moderated by Me. Morton Minc, on Thursday, October 19, from 6 to 8 p.m. in Room EV 2.260 of the Engineering, Computer Science and Visual Arts (EV) Integrated Complex (1515 Ste. Catherine St. W.).
---