$367,000 for a Concordia initiative to combat hate
Project SOMEONE lands funding from the Government of Canada's Community Resilience Fund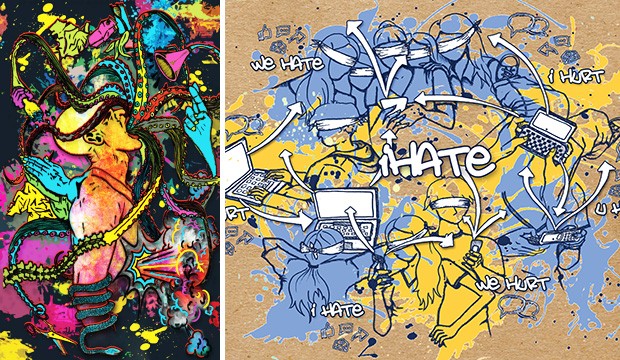 Vivek Venkatesh: "This funding ensures our continued partnership with key national and international stakeholders." | Images courtesy of Project SOMEONE

Researchers at Concordia have received major federal support for their work combatting hate in this country.
Project SOMEONE (SOcial Media EducatiON Every day) was created to sensitize youth, educators and the broader public to patterns of online hostility.
The initiative is getting a grant of $366,920 from Public Safety Canada's Community Resilience Fund, via the Canada Centre for Community Engagement and the Prevention of Violence.
MP Marc Miller made the award announcement on behalf of the Honourable Ralph Goodale, Minister of Public Safety and Emergency Preparedness on September 12 at the John Molson School of Business.
"To retain our national character as an open, diverse, inclusive and generous society — and one that is also safe and secure — we need to become among the best in the world at understanding and dealing effectively with all types of radicalization that lead to violence," noted Goodale in a statement.
"The Canada Centre for Community Engagement and Prevention of Violence is helping us do as much as humanly possible to prevent radicalization to violence before tragedy strikes. I'm proud to support this locally developed initiative to build resources for effective prevention in Canada."

A web portal against hate
Vivek Venkatesh, associate professor of education in the Faculty of Arts and Science, is a member of the Centre for the Study of Learning and Performance and founder of Project SOMEONE. He is understandably thrilled by the boost.
"This funding ensures our continued partnership with key national and international stakeholders," he says.
"We work with community leaders, social service organizations, teaching professionals and policy makers. The goal is to create public engagement activities to promote pluralistic dialogues about the impact of hate speech, discrimination and radicalization on our society."
Under Venkatesh's leadership, Project SOMEONE brings together partners from across North America to develop an innovative web portal to serve those involved in promoting multiculturalism, counter-violence, resilience and prevention of extremism.
It provides them with a host of curricular and multimedia materials designed to make the public aware of how hate groups use the internet to spread messages of radicalization and encourage violent extremism.
The site features tips and best practices on the use of social media among children, how to combat discrimination in our everyday lives and how to recognize the triggers of hate speech.
It also houses animated content to show teachers and community leaders how to use social media to build resilience to extremist rhetoric among students, plus videos depicting public panel discussions held in Europe and North America, as well as first-hand accounts of discrimination.
This new funding will contribute to better understanding how hate speech is produced, used and viewed online, as well as develop further resources to address harmful content.
---