'We're developing Concordia's niche in modern fields'
The new Department of Chemical and Materials Engineering is poised to lead in sustainability research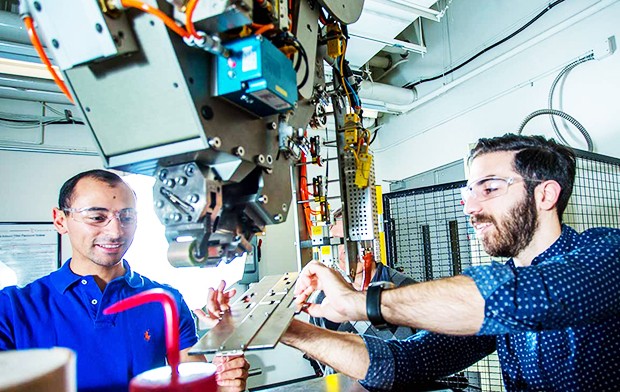 Beginning May 1, Concordia's Faculty of Engineering and Computer Science (ENCS) will break ground on its new Department of Chemical and Materials Engineering (CME).
Interim chair Alex De Visscher and new chemical engineering professor Zhibin Ye have come on board to shape the programs, curriculum and labs of this next-generation department.
Amir Asif, dean of ENCS, believes CME will complement the nine existing engineering programs currently on offer at Concordia.
"We're developing Concordia's niche in modern fields such as advanced materials, additive manufacturing, nanotechnology and molecular self-assembly," Asif says.
"More importantly, this degree will provide excellent training and research opportunities. It will enable our students to be at the forefront of the latest chemical and materials technologies and to contribute to this exciting field as entrepreneurs or by launching industry careers."
Concordia's department will be unique in Canada due to its combination of chemical and materials engineering, and its emphasis on new processes for producing specialized materials. These could be developed for the renewable energy, transportation, aerospace, medical and pharmaceutical sectors.

Engineering a sustainable future
De Visscher's work investigates how to manufacture fuel and chemicals from carbon dioxide.
"For years, I've researched how to reduce the environmental impact of the oil industry. As time progressed, it became clear to me that the carbon dioxide produced in the combustion of oil can no longer be ignored," he says.
"We will always need some oil, but we don't have to take it out of the ground if we can take it out of the air."
De Visscher explains that, while it may seem far-fetched, with cheap renewable energy you can make hydrogen by electrolysis of water.
"That hydrogen can be used to convert carbon dioxide to methanol, or to gasoline, for instance," he says.
"Carbon dioxide can be obtained from the cement industry, which produces a lot of it. The beauty of cement is that it will slowly reabsorb the gas from the air, so the fuel doesn't have a lasting effect on climate change."
Ye also focuses on renewable energy, among many other fields.
"My research is focused on designing innovative polymer materials and nanomaterials of superior properties for various applications, including strong composites, catalysis and energy storage and conversion."
Ye's work has led to the discovery of a class of metal nanocatalysts that could reform the manufacturing processes of petrochemicals. He has also recently invented a new process of production for small carbon nanospheres that has big implications for how we capture and store renewable energy.

'New and unique research'
While the department is brand new, De Visscher and Ye point out that it shares many touchpoints with the excellent research on materials engineering going on across ENCS, as well as the Faculty of Arts and Science.
In September, the new department will start teaching individual graduate courses in chemical engineering. In 2018, certificate and diploma offerings will follow. These short graduate programs are aimed at students who want to immerse themselves in chemical engineering but don't necessarily want to complete an entire master's degree.
Full graduate and undergraduate courses and options will follow in subsequent years, once faculty capacity has been established.

Learn more about Concordia's new Department of Chemical and Materials Engineering.
---