Open House 2017: 'Really fun people — and interesting questions!'
At this year's winter event, Concordia welcomed more than 4,000 visitors from around the world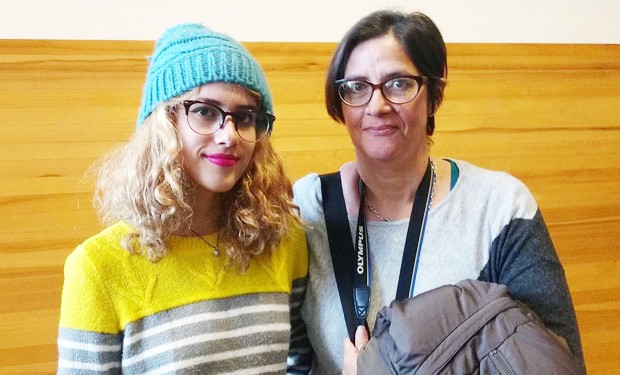 Fabiola Alvarez and her mother flew to Montreal from Puerto Rico for Portfolio Day. | Photo: Andy Murdoch

Blizzard warnings were no impediment for the thousands of people who came out on Sunday, February 12, to meet the Concordia community at Open House and Portfolio Day.
"I was very impressed," says Sarah Bubenheimer, a newly admitted student from Michigan.
"The best part was seeing the school in person and being able to talk to actual Concordia students about their experiences."
Another benefit, she adds, was being able to show the university to her parents.
"Since we're from Michigan, moving to Montreal will be a big change for me, and showing them the campus and talking to staff from the International Students Office was very helpful. I'm so glad I attended!"
Approximately 4,200 visitors attended Open House. That's an increase of more than 25 per cent from last year, says Savvy Papayiannis, manager of Student Recruitment.
"The event has really grown," she adds. "We've gone from holding activities in just one building, to three buildings across both campuses."

In-depth exploration
The scope of the event has also increased, says Matthew Stiegemeyer, director of Student Recruitment.
"In the past, our main focus at this time of the year was helping people with their applications," he adds. "But this year we offered the full Open House experience because we've found that a growing percentage — nearly a quarter — of those who attend are future students exploring university options more than a year away."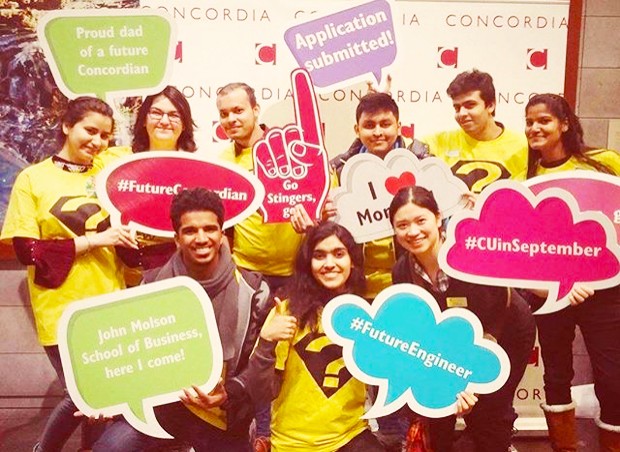 Open House 2017 volunteers. | Photo by Karlene LaCombe, courtesy of Divyluv Sharma

Those students are interested in chatting with professors and learning more about Concordia's programs — things that happened in spades on Sunday, says Stiegemeyer.
"I heard over and over again that even with increased attendance, the conversations still went longer and were more involved," he says. "That's the beauty of having such a committed group of faculty members and staff — they were there to help students explore."
Roughly 700 members of the Concordia community turned out to welcome future students, including hundreds of current students. It was the fourth year running for child studies major Claire Roussel.
"The people are great, they're really fun, they have a lot of interesting questions," says Roussel. "And they're just so relieved because they have all the info. I love that."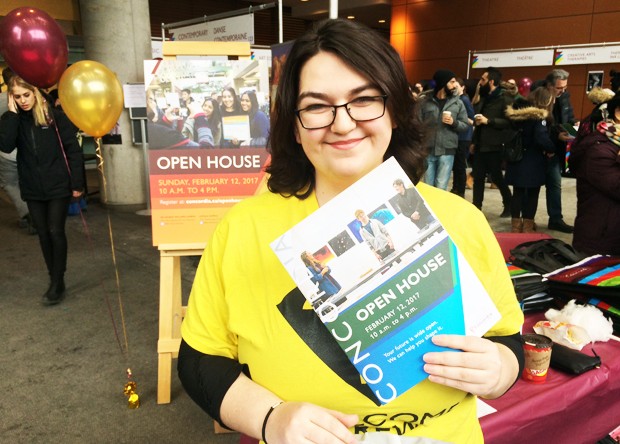 It was Claire Roussel's fourth year volunteering at Open House. | Photo by Sarah Buck

Live on Facebook
For the first time, recruiters included multiple live broadcasts on Facebook. "We brought Open House to the world," says Papayiannis, noting that more than 2,500 people watched the first video.
"We shared some of what future students would have been able to experience in person: getting information on residence, seeing what the city is like, hearing from current Concordians."
Recruitment staff also put out a call on social media for admissions-related questions, messaging with around 50 future students throughout the day.

Watch a video from the February Open House, or apply for admission. The deadline for undergraduate applications is March 1.
Need a little help with your application? The Welcome Centre's application clinic runs from 9 a.m. to 6 p.m. on weekdays from February 20 to March 1.


---