Imagine your library book coming to life
Concordia and the BAnQ promote diversity with a collaborative project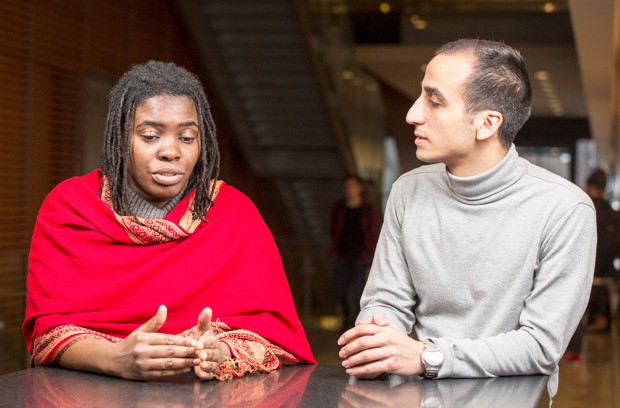 On February 23, Concordia students Awa and Vahid will share their experiences as part of the BanQ-Concordia Human Library initiative. | Photo by Concordia University

What can you learn from a book without reading it?
Earlier this month, several Concordia students began sharing their experiences with Montrealers through a unique initiative called the Human Library — a joint project between the university and the BAnQ (Bibliothèque et archives nationales du Québec).
In this library, 18 people act as books that are available on loan for 20 minutes, during which they relate their life experiences to whoever borrowed them.
Since its founding in 2000 in Copenhagen, the Human Library has crossed borders and expanded its content. The Concordia–BAnQ edition will be held every Thursday from noon to 3 p.m. until March 30 in the hall of the Grande Bibliothèque.
"Our goal is to foster openness to others in an effort to diminish stereotypes and celebrate diversity," says Andrew Woodall, dean of students.
"Those who have been selected to participate in this initiative have interesting stories to share."
He notes that Concordia held a similar Human Library project at the university in 2011.

'Promoting awareness'
Awa* is a photography student in Concordia's Faculty of Fine Arts.
"I'm looking forward to having deep and meaningful conversations on multiculturalism, its challenges and life lessons," she says.
"I see this as a chance to help contribute to people's perspectives of being part of a minority culture in Quebec."
Vahid, a graduate student in Civil Engineering, hopes the experience will help him become more familiar with the diversity of Montreal's communities, something that stood out for him after just five months of living here.
"I believe the key to understanding different cultures and countries is promoting awareness," he says.
"Initiatives like this provide the opportunity to get to know and understand each other while having a good talk in a friendly environment."

'A more inclusive world'
Iris Amizlev, the BAnQ's project lead for exhibitions and facilitation, says the Human Library will activate meaningful exchanges between people of diverse backgrounds, promoting a better understanding of difference.
"This initiative will play a role in the construction of a more inclusive world and nourish human presence at BAnQ in a beautiful way," she adds.
"From the perspective of a public library, the project will also remind us that there are people and stories behind the books and archives that we keep here."

Review the list of human books each week from the Bibliothèque et archives nationales du Québec. Advance registration is required. Email programmationeducation@banq.qc.ca.

*To protect its subjects' privacy, BAnQ's Human Book project uses only first names.
---