The motives of hidden authorship
New researcher-in-residence Emily Kopley explores Concordia Library's anonymous literature collection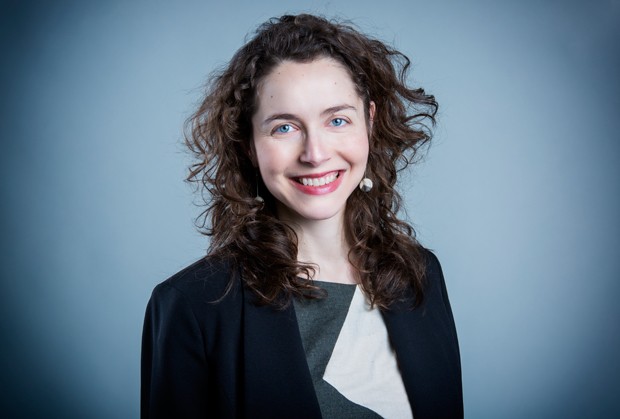 Emily Kopley: "Libraries are warm and collaborative research environments." | Photo by Concordia University

On January 23, Concordia University Library introduced Emily Kopley as its first researcher-in-residence. The move is part of a strategic plan to foster a strong research culture within its walls.
We asked Kopley, who holds a PhD in English from Stanford University and was a recent Mellon Postdoctoral Fellow at McGill University, about her scholarly interests and the specific focus for her residency this year.

Can you tell us a bit about your work?
Emily Kopley: My research is in British and American literature after 1880. I'm especially interested in modernism, book history, authorship, literary form, gender and sexuality, and Jewish–Christian literary relations. I wrote my PhD dissertation (now my first book manuscript) on Virginia Woolf's productively vexed attitude towards poetry.
As researcher-in-residence at the Concordia Library, I'll be working on my second book project, tentatively titled "Anon is Not Dead: Anonymous Authorship in the 20th Century." So far I've found that in the early 20th century, concealed authorship particularly served two groups: those whose voices were new to print, such as African-Americans and writers on homosexuality or pacifism, and those who wrote varieties of autobiography.
At Concordia I'll pursue two large goals, one focused on literature, the other on the cataloguing of this literature.
First, I will read among the rare anonymous and pseudonymous texts held at Concordia, such as those held in the Gay and Lesbian Literature Collection.
Second, I will learn more about the cataloguing and searching methods that could facilitate the discovery and attribution of such texts.

What inspired your study of rare anonymous and pseudonymous texts?
EK: Well, it started as an abandoned dissertation project. I was immersed in Woolf and her contemporaries, and I noticed a trend. In A Room of One's Own (1929) Woolf celebrates women's historical attraction to anonymous authorship, which she understands to be a form of modesty. And in an essay she drafts towards the end of her life, "Anon," she betrays tremendous nostalgia for Anon, that wandering minstrel or crooning nursemaid who wrote so many unsigned English poems.
Woolf's observations made me wonder, what was the authorial practice of anonymity in Woolf's time? Knowing this practice would contextualize not only A Room of One's Own and "Anon," but also the writing about Anon of a lot of Woolf's peers.
T.S. Eliot, Ezra Pound, E.M. Forster, Laura Riding, Walter de la Mare—all these authors, like Woolf, romanticized Anon and lamented his/her supposed death. And many of them (Eliot and Pound most conspicuously) promoted the idea of reading a text as though it were author-less, as though the author had no bearing on how we interpret the text. And this idea informed New Criticism, the first academic pedagogy of How To Read Literature.
So my long-gestating idea is that identifying who was Anon and Pseudon in the early 20th century will inform our understanding of major modernist writers and of New Criticism. And now I think it will also inform how we think about life writing, publishing history, and certain marginalized groups.
On a personal level, I've always been attracted to people, and in particular authors and artists, who want to hide but deserve our attention. I'm interested in authors who are modest or humble or private or otherwise retiring, such as Walter de la Mare. You feel like he wishes he could get away with publishing anonymously in his day and age. But a lot of anonymous writers are not at all modest! They want to flaunt their sensational life story without suffering opprobrium, or they want to play a big joke on a certain circle while making no secret of their identity within their own.
If greater freedom of expression can be found in writing anonymous and pseudonymous literature, does it present a truer picture of reality for evidence-based researchers?
EK: Well, freedom of expression doesn't necessarily lead to honesty of expression. Concealed authorship can allow greater honesty, yes, but it can also allow greater dishonesty and malice — which we are very familiar with today on the internet, where Anon thrives.
Actually, there is nothing that unifies anonymous or pseudonymous literature, because authorial motives are so varied — humility, Christian piety, fear of earning a poor reputation as a fledgling writer, fear of persecution (by the government or otherwise), fear of ostracism (by family or otherwise), desire to pull a prank, desire to injure others, and the list goes on.
But there are certain trends. I've found that a lot of anonymous or pseudonymous literature in the early 20th-century is biographical — memoir veiled as fiction, fiction veiled as memoir, true letters published as a novel, a novel in the guise of true letters, an autobiography that's really about somebody else (real or invented), and so forth. There is often a desire to tell one's story or to make others think you are telling your story.
I should clarify that so far I'm working primarily on books, not journalism or political or legal documents.

Given their cataloguing challenges, do you have any tips to help researchers locate unsigned or alias texts?
EK: I plan to ask Concordia Library staff this same question. With journalism it's not so hard. For 19th-century periodical pieces, we can identify initial and later attribution thanks to the Wellesley Index to Victorian Periodicals. The Times Literary Supplement, which introduced signature to its reviews as late as 1974, has also issued a robust database identifying past contributors.
For books, it's trickier. There's no good bibliography in the field. If you're interested in a specific anonymous or pseudonymous author, you can look at copyright registries for the legal name. But library catalogues, so far, seem to be less helpful here.
Often you can't find the identity of an anonymous or pseudonymous author, nor whether an identified author initially withheld signature or used a pseudonym.
It's also not easy to find multiple anonymous or pseudonymous titles at once.
All this said, I do think that we should respect the desired privacy of authors who are alive and whose identity would not influence political or legal decisions. The most obvious example here is Elena Ferrante.

What attracted you to the Concordia Library's researcher-in-residence program?
EK: I live in Montreal, and I was looking for a way to be connected to the academic world here. I also love working in libraries, both for what I can learn for my research and for what I've found to be collaborative, warm environments.
Last June, I participated in a conference at Concordia about private libraries. There I met university librarian Guylaine Beaudry, who told me about this fellowship. It seemed too good to be true!

Will your residency include opportunities to connect with, or share your research in progress with the wider Concordia community?
EK: Yes! I'll be presenting my research at various times throughout the year, at brown-bag lunches with staff, possibly with classes and potentially at the Concordia University Library Research Forum in April.
I may also curate a library exhibition about Concordia's holdings of anonymous material.

What is the best way for researchers to connect with you?
EK: I'd be delighted to hear from anyone who'd like to discuss my research. Write to me at emily (dot) kopley (at) concordia (dot) ca.

Find out more about the Concordia Library Researcher-in-Residence program.
Over the coming months, Concordia University will announce additional in-residency programs as part of its Strategic Directions.
---