Thinking Out Loud: 7 insightful quotes
Concordia's 2017 public conversation series kicks off February 2 — and it's now open for registration!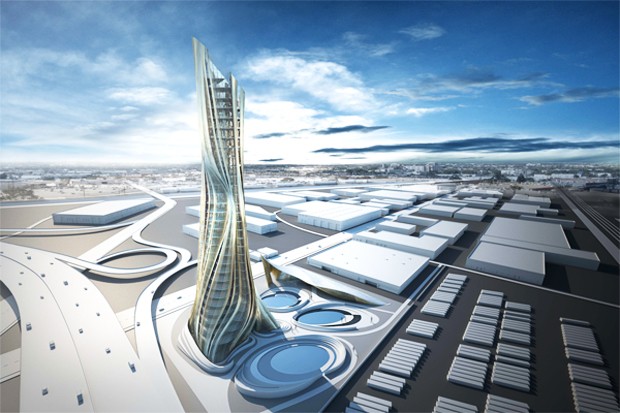 TOL 2017 explores the future of urban design — and more. | Image by Daniel Cheng Lee and Jae Hwan Lee

What happens when dynamic thinkers engage in unscripted discussions about intriguing topics?
Fresh insights and lively banter, that's what. And it's the raison d'être behind Concordia's Thinking Out Loud (TOL) conversations, a public series that brings the university's researchers together with key public thinkers.
The 2017 edition starts on February 2. It explores a variety of cultural topics — from television, graphic novels and the future of urban design, to contemporary business ownership and Indigenous expression.
As a taste of the delights to come, here are insights from Concordia's 2017 speakers.

February 2: Future urban (the city designed)
Urban designer and author Ken Greenberg in conversation with Carmela Cucuzzella, associate professor of Design and Computation Arts
Ken Greenberg: "21st-century cities are redefining themselves...
"The mid-century drive to suburbanization deprived us of the inherent advantages of urban living. The realization of this loss, in tandem with pressing recent concerns about energy scarcity and global warming, has made us see cities with fresh eyes and a growing understanding that they can provide us with an unparalleled measure of sustainability."
Carmela Cucuzzella: "What is a sustainable city today — socially, economically, environmentally, culturally?
"What are the moving parts and how do we make necessary changes in democratic political space? How will our cities take shape in a context of climate change, income polarization, ubiquitous technology and data at a time where the urban form is laden with post-industrial remnants?"

February 9: Future small screen — talking television
Emily Nussbaum, Pulitzer Prize–winning television critic for The New Yorker, in conversation with Joshua Neves, assistant professor of film studies and director of the Global Emergent Media Lab
Emily Nussbaum: "I'm planning to talk about the historical status anxiety that has kept people from treating television as a fantastic, explosive, idiosyncratic art form, with its own particular history and its own aesthetic power.
"We need to move past anxious comparisons to books and movies and celebrate television on its own terms."
Joshua Neves: "The medium seems to have taken over the significance once held by cinema at the centre of our cultural and political imagination, or at the very least, to have displaced and transformed it.
"I'm excited to discuss the new status of not only television as a technology and cultural form, but TV criticism itself."

March 1: Business ownership now
Ethan Song, owner and co-founder of Frank + Oak, and Andrew Molson, board member of the Molson Coors Brewing Company, in conversation with Alexandra Dawson, associate professor of management
Alexandra Dawson: "We typically think of an entrepreneur as somebody who starts their own business. But many entrepreneurs take over the family business from their parents, and others buy existing businesses.
"It's estimated that 550,000 business owners — equivalent to 50 per cent of all businesses with employees in Canada — will exit ownership or transfer control of their businesses between 2012 and 2022. This is creating an enormous pool of potential businesses that will require a new owner. But it also creates challenges as most entrepreneurs do not plan for succession or retirement."

April 18: Indigenous culture — expression, resistance, resilience
Polaris Music Prize-winning Inuit throat singer Tanya Tagaq in conversation with Heather Igloliorte, assistant professor of art history
Tanya Tagaq asked The Walrus in 2015: "How do we collectively heal? How do we collectively move forward?
"When you experience distorted feelings from your childhood — when you realize that a collective group of people have more of that, and then you find out it's a result of the breakdown from colonialism — it's really hard not to be angry and retaliate.
"I want to know why I'm feeling this way, and I want to kill whoever did it. When I was a little girl, I didn't have the strength to put my fingers around someone's neck and take them out for f—ing abusing me. Now I want to do that to the whole world.
"How do I deal with those feelings without being a total psychopath? "

April 20: Talking comics and graphic novels
Award-winning author and illustrator Matthew Forsythe (Grad Dip. Journalism 11) is Concordia's Mordecai Richler writer-in-residence
Matthew Forsythe: "I think comics are still a small industry so it's hard to recognize patterns or rules in terms of things that 'work' and don't work.
"But in my master class, we're going to identify and talk about these things, so that afterwards, students will feel comfortable using them or disregarding them in their own work.
"Canada has some of the best comic artists working today — maybe because comics take forever and it's so cold here that we don't leave the house for eight months a year. We have more time to make comics than warm countries do."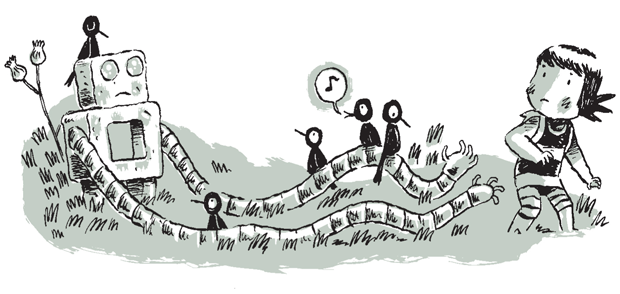 "Canada has some of the best comic artists working today — maybe because comics take forever and it's so cold here…" | Image by Matthew Forsyth, courtesy of Drawn & Quarterly

TOL: Not your typical lecture series
In addition to live events, Thinking Out Loud 2017 will also feature podcast productions. These include 2067, a futurecast audio series hosted by Francine Pelletier; Expo 67, a video and audio series revisiting elements of the exhibition on the 50th anniversary of its opening; and a collection of new audio tracks showcasing past TOL speakers.
Justin Powlowski, interim vice president of Research and Graduate Studies at Concordia, says Thinking Out Loud is a prime opportunity to showcase the strength and dynamism of Concordia's research.
"It creates a space where our top people can not only provide new insights into timely topics, but also engage with leading innovators in their field," he says. "It brings our expertise to a wider audience."
Johanne Pelletier, senior lead and developer of Thinking Out Loud, explains that typically the guests don't know each other, but they know of each other.
"That creates a great energy on stage," she says, pointing out that TOL is not a traditional lecture series, by design.
"In the best Concordia tradition of engaging the public and going beyond the status quo, we're providing something more edgy and spontaneous."



Register now for Concordia's 2017 Thinking Out Loud conversations! The free public series starts February 2; it takes place at the D.B. Clarke Theatre in the Henry F. Hall (H) Building on Sir George Williams Campus.

---