Buildings that power themselves
Concordia researchers are paving the way for zero-energy design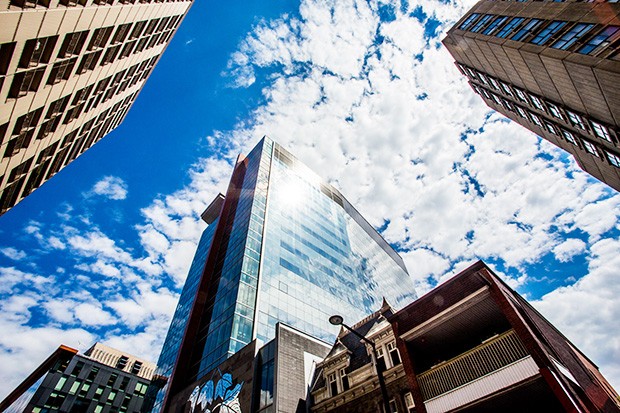 Andreas Athienitis: "Without major transformations to the way we design, build and operate buildings, Canada will not be able to meet its climate goals."

As the world wakes up to the dangers of global warming, the need to drastically reduce greenhouse gas (GHG) emissions has become glaringly apparent.
Andreas Athienitis, director of Concordia's Centre for Zero Energy Building Studies (CZEBS) has some ideas about how we can move toward a more sustainable future.
"It has never been more imperative to bring fresh knowledge to the building engineering discipline," says Athienitis, a professor in the Department of Building Civil and Environmental Engineering, and an NSERC/Hydro Quebec Industrial Chair. "Without major transformations to the way we design, build and operate buildings, Canada will not be able to meet its climate goals."
One third of the country's GHG emissions are attributed to building energy consumption. Buildings also account for 53 per cent of the nation's electricity usage.
That's why the CZEBS team dedicates itself to conducting cutting-edge research into clean technologies, such as solar, thermal and wind power. The mission: to make zero energy buildings — which would produce as much energy as they consume over a year — a more attainable reality.
"The technology to create not only zero energy buildings, but positive energy buildings, is already there," says Bruno Lee, CZEB member and assistant professor of Building, Civil, and Environmental Engineering at Concordia.
"But there are two challenges. One is to further improve upon existing technologies: to optimize, combine and integrate them. The other lies in training people to actually construct these zero energy buildings."
Lee adds that architects and engineers need to work in tandem with one another. "Deep collaboration at the early design phase is the only way to realize a truly resilient net zero environment. And as of yet, practice has yet to catch up with technology."

Bridging the space between the lab and the community
One of the most interesting facilities at CZEBS is its Solar Simulator and Environmental Chamber, which expedites research and prepares clean tech for industry usage.
The facility consists of two major systems: a large-scale solar simulator reproduces natural sunlight, allowing researchers to test various solar power systems; and a two storey-high environmental chamber with a mobile solar simulator lamp that field tests building technologies under controlled environmental conditions, from the arctic to the desert.
"Research that would have taken a year to complete outside can now be done in two weeks," says Athienitis. "It makes things possible which otherwise wouldn't be."
The unique facility was integral to the design, testing and integration of the special photovoltaic/thermal modules such as those used in the John Molson School of Business (MB) Building's solar powered system.
"The MB is a living example of a building-integrated solar system," says Athienitis, who spent years developing the original system that now generates both electricity and heat.
It's not the only CZEBS-led project that bridges the space between the lab and the community. CZEBS was also a critical partner in the realization of the Varennes Public Library, the first institutional net-zero solar building in the country.
Athienitis and Lee are also working alongside their colleagues at CZEBS on another project to replace the Loyola Campus bus shelter with a solar-powered one.

Tomorrow's city
Concordia leads the NSERC Smart Net-zero Energy Building Strategic Research Network, which brings together 30 researchers from 15 Canadian universities and partners from government and industry.
"Our goal is to influence long-term national policy on the design of net-zero energy buildings and communities," says Athienitis.
"This is a huge new industry, and one of the biggest areas of growth in terms of new technologies and jobs," he adds, noting how busy the centre has been since it was officially recognized five years ago.
While both he and Lee agree it's going to take a while for net-zero buildings to become the norm, they say that's where the technology is heading.
"It is possible to have a net-zero city. We're still far from it yet, and of course it will take some time, but you could have a city that is self-sufficient. And I think that's the future," says Athienitis.

Find out more about Concordia's Centre for Zero Energy Building Studies (CZEBS).
---