'Remembrance Day is a reflection of sacrifice'
An army veteran — and current student — looks back at his journey from Afghanistan to Concordia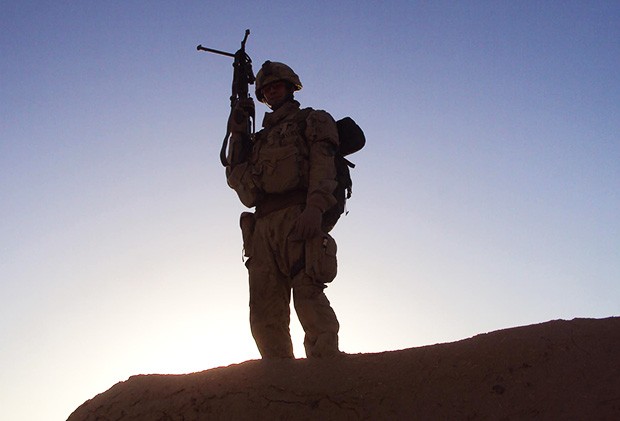 "To me, Remembrance Day has nothing to do with valorizing war ... It's about taking the glory out of war and never forgetting how unbelievably painful it is." | Photos courtesy of Eric Washburn

It was the end of summer 2010 and everything had turned brown. Eric Washburn had deployed to Afghanistan that spring.
One quiet afternoon, he was stationed at a vehicle checkpoint on the outskirts of the Afghan village his platoon was overseeing. A kid about eight or nine years old approached the outpost and, like everything that moved in Kandahar Province, his steps provoked a cloud of dust.
Washburn began a cursory search of the boy. When he reached for his satchel, the youngster became alarmed. Cautiously, Washburn took his bag, wondering why it was so light and what might be hiding inside.
"There were multiplication tables on a sheet of paper," he recalls. "He was risking his life to do math — and he was terrified we might alert someone to what he was doing."
The boy's willingness to trek across volatile terrain, be potentially blown up by an improvised explosive device or punished by some oppressive force, was something Washburn could not reconcile.
"It was such a contrast — when I was his age I was worried about missing the Power Rangers, and he's crossing minefields to get his math graded. It became clear how much I'd taken for granted."

'I felt three times my age'
For Washburn, the encounter was life-changing and it sparked a newfound interest in teaching. After his return to Canada that December, he decided to quit the army and finish his schooling at Vanier College.
But it didn't take long for things to unravel.
"To come back and sit in a classroom again as a 24-year-old war veteran, surrounded by 17-year-olds with 17-year-old problems, I felt three times my age."
While academically Washburn was making strides, psychologically he felt tormented and further and further disconnected from his peers, who seemed more concerned about what brand of shoes were on their feet than the turmoil that raged across the ocean.
It didn't help that many people conflated the Canadian rebuilding mission in Afghanistan with the American occupation.
"I don't know how many times I was asked about Iraq," Washburn says, cringing.
He began to isolate himself, and then, when the news finally came from McGill that he had not been accepted to their teaching program, it was a tipping point.
"I was in shock. I didn't know what to do. I was angry and confused."
Washburn felt he was idling through his days. A real part of him wanted to deploy halfway around the world and be a soldier again.
"In Afghanistan, your daily purpose is so clear. Every day you have an objective. You're watching the progress of the mission and there's a sense of overall accomplishment. To be cut loose from that and on your own, you feel like you're lost."

Eric Washburn with the Royal Canadian Regiment in Afghanistan.

Finding support
While Washburn had left the Royal Canadian Regiment, he decided to become part of the Canadian Grenadier Guards (CGG), a local reserve unit in Montreal where he found support and a sense of familiarity. It was also there that he met Concordian Yves Leduc Butterworth.
Also a young veteran from Afghanistan, Butterworth had noticed that nearly half the reservists in the CGG were university students like himself. This spurred his desire to create an association at Concordia to help connect vets on campus and keep them from falling through the cracks.
Butterworth knew full well how difficult it was to cope with life after service. He knew that 88 per cent of vets drop out in their first year, that they were seven times more likely to commit suicide than the regular student body and that 46 per cent of those who had deployed struggle with some form of post-traumatic stress disorder (PTSD).
He has been open and frank about his own struggles with PTSD.
"I would have become part of that statistic had it not been for the support of individual professors and friends. Provided with the opportunity to continue my academic career, I resolved to address these serious issues facing my brothers and sisters in the veteran community."

'We share a connection'
And so it was that Washburn decided to enrol at Concordia in anthropology. On his very first day of class he got a phone call.
"Butterworth was reaching out about the association. I was a little hesitant but I agreed to be part of it."
The Concordia Veterans Association (CVA) was officially created in 2015, with the mission of helping vets transition into university life.
Washburn says that without a doubt becoming a member of the association helped him in his university career.
"Bringing people together like this, it's necessary. It provides invaluable peer support with like-minded people. We come from all different kinds of backgrounds — the navy, the air force —and we aren't all Afghanistan guys. But we share a connection."
He believes that if he had had this type of support at Vanier, his experience returning to school might have been very different.

'A reflection of sacrifice'
Even though Washburn can still find it difficult to relate to the general public, he feels he's in a good place and has found purpose in his university life, his role in the CVA and in his reserve unit.
As Remembrance Day approaches, he reflects on what he experienced at war.
He's seen death and destruction up close, has walked with a machine gun in one hand and a metal detector in the other, has removed shrapnel from a friend's face and carried his legless comrade. Though he always felt assured that there was a real humanitarian purpose in the work he did in Afghanistan, Washburn also knows the cost that came with it.
"I think of the untold number of locations around the world that we don't hear about in our newsfeeds or on TV, where there are children dying and lawlessness. I think about the friends I lost on my rotation in Afghanistan — it's hard to describe that loss," he says.
"To me, Remembrance Day has nothing to do with valorizing war. It's a reflection of the sacrifice, the loss suffered on all sides. It's about taking the glory out of war and never forgetting how unbelievably painful it is.
"We need to learn from it, so that when we say 'never again,' we can mean it."

Find out more about the peer support, transition assistance and advocacy available from the Concordia Veterans Association.
---