Meet Concordia's 2 new Vanier scholars
Giuseppe Di Labbio and Mona Taghavi pursue innovative solutions for heart diseases and cloud computing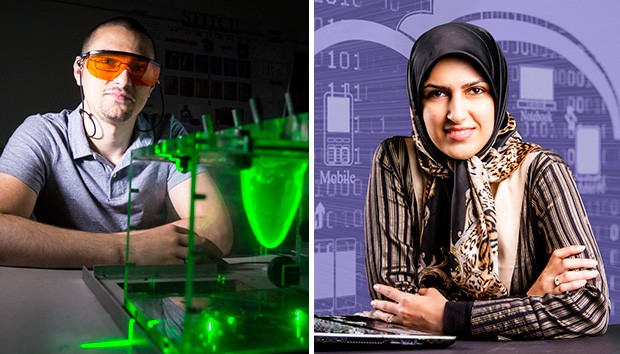 Vaniers scholars (from left) Giuseppe Di Labbio and Mona Taghavi.

Be it through exploration of the human heart's blood flow dynamics or the intricate paradigms associated with cloud computing, Concordia's two new Vanier scholars delve into complex systems that push the limits of today's knowledge.
Giuseppe Di Labbio and Mona Taghavi are this year's recipients of the prestigious Vanier Canada Graduate Scholarships (NSERC), which recognize Canada's most promising doctoral students and establish the country as a global centre of excellence in research and higher learning.
Each scholarship carries an annual stipend of $50,000 for three years. The awards are distributed among the social sciences and humanities, natural sciences and engineering, and health. A maximum of 167 are granted annually.
This year also marks a first for Concordia, as both scholars are housed within the Faculty of Engineering and Computer Science.

The quest to better diagnose heart diseases
A PhD student in the Department of Mechanical and Industrial Engineering, Giuseppe Di Labbio also completed both his bachelor's and master's degrees at Concordia. Specializing in fluid mechanics, he has been applying his expertise to cardiovascular systems since his undergraduate years.
In 2014, his team won second place at the Capstone Awards for designing the first complete heart duplicator in the world. Their creation is still in use at Concordia's Laboratory of Cardiovascular Fluid Dynamics, where Di Labbio will be conducting most of his current research.
Di Labbio's doctoral project is focused on developing new clinical parameters for earlier and more insightful diagnoses of heart diseases, particularly in the left ventricle, the heart's powerhouse.
"The objective is to understand what characterizes an efficient left ventricle in terms of blood flow topology," he explains. "This will help us assess particular cardiac diseases, including aortic or mitral regurgitation, tachycardia and dilated cardiomyopathy, to name a few."
A junior engineer of the Ordre des Ingénieurs du Québec and active member of the Mechanical and Industrial Engineering Graduate Student Committee, Di Labbio is working under the supervision and mentorship of associate professor Lyes Kadem, a specialist in experimental cardiovascular flows.
The impact Di Labbio's research could have on medical practice is huge. Results may allow for a better and earlier evaluation and treatment of heart diseases, the second leading cause of death in Canadian adults after cancers.
Although he has consulted with industry partners in the past, Di Labbio says his greatest motivation remains problem solving. "I really enjoy the research journey… Figuring things out, learning new things. There's definitely more fun in searching for the answer than finding it, but having an end result is still important and is, of course, the reason we do the research in the first place."

Creating value for the cloud computing industry
The potential for her research to be turned into real-life products is a big part of what motivates Mona Taghavi. One of her biggest dreams is to build upon her doctoral project to establish her very own company.
The PhD candidate, who will be supervised by associate professor Jamal Bentahar, has great faith in the transformative potential of her project.
Working out of the Concordia Institute for Information Systems Engineering (CIISE), an interdisciplinary centre, Taghavi is set to develop an efficient, multi-criteria recommender system for cloud computing services.
"It's like when you want to buy a good camera, but you don't know which features are important," she says. "This system will help you decide what cloud service matches your needs."
Using intelligent recommendations, the system will capture knowledge about user preferences, experience of similar service users and the quality of cloud services in order to provide the end user an algorithm that will facilitate decision-making.
Born in Iran, Taghavi received her Master of Information Systems from UKM University in Malaysia. Prior to this she took a short study break and got involved in a national Iranian information and communication technology research project as well as other IT consulting activities.
Her CV lists an impressive number of international academic publications and collaborations.
Why did she choose Concordia to pursue her studies? "The CIISE offers a major that is found hardly anywhere else," Taghavi explains. "Moreover, Concordia has strong ties with industry partners, which is a big advantage for someone like me who wants to make the jump from academia to business."
With a market for cloud services estimated to reach $270 billion by 2020, Taghavi's project will likely draw the attention of important key players in the IT world.

Learn more about research at Concordia.
Find out how to apply for a Vanier Canada Graduate Scholarship.
---