Metalheads, brace yourselves! Grimposium gets set to storm Montreal
Concordia professors, students and alumni prepare for a Norwegian invasion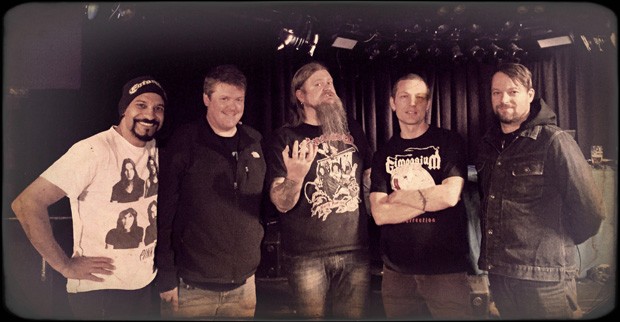 From left: Vivek Venkatesh, David Hall, Ivar Bjørnson, Owen Chapman and Jason Wallin threw themselves mind, body and spirit into the
Blekkmetal
film shoot. | Photo by Jeff Podoshen
UPDATE: On August 4 and 5, Grimposium presents "Doomed to Death." Events include an academic symposium (a first since the inaugural Grimposium), film screening, death metal vocal workshop, a bilingual industry panel (a first for Grimposium!), live band interview and of course, death metal and doom metal musical performances. Get all the details.



Vivek Venkatesh isn't your typical academic. The associate professor in Concordia's Department of Education and alumnus (MA 03, PhD 08) is more likely to be found in an underground extreme metal show than a library or lab.
Venkatesh studies extreme metal music scenes from communal, socio-psychological and cultural standpoints. This work led him to create one of the more unique academic events around: Grimposium.
It's an interdisciplinary metal-themed event featuring everything from panel discussions to film screenings and live musical performances (one infamous Grimposium happening involved renting a school bus to take attendees to Joliette for a Voivod performance).

Metal goes global
Grimposium has grown rapidly since it first began in 2014.
Bringing together musicians, visual artists, journalists, writers, filmmakers and record label executives from the global extreme metal scene, it has chapters in Montreal, the United States — and Norway.
"We are now a well-established international touring festival and conference," Venkatesh says.
The Scandinavian connection led Grimposium's organizers to include a "Norwegian Invasion" component in this year's program. Experimental soundscape artist Bardspec (a stage persona of Ivar Bjørnson, singer, guitarist and chief composer of progressive black metal outfit Enslaved) and Blekkmetal filmmaker David Hall will lay siege to Montreal audiences on July 2 and 3, respectively.

Not your average film shoot
"I was lucky enough to meet Vivek by chance at Maryland Deathfest in 2010," says Hall, himself a Concordia graduate, BFA 99. "My company at the time was shooting a concert film at the festival, and also had a booth selling merchandise. Vivek and I started chatting and realized that we were both from Montreal. The rest, as they say, is 'Grimstory.'"
Blekkmetal is a documentary about the titular festival, a one-off event that happened in Bergen, Norway in November 2015. "The festival was held to celebrate the origins of Norwegian black metal, a niche/sub-genre within heavy metal music that started in the early 90s, and grew into a global phenomenon that is still active and flourishing today," says Hall.
The shoot was not without its challenges. The four-person all-Canadian crew, including Hall, Venkatesh (co-producer and co-writer), Owen Chapman, PhD 07, associate professor in communication studies (sound producer) and Jason Wallin, University of Alberta professor of media and youth culture in curriculum (co-producer and co-writer) threw themselves mind, body and spirit into the festival for its entire duration.
The do-it-yourself (DIY) nature of the project arguably warranted hazard pay. "Vivek was right up front in the photo pit filming the bands," Hall recalls. "During one of the performances, the singer of the band Taake kicked a stage light in frustration and it narrowly missed Vivek's head. It was a great time."

The crucial opening act
Bjørnson describes his Bardspec project as "electronic dark ambient-psych wherein the listener is invited into weird and wonderful soundscapes." The music will be complemented by live manipulations of a film co-created by Hall, Venkatesh, Wallin and Bjørnson.
Leticia Trandafir is an MA candidate in Concordia's Media Studies Program, and a member of the Milieux Institute. She will be opening for Bardspec under the DJ name softcoresoft.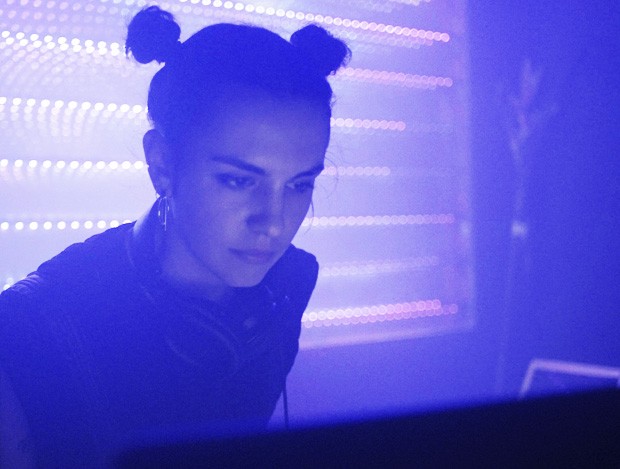 Leticia Trandafir of softcoresoft | Photo by Thomas Archambault

"As an opening act, my role is also to warm people up, bring them to another place — that place will be Bjørnson's performance," Trandafir explains. "It's important to think of the other artists that come before and after — what they will play — and to bring the audience there, while also captivating their interest and surprising them with your selections."
Trandafir's preparation for her set involved deep research into recent and older genre releases, amassing hours of music through blogs, YouTube, SoundCloud and other sources. For her, the effort was worth it.
"Ivar's Bardspec project fuses electronic, dark wave, rock and heavy metal with elements and ideas rooted in Norse culture. Visually, the project presents a mixture of nature, abstract art, Rune-like graphics and psychedelia. His show will be fascinating!"

An intercontinental metal marriage
Chapman, Trandafir's supervisor, has also opened for Bardspec in the past. "I think Grimposium is a really innovative format for a scholarly/musical event," he says. "It is flexible in terms of the balance between research and creative elements, such as musical events and producing DIY documentary film."
He adds that Grimposium is exactly the kind of bold thinking Concordia should be embracing as part of its new strategic plan.
From Venkatesh's perspective, the metal marriage of Quebec and Norway is a natural one. "Quebec is considered the mecca of metal in North America. It has managed to maintain a firm footing in creating, fostering and promoting the complex ethos associated with underground metal, without succumbing to the brash modernization, commercialization and exploitation that has invaded many music scenes."
Meanwhile, he says, "Norway is the birthplace of the second wave of black metal — and like in Quebec, scene members there have continued to reinvent, reimagine and refocus the attention of the global extreme metal scene to a modern interpretation of black metal, with their hooves firmly planted in the unique amalgamation of blasphemy, anti-communality and political tension."
When these two Great Norths come together, anything is possible.
"Everybody should define their own metal," wrote Bjørnson in a recent post on Enslaved's Facebook page. "I myself really value these [Grimposium] events where we take a deeper look at some of the concepts behind, within and around our beloved genre. To each their own!"

On July 2 and 3, don't miss Grimposium, an interdisciplinary metal-themed event featuring everything from panel discussions to film screenings and live musical performance.
The Blekkmetal screening is free to the public and will take place at Concordia at 7 pm on Sunday, July 3 in Room VA-114, Visual Arts Building (1395 René Lévesque Blvd. W.), Sir George Williams Campus.
The screening event will also include a special panel discussion on prospects and challenges in creating and distributing independent cinema, with Kevin Tierney, BA 71, GrDip 78 and producer of Bon Cop, Bad Cop, Aisling Chin-Yee (Fluent Films) and Blekkmetal filmmaker David Hall.
The Bardspec performance will take place at 8 p.m. on July 2 at Co-op Katacombes; tickets are $15 at the door and also available here.
---